Parkinson doffs cap to Hanson
Phil Parkinson praised James Hanson's display after his late winner earned Bradford a 3-2 victory in a thrilling clash with Coventry.
Last Updated: 10/08/14 1:29pm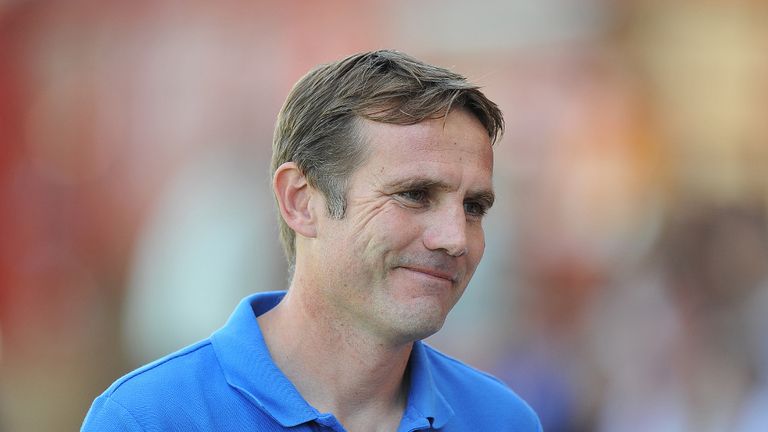 Phil Parkinson praised James Hanson's display after his late winner earned Bradford a 3-2 victory in a thrilling clash with Coventry.
Coventry skipper Reda Johnson, a summer signing from Sheffield Wednesday, looked set to have earned a point for his side when he equalised with two minutes of normal time left, hammering home the rebound after Bradford goalkeeper Jordan Pickford had blocked his initial shot .
But a minute later - and with only seconds left of normal time - Hanson bent low to head home the winner - his second goal of the match - from Jason Kennedy's right-wing cross.
Hanson struggled with injury towards the end of last season and Parkinson said: "He is now fit again and produced a magnificent performance with two textbook goals.
"We know if we put balls into those areas he is second to none. His first goal was the result of a great move and for the second he stooped low to head the winner."
Parkinson added: "I thought we deserved the win although it looked like a draw after Reda Johnson's equaliser.
"Obviously, I was concerned at Coventry's late equaliser, but if we had had to settle for a point we would have put down a marker in front of our own fans as how we want to play - three at the back, rolling the ball out, being positive, closing down and so on.
"The lads showed they understand what has been asked of them, but it was the way they implemented the plans that pleased me.
"The first three points of the season are important and we got them and it gives us something to build on, but we are not getting carried away.
"Coventry manager Stephen Pressley will be looking at some of the big decisions in the game, but over the game I don't think you can doubt we deserved to win.
"There were some big decisions for Mike Dean, a Premier League referee, and we feel he got them right."
Bradford went in front after 27 minutes when Hanson headed debutant Billy Knott's cross into the far corner.
Coventry equalised after 41 minutes when Johnson headed home Danny Pugh's in-swinging corner.
Alan Sheenan restored Bradford's lead four minutes after the interval when Johnson was booked for impeding Hanson as he tried to reach a corner.
Coventry claimed a penalty in stoppage time when substitute John Fleck was booked for diving after going down in the box.
Pressley said: "For me it was a penalty. Not only did John Fleck get booked for what as perceived as diving, but I thought if the referee looks at it again as I have done, he will think it should have been a penalty.
"We got excited after we equalised and Bradford scored. I was disappointed to lose a goal in the manner we did after we equalised for a second time.
"It is a lesson we need to learn, to focus after we score.
"I thought it was a really good, entertaining game of football. We played some terrific football at times and those watching the game were highly entertained."
Pressley was delighted with Johnson's performance.
The Coventry boss added: "He wears his heart on his sleeve.
"He is a very strong aggressive player and we are pleased to bring him to the club.
"We pinned Bradford back in the second half and we always looked like we were going to score.
"I am just disappointed after putting so much into the game we didn't manage to take a point."