Premier League: Mathieu Flamini insists Arsenal can challenge for the title
Last Updated: 11/08/14 1:28pm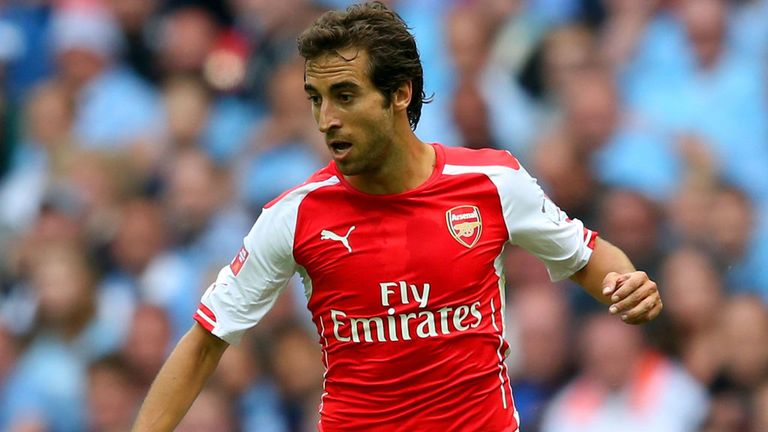 Arsenal midfielder Mathieu Flamini is confident Arsenal have the quality to challenge for the Premier League title.
Manager Arsene Wenger has added the likes of £30million Chile forward Alexis Sanchez, Mathieu Debuchy and promising young defender Calum Chambers to his squad and Flamini is confident Arsenal can become serious title contenders.
Speaking after Arsenal's 3-0 Community Shield victory over Manchester City, the 30-year old told Sky Sports News: "It is very good for the confidence but now we have to start the season. We have to be very focused and ready because it is going to be a long [season].
"It is important not to forget the season is a marathon, it is not a sprint, so it will be a long one like all the time and we will make sure to be ready.
"We had a good year last year, even if we collapsed in the last couple of months, but I think we are ready. We have a strong team with a lot of quality.
"We are part of the big teams and I think we have the quality to fight for the title definitely. Now we are ready, with a strong team that has a lot of quality to be able to fight to the end. As you say here in England we must not forget that it is a marathon and not a sprint, so we have to make sure that we keep going until the end.
"But to win another title after the FA Cup is obviously very positive for us and shows that we are going in the right way. We have shown that we are very strong, now we have to be ready for the next game."
Arsenal host Crystal Palace on Saturday evening, before heading to Istanbul the following week for the first leg of what is a crunch Champions League play-off against Besiktas.
Wenger is keen to bring in another defender after allowing captain Thomas Vermaelen to join Barcelona, with Olympiakos' Kostas Manolas a reported target.
Chambers, signed from Southampton for £16m, has impressed in his pre-season appearances.
Speaking to Arsenal Player, Chambers, 19, said: "It has been quite a whirlwind of a few weeks. I am taking every day as it comes, just concentrating on what I am doing next.
"I am really enjoying it here and everyone has welcomed me really well. I just want to play the best I can and show everyone what I can do."
Arsenal's German World Cup-winning trio Per Mertesacker, Lukas Podolski and Mesut Ozi have returned to the club's Hertfordshire training base after their World Cup exertions and are in the frame for the season-opener against Palace.
You can watch Arsenal v Crystal Palace live on Sky Sports 1 HD at 4:45pm August 16.