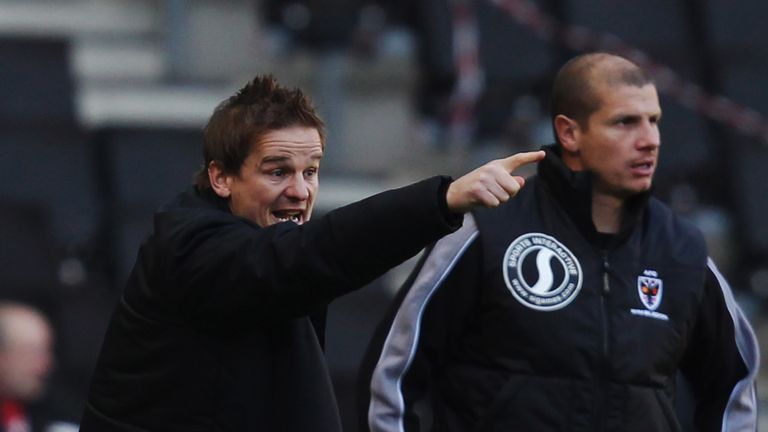 AFC Wimbledon face MK Dons for just the second time since the original Wimbledon Football Club relocated to Milton Keynes in 2002, and boss Neil Ardley is relishing the challenge.
The two sides previously met in the second round of the FA Cup in 2012 with MK Dons scoring an injury-time winner to progress 2-1.
On Tuesday, they will meet again in the first round of the Capital One Cup and AFC Wimbledon manager Ardley believes his team are now stronger and would love nothing more than to win this tie for the fans.
He told Sky Sports News: "This is my club. More than anything there is an edge for me to win this game because of our fans and that's not being a cliché and saying I'll do it for the fans.
"I'd love nothing more than to be the manager that gives them that smile on their face and that little glow of satisfaction and that little mentality and feeling that they have put one over on them.
"I'd love to be that manager, I'd love to try and do that.
"We came close last time, we feel we have got a better team this time round and I'm sure Milton Keynes have a better team this time round and we will do our best but yes I would love to do it for them.
"We know there is an edge on the game and the players know what this means to the fans but I think from our point of view it's really, really important that we treat it as a game.
"We set out a team to win a game of football and it's not going to be easy because they are a very good team and we will do everything we can to give ourselves the best chance."
The significance of the fixture, to be played in Milton Keynes, is not lost on MK Dons manager Karl Robinson.
He told his club's official website: "I understand what it means to both sets of fans and I'm looking forward to the tie.
"I know there will be hype around the game, but we'll be treating it as any other and, of course, we'll be looking to progress.
"The way both clubs conducted themselves two years ago was commendable to my knowledge and I hope it will be the same again this time around."