Cooper blasts ref Linington
Mark Cooper criticised referee James Linington for his decision to award a penalty after Swindon suffered a 1-0 defeat at Crawley.
Last Updated: 18/08/14 9:37am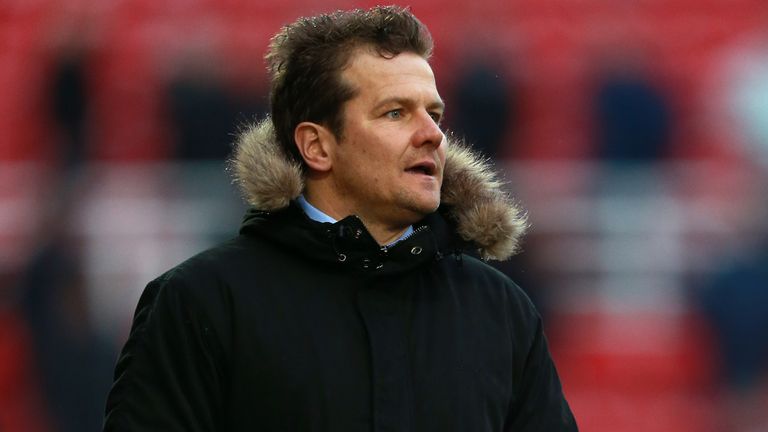 Mark Cooper criticised referee James Linington for his decision to award a penalty after Swindon suffered a 1-0 defeat at Crawley.
Crawley striker Izale McLeod hit his third goal in three games from the penalty spot to secure the hosts victory and maintain their 100 per cent start to the season.
Swindon midfielder Louis Thompson was sent off in the 50th minute by Linington for bringing down McLeod inside the area, but Cooper felt the referee slipped up for awarding the penalty from nearly inside the Crawley half.
Cooper said: "I've seen the incident and it's truly amazing .The referee gave the penalty from nearly Crawley's half of the pitch .The linesman was 20 yards away, but he didn't flag.
"I don't see how the referee can make a decision from half-way. Louis got the ball anyway as it deviated.
"The referee realised at the end that he made a mistake with the speed at which he gave it."
Cooper felt his men were desperately unlucky not to have taken something from the game with a performance that he described as "absolutely top drawer".
He added: "As a football team we will take a lot out of the game. Some of the football was not League One.
"I said at half-time that I didn't want the players to take liberties and they had to defend properly.
"We played very well and took the game to them even with 10 men.
"We tried to get something out of it, but couldn't force an equaliser even though it was the least that we deserved."
Crawley head coach Paul Groves played down the penalty decision.
He said: "It happened quickly with the ball going from one end of the pitch to the other. Some you get, some you don't."
Groves was full of praise for an "excellent performance" and felt Crawley's winning start to the season was down to "resilience and togetherness".
He added: "We have played very well in our first games, but we must build on it. First and foremost we must be difficult to play against.
"It's been a tough start, but the foundations have been put in place. In terms of work-rate and resilience we have been first-class, but we must continue it.
"When you look at the start of the season and the teams we have faced, it was always going to be difficult.
"All credit to the players for showing the fitness levels and application they have, but we must keep our feet on the ground and there is always room for improvement."
Crawley now boast three 1-0 wins this season with McLeod scoring in each of them and Groves admitted it was a "perfect start" for the former Charlton, Barnet and MK Dons forward.
He said: "When you have a striker like Izale, it's always important to score at home early on and he's the sort of player that, when chances fall to him, he takes advantage."