Premier League: Carlos Sanchez persuaded to join Aston Villa by Juan Pablo Angel
Last Updated: 18/08/14 6:19pm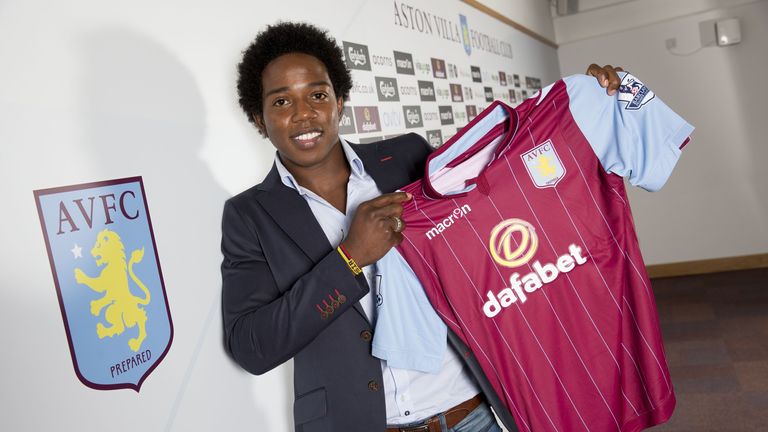 Carlos Sanchez has revealed former Aston Villa striker Juan Pablo Angel helped convince him to make the switch to England.
Sanchez has joined Villa on a four-year contact from Spanish side Elche and could make his Premier League debut against Newcastle on Saturday.
The midfielder, who has 44 international caps, impressed in Colombia's run to the World Cup quarter-finals, where they lost 2-1 to hosts Brazil in July.
"I spoke with Juan Pablo Angel. He said I absolutely had to come and had no doubts," said Sanchez. "I spoke with Hugo Rodallega, the Fulham player, too, who said I have to come.
"I can't really do the same as Juan Pablo because we play in different positions, but he is an inspiration, nonetheless."
Sanchez joined Villa following just one season with the Primera Division side, who he helped to avoid relegation by a point as they finished 16th.
"I've always wanted to play in England," added Sanchez, who started training with his new team-mates on Monday.
"I had a few opportunities from other clubs but when I had the opportunity to come here I had no doubts. The most important thing was that the manager wanted me here.
"I've got lots of things that I want to do, it's a big club. I'm sure I can progress here.  We've got everything - some great players, good technical staff and everything else we need to have a good successful season. We have got a great dressing room."
The 28-year-old moved to Spain after six years at French side Valenciennes and two years at Uruguayan side River Plate, where he started his career.
Nicknamed 'The Rock', Sanchez was given the tag by the fans in Buenos Aires due to his physical edge.
Sanchez added: "It began in Uruguay when I started my career. Then I went onto France but where it really picked up was in Spain. With the World Cup and everything I am known as 'The Rock' now."