Women's football: Wolfsburg's Nadine Kessler tipped to win UEFA Best Player award
By Dev Trehan
Last Updated: 18/02/15 4:45pm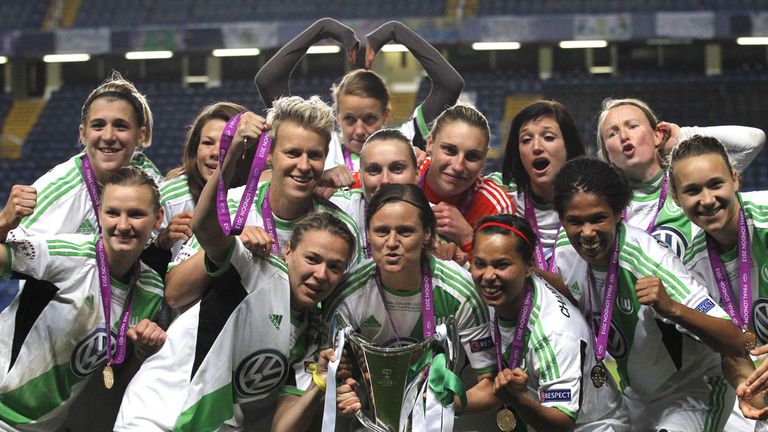 Wolfsburg Women's captain Nadine Kessler deserves to be crowned as the UEFA Best Women's Player in Europe 2013/14 in Monaco on Thursday, according to Estonia women's manager Keith Boanas.
Kessler heads a three-woman shortlist entirely comprised of players from Wolfsburg, who have won the Champions League for the last two years in succession.
Nilla Fischer and Martina Muller are the other players nominated for the award which was won in its inaugural year last season by another German, goalkeeper Nadine Angerer.
And former Charlton Ladies and Millwall Lionesses manager Boanas, now in his fifth year as Estonia manager, says it's difficult to look beyond Kessler for the prestigious award.
"Of the three girls Kessler the skipper is the one for me," Boanas told Sky Sports.
"The fact that it is three Wolfsburg players is testament to their back-to-back Champions League wins. Nadine has been instrumental in that success and leads by example.
"She is an infectious personality who is always buzzing around the pitch. She will not let her team relax whether they are winning or losing and is the one to turn it around if things look like they may go wrong."
Boanas, who has been linked to the vacant managerial position at Arsenal Ladies, added: "Fischer is reliable and steady and has turned into a really solid central defender for club and country.
"Muller is an instinctive goalscorer much like her namesake in men's football, but I'll stick with the youngest of the group, Kessler.
"She has real energy and enthusiasm which inspires her team-mates. Every coach loves a player with those qualities."