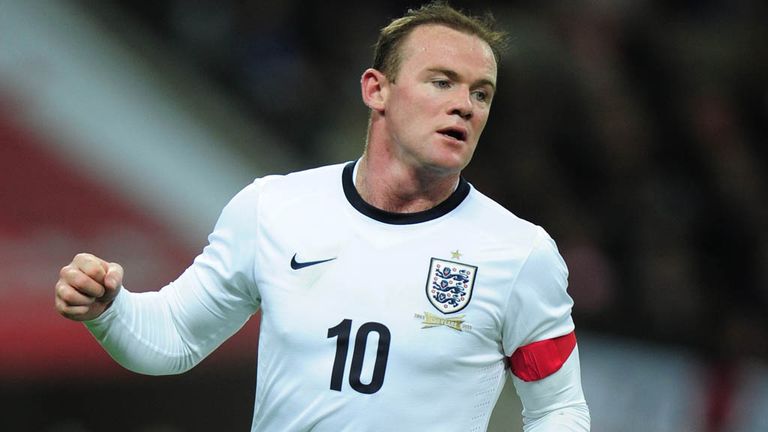 Wayne Rooney has been named England's new captain by manager Roy Hodgson.
Rooney was recently appointed Manchester United's new skipper by boss Louis van Gaal and had been widely tipped to take the armband for country as well as club.
Steven Gerrard relinquished the role when he announced his retirement from international duty in the aftermath of England's disappointing World Cup campaign in Brazil.
Chelsea's Gary Cahill and Manchester City's Joe Hart had also been touted as potential successors to Gerrard but Hodgson, speaking at a press conference on Thursday to announce his latest England squad, said Rooney was "an obvious choice".
"I gave it a lot of thought but Wayne Rooney is an obvious choice for his honesty, commitment to the cause, his experience, the fact he has already captained England in the past," Hodgson said.
"Now of course he's got that responsibility at Manchester United as well. All those factors weighed into my thought process and I'm pleased to be able to say I've been able to offer it to him. I had a long conversation with him and he's prepared to accept the pressures the England captaincy brings.
"It would be unfair to some of the other players like Joe Hart and Gary Cahill, who are experienced players in the international team and play at very, very big clubs, to say that Wayne was the only choice but I think for most people it was Wayne's time, it was his moment and it would have been a mistake to overlook him."
Asked if he expected his decision to spur Rooney on to greater heights, a cautious Hodgson said: "I try to shy away from that, I think it's dangerous to demand that of people.
"(The captaincy) takes you on to a new level but with 95 caps and all the goals he's scored, all the things he's done, we've already seen he's prepared to take responsibility.
"We hope he continues to push on, he continues to play well and he shoulders the responsibility of the captaincy as well as the other captains before him." And Hodgson believes the occasional lack of discipline in an England shirt - most notably a sending-off against Montenegro which kept Rooney out of two games at Euro 2012 - are in the past.]
"Wayne certainly isn't a problem player," he said. "He's not been sent off in any games that we've had and not had many bookings. 
"In these two years we've worked together I've not been worried that he's going to get sent off. I've not been concerned about that. I'd like to think it's in the past."
Rooney, who had been backed for the job by his predecessor, said it was "beyond his wildest dreams" to have been handed the armband on a permanent basis. 
"To be named as England captain is a dream come true for me personally and of course my family," he said.
"It's something I'll take massive pride in doing. As a kid I always loved watching a big England game on TV. Back then I had a burning ambition to play for my country. To be appointed captain is beyond my wildest dreams.
"I would obviously like to thank Roy and the coaching staff for having the belief and confidence in me to do the job."