Indian Super League: Former Test star hails new league at Mumbai launch
By Dev Trehan
Last Updated: 28/08/14 4:21pm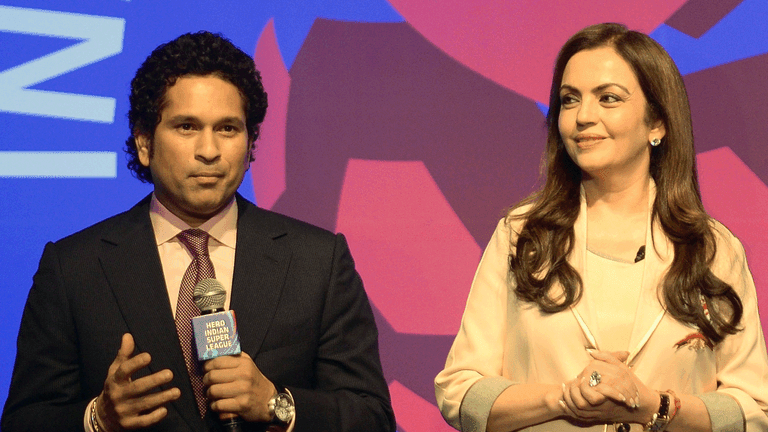 Sachin Tendulkar says his involvement in the inaugural eight-team Indian Super League football tournament is motivated by a desire to make sport more accessible to everyone on the sub-continent.
Tendulkar is a co-owner of the Kerala Blasters franchise, who have signed up former Liverpool and England goalkeeper David James as player-manager and former Newcastle and Cardiff striker Michael Chopra.
Speaking at the ISL's official launch in Mumbai on Thursday, Tendulkar insists the league is an initiative which can transform the lives of millions of young people in India.
"Be it cricket or football I would always like to help Indian sports grow," Tendulkar said. "I have a vision for India and I call it sports for all.
"It is about encouraging the youth of India - starting from grassroots level - to involve themselves in sporting activity.
"It's not about making all of them professional sportswomen or women, it's about making them healthy and fit.
"The happiest moment for me would be when India as a nation is recognised as the healthiest and fittest nation in the world.
"In such a big nation I feel the talent is there but possibly not the right platform or the right opportunities for that talent to be expressed.
"It's extremely important for people to make the most of this platform."
Tendulkar scored over 18,000 runs in One Day Internationals and almost 16,000 Test runs in an international career spanning 25 years and he says playing sport has given him a different type of education.
"From my sporting experience in the last 25 years that I have competed, there are some things I have only been able to learn by engaging in sporting activity," he said.
"I couldn't learn those things in a boardroom or a classroom. Sport has taught me to compete, but compete in the right spirit.
"Along the way there are obstacles. You may win or you may lose but it teaches you to get back on your feet again and compete in the right spirit.
"That is what I ask all the team here to do. Compete in the right spirit. We'll compete hard but we'll continue to be friends off the field."
The Indian Super League kicks off on October 12.