England: Calum Chambers can be big success for Three Lions, says Arsene Wenger
Last Updated: 29/08/14 4:50pm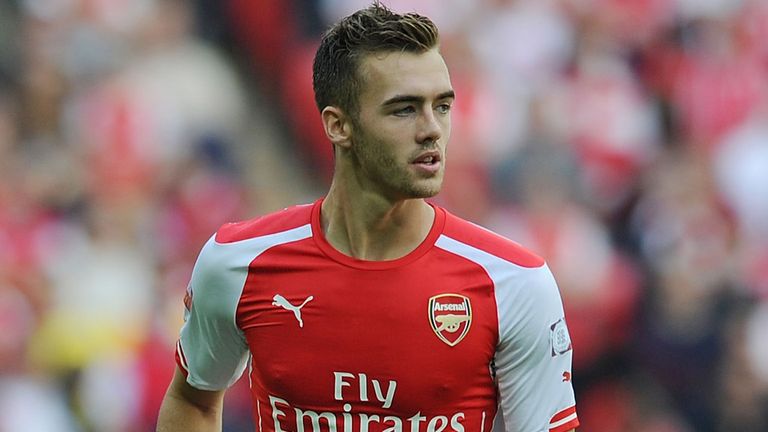 Arsene Wenger feels Calum Chambers has the character to be able to cope with an England call-up so early in his career.
The Arsenal summer signing is one of four uncapped players selected by England manager Roy Hodgson for clashes with Norway and Switzerland next month.
Chambers, 19, made his breakthrough with Southampton last season, playing predominately as a right-back, and has started both of Arsenal's Premier League games at centre-half.
Gunners boss Wenger hopes Hodgson will treat Chambers with a modicum of care but has no misgivings about his lack of experience ahead of a possible senior international debut.
"I believe Chambers has the quality to be where he is," Wenger said. "The only danger is psychological - that he's under too much pressure, that it comes too quick.
"He's only played (started) three games and is in the national team. Of course that's the speedy way.
"I'm not negative about it because at Arsenal we have the example of Theo Walcott, who handled that very well. Jack Wilshere was very quick as well.
"Calum is equipped mentally to deal with that. He has the character to deal with the pressure and the attention he will get.
"He's a kind boy and has a good family environment. I hope in the national team he'll be protected a little bit as well."
Club and potential international team-mate Alex Oxlade-Chamberlain is also impressed with what he has seen of the teenager.
"Calum has been outstanding ever since he joined the club," he said. "People sometimes do not realise how difficult it can be for a young lad to come to a club like Arsenal and take the responsibility of playing centre-half. It's a massive thing and he has done it with ease.
"You would not know he is a young lad by the way he plays and the way he is on the ball.
"He has bedded in really well, he's a great talent. I'm confident he's going to have a great future for club and country. It's brilliant for England and brilliant for him."