Roy Hodgson wants Jack Wilshere to play big role within England set-up
Last Updated: 31/08/14 1:52pm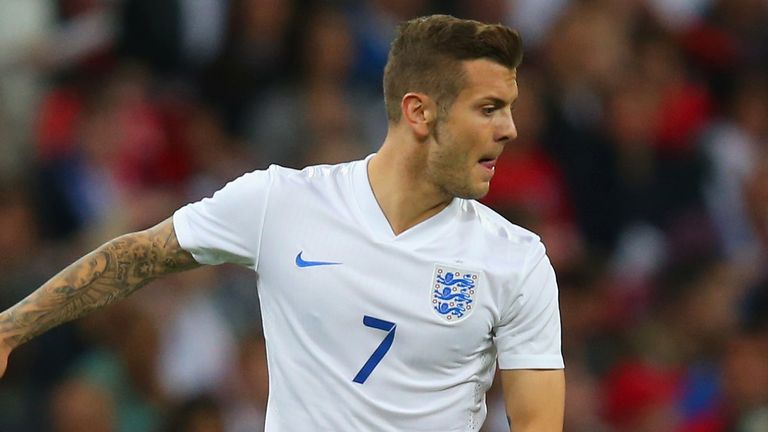 England boss Roy Hodgson is looking to Jack Wilshere to step up and stake a claim to being a regular in his Three Lions team as they start their European Championship campaign.
Hodgson believes the 22-year-old Arsenal midfielder could be one of his young players who play a big part as England bid to put their 2014 World Cup woes behind them.
Wilshere has made an impressive start to the season and was a star performer in Arsenal's Champions League victory over Besiktas last week.
Following the international retirement of Steven Gerrard and Frank Lampard, Hodgson wants an injury-free Wilshere to grab his chance and has included him in the squad for the friendly against Norway at Wembley on Wednesday.
England open their European Championship qualifying campaign the following week, travelling to play Switzerland on Monday, September 8, with Slovenia, Estonia, Lithuania and San Marino also in their Group E. 
"He is a player who has been on the radar for a long time, and has been unlucky with injury," said Hodgson on the Football Association website.
"He broke onto the scene long before I came along, but of course, when I came along he wasn't available because of the long-term injuries.
"We got a chance to briefly see him before he got injured again, so it's probably only been the last six months or so, leading up to the World Cup, where he's become a feature and someone who could fit the bill for the midfield.
"It's been very encouraging for me to see him playing pain-free and without any fitness issues, and even more encouraging to see him playing well, as I think he was against Besiktas in the midfield. 
"It leads you to hope and believe he could do the same thing in an England shirt."
Wilshere, who has already collected 20 senior caps, was part of the England World Cup squad in Brazil but only came on as a substitute against Italy and started in the draw with Costa Rica. 
Now, with a host of other young hopefuls in a squad with an average age of 25, Hodgson believes they can lead the Three Lions to France 2016.  
He said: "We have high hopes of people like Jack, but I don't think he'll have to shoulder the responsibility alone - there are others.
"On this particular occasion we don't have Lallana and Barkley, but they are on the rise. Walcott is about to return, so I would like to think there are a number of players.
"This is a new group of players in certain respects, they'll have to take responsibility now."
Hodgson believes his young guns can learn a lot from the World Cup without having to take the blame for England's early elimination after group defeats to Italy and Uruguay.  
"I'm not trying to be nonchalant about the fact that we failed, but the margins are small," he said. "There's no reason for me to think we can't go on and be better.
"Jack Wilshere played one game against Costa Rica, Jordan Henderson only came in just before the World Cup, Oxlade-Chamberlain never kicked a ball. 
"There's no reason for them to take the World Cup burden on their shoulders."