Tim Vickery: Work permit issues favour Argentinian players
By Tim Vickery
Last Updated: 01/09/14 10:08am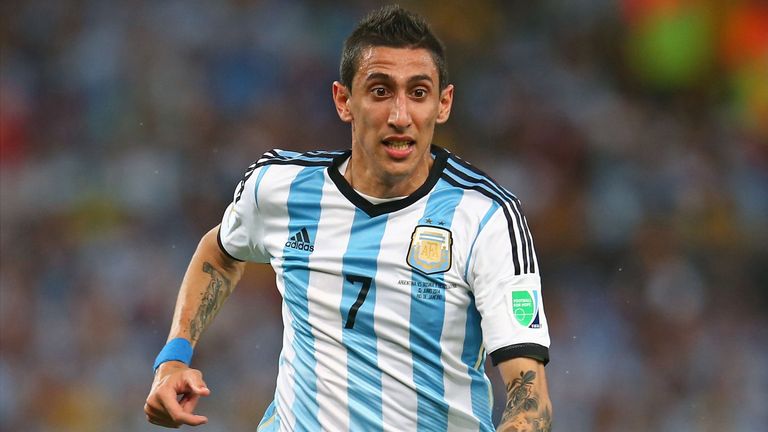 South American-based football journalist Tim Vickery believes favourable work permit issues mean more Argentinian players are likely to come to the Premier League.
The latest high-profile arrival has been former Rosario winger Angel di Maria, who signed for Manchester United last week from Real Madrid for over £60m.
And the ex-Benfica star could be joined by compatriot Marcos Rojo shortly, but that deal is currently being delayed because of issues off the field.
Vickery has not been surprised by the increase of Argentinian players in European football though, with many of them coming from Italian backgrounds.
"The main reason is the ease that they have to get work permits," Vickery told Sky Sports News HQ.
"That's a big problem for South American players wanting to come to the Premier League. You have to either an established international player with your national team or you have to have an EU passport. And because of the huge influx of Italian immigrants to Argentina, there are many more Argentines who can get that EU passport. That's why we have many more Argentines coming in than Brazilians coming in."
Vickery has watched with interest di Maria's progress since he first came to prominence with the Argentina U20 team seven years ago.
The 26-year-old earned a move from Rosario to Benfica, before making a major impact at Real Madrid.
Vickery said: "I remember him in the Argentine U20 side in 2007. And he was a flier – all aboard the Rosario express. He was a winger, an out and out winger, he's play in spurts, he could be very enthusiastic but very frustrating.
"What's happened to him over the subsequent seven years is that he has become not just a flier, he's now a footballer. He's become a midfielder and team player, two points that Louis van Gaal stressed last week when he was being bought.
"And we saw that in his debut. But he's now a midfielder He cannot only run with the ball at great pace, he can also cut in and cover his left-back or his wing-back, and he can pass over range. Watching his development has been very exciting. I think he'll really excite the fans at Old Trafford.
"When he first joined Benfica he said 'I want to do well enough at Benfica in order to go to Chelsea'. An unorthodox thing to say when you are presented at a new club and he's taken a roundabout route via Real Madrid to Manchester United."
While Rojo's £16million move to Old Trafford from Sporting Lisbon has been protracted, it is not unusual for English clubs to face problems with such signings due to third-part ownership of the players.
"The situation in South America is you've got clubs that are in a weak economic position," Vickery added. "
"But they produce the most valuable commodity in football, which is promising young players who you can make money out of them in the long run. So investment firms only really take advantage of the weak position of the clubs by getting a stake in those young players. That's where the third-party ownership comes from.
"And the worrying thing about it, I think, apart from the bureaucratic problems it creates with English football where it's frowned upon, the worrying thing from my point of view is when these deals take place, when the big money is handed over, that money leaves football. That money isn't going to the club that nurtured him that money is going to the investment fund that took advantage of the weak economic position of the club to get a stake in the player."