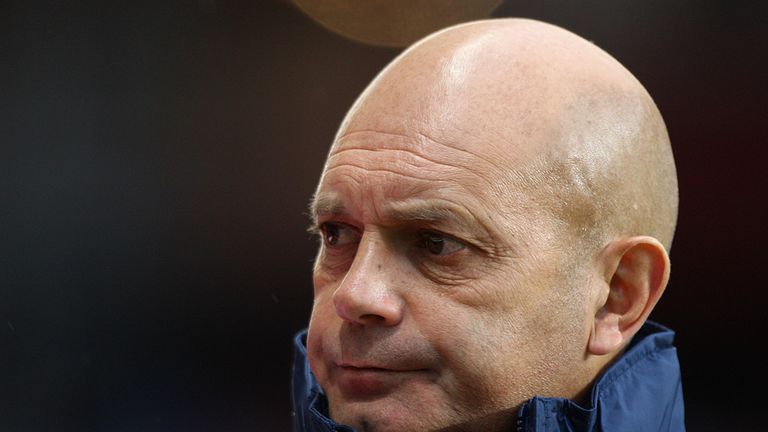 Ray Wilkins has been appointed as head coach of the Jordan national team.
Former Republic of Ireland international Frank Stapleton has been appointed as assistant to Wilkins.
Wilkins revealed the opportunity came about after former Arsenal vice-chairman David Dein had mentioned the 57-year-old to a member of the Jordanian Royal Family.
"It was a recommendation by David Dein to His Royal Highness Prince Ali of Jordan that I pop over and have a little chat," Wilkins said.
"We spoke for a day, spent a day together, shook hands and it's been going on for quite a while now which I'm thrilled about, but it's not actually all been finalised up to now but it will be I'm sure.
"It's only a short-term job, it's for five months and I'm going to take my dear friend Frank Stapleton with me. So we're going to look after the Jordanian national side.
"They've qualified for the Asia Trophy, which is held down in Australia this year so we're going to go down there in January and attempt to achieve something with them.
"I saw the guys train. They look a very lively bunch. So we're looking forward to get stuck in."
Wilkins most recently worked as assistant head coach at Fulham last season under Rene Meulensteen.
The Jordan Football Association announced: "The decision was taken under the guidance of JFA president HRH Prince Ali Bin Al-Hussein, who was trusted by the JFA executive board to choose the suitable candidate for the Jordan national team's coaching post due to his great vision in leading Jordanian football towards success..."
Jordan's current coaching staff, consisting of Ahmad Abdul Qader, Anzor Hina, Waleed Michael and Manuel Barriounuevo, will all be retained although their exact roles were not revealed.
Wilkins emerged as the frontrunner for the role after attending a team training session last week with Prince Ali, the son of Jordan's late King Hussein and Queen Alia.
His appointment comes less than five months before the AFC Asian Cup in Australia, which Jordan has qualified for, in the same group as South Korea, United Arab Emirates and Saudi Arabia.
Wilkins won 84 caps for England during his playing days, which spanned more than two decades. He played as a midfielder for, amongst others, Manchester United, Chelsea and Queens Park Rangers.
He began coaching in 1994 and worked as an assistant with several teams including Fulham, Chelsea, Watford and Millwall.
He returned to Fulham as an assistant coach in 2013 before leaving the post earlier this year.
Stapleton spent most of his playing career at Arsenal and Manchester United, winning FA Cups for both clubs, and earning 71 caps for Ireland.
He switched to coaching in 1991, spending four seasons in charge of Bradford City and one in American Major League Soccer.
Jordan have never qualified for the World Cup, but only missed out on a place in Brazil this summer by losing a play-off to Uruguay, 5-0 on aggregate.
They reached the quarter-finals of the last Asian Cup in 2011.