Wayne Rooney tipped to shine as England captain after assuming role for Manchester United
Last Updated: 04/09/14 5:13pm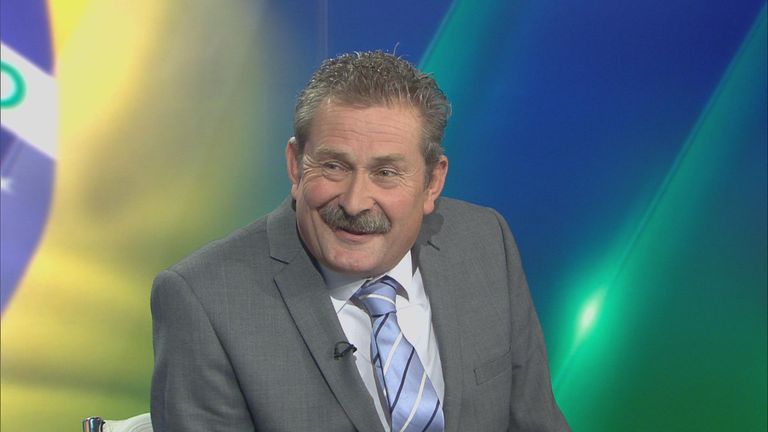 It wasn't the dynamic performance the Wembley crowd would have liked, writes Sky Sports News HQ's chief football reporter Nick Collins.
But it was a victory and England kept a clean sheet as they took their first step towards putting the World Cup debacle behind them.
For new England captain Wayne Rooney it was a big night. In an ideal world he would have been more influential during the game itself, but he did score the winning goal from the penalty spot and he did his best to lead by example.
I think he can become a really good England captain, especially as he is now doing the job week-in-week-out with his club, Manchester United. The penalty itself was a beauty.
"Unsaveable" was Joe Hart's description. Rooney now has 41 England goals and needs just nine more to become his country's all-time leading scorer!
Central midfield was an area which fell under the spotlight, following the retirements of Steven Gerrard and Frank Lampard, with Jack Wilshere given another chance to establish himself at international level.
This qualifying campaign is an important one for him and on Wednesday night's display you get a sense he is ready to step up and become England's key man. Liverpool midfielder Jordan Henderson built on his steady effort in Brazil and put in another consistent performance.
In defence, Phil Jones partnered Gary Cahill and may well keep his place for the qualifier in Basel. In the past, Jones has been asked to play right back or holding midfield, but his favoured position is central defence and he is another who could really grow in stature as the qualifying campaign unfolds.
Raheem Sterling and Alex Oxlade-Chamberlain provide pace and imagination as well as width but both are equally able to move inside and take on slightly different roles (Sterling behind the main striker, Oxlade-Chamberlain in central midfield).
This kind of versatility could prove invaluable between now and Euro 2016.
Up front, Daniel Sturridge was lively. He's got five England goals so far and could easily double that tally in the qualifiers.
I don't foresee too many changes for Switzerland, provided everyone is fit. There is a case for James Milner to come in and stiffen up the midfield or for the experience of Phil Jagielka to be used in defence.
I was impressed with Danny Welbeck when he came on against Norway. Moving to a new club looks to have revitalised him, and that can only be good for England.
The match in Basel on Monday night is England's first, and probably hardest, qualifier. Not losing is the key. Under Fabio Capello, England enjoyed an impressive 3-1 win  on their last visit there four years ago. Rooney was on target that night - let's hope history repeats itself.
It's important England's young team get on the front foot and dominate the qualifiers if they can. A string of good results is well within their capabilities (this isn't a particularly tough group) and will do wonders for their confidence.
The top two qualify automatically, so does the best 3rd placed team, while the other 8 in third place face each other in play-offs. It's almost harder NOT to qualify from England's perspective, so the youngsters will have a marvellous opportunity to flourish.
But as we all know it's not so much the qualifying that is the problem, it's what happens when England get to a major tournament. That is what must improve!
England's European qualifiers:
Sep 8  a) Switzerland
Oct  9  h) San Marino
Oct 12  a) Estonia
Nov 15  h) Slovenia
2015
Mar 27 h) Lithuania
Jun 14  a) Slovenia
Sep 5  a) San Marino
Sep 8  h) Switzerland
Oct 9  h) Estonia
Oct 2  a) Lithuania