England v Norway: Raheem Sterling was shining light, says Paul Merson
'Liverpool ace should get central role'
Last Updated: 04/09/14 3:02pm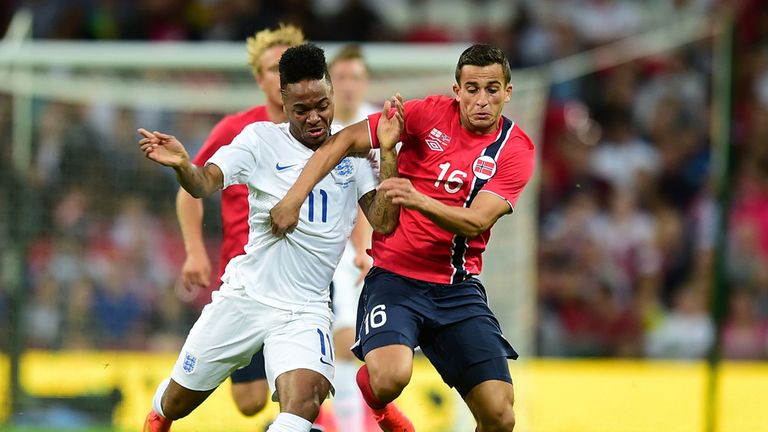 Roy Hodgson must move Raheem Sterling to the heart of his England team to get a positive result against Switzerland, says Sky pundit Paul Merson.
After watching an uninspiring 1-0 win over Norway at Wembley on Tuesday, Merson told Sky Sports News HQ in-form Liverpool winger Sterling was one of the few highlights of the night, and England must get him on the ball more for Monday's European Qualifier in Basel.
"Sterling was the shining light," said Merson. "He was outstanding.
Play Sterling in the centre and let him get on the ball because, at the moment, he's the man bang in form.
Paul Merson
"For the Switzerland game, I would let Sterling go and do what he wants. When he plays out on the wing he comes inside but you need to get him on the ball.
"At the moment he's the one playing with all the confidence in the world. When that happens you need to take advantage of that and let him be around the play a lot more.
"I'd play Wayne Rooney out on the left and put Sterling in the centre and let him get on the ball because, at the moment, he's the man bang in form."
As well as that tactical switch, Merson wants to see Arsenal midfielder Jack Wilshere play further up the pitch in a more attacking role, rather than alongside Jordan Henderson, in front of the Three Lions' defence.
Getting England's key players in the right positions is crucial for their 'hardest game' in qualifying for Euro 2016, says Merson, who would also start Danny Welbeck in Switzerland, to utilise his international experience.
"It's Roy's job to get these players into the right positions," he said.
"I like Jack Wilshere but he needs to be around the edge of the opposition's box, like we saw last week for Arsenal in the Champions League, playing little one-twos. He's not a spray-the-ball-around kind of player. He needs to be a lot further forward, rather than getting the ball off the centre-halves.
"There aren't many changes to make – it's not like we've got loads and loads of players to come in – but Welbeck might play because he's got the experience.
"It's going to be a difficult game – this is our hardest game – and you need experience for this game. It's alright playing kids but sometimes you have to go for experience and I'd probably play Welbeck."
Important
One player who seems guaranteed a starting spot against Switzerland is captain Rooney, who hit the match-winning penalty against Norway.
Alan Smith says the Manchester United man may not have had his best game on Tuesday but he's still a must-pick for Hodgson, given his match-winning ability.
"He could have done more and he's been fairly quiet with United for the first few games but I think we sometimes get over-excited about these things, especially when it comes to Wayne Rooney," said Smith.
"In the World Cup there was so much conjecture leading into it and when he played his first game out on the left but he's our captain now, our fourth highest all-time goal scorer and he's somebody that is highly experienced at this level.
"I wouldn't leave him out. His quality remains and he'll be an important player for us in Switzerland."