Greater attacking movement is needed for England, according to Sky Sports' Tony Gale
Last Updated: 05/09/14 2:50pm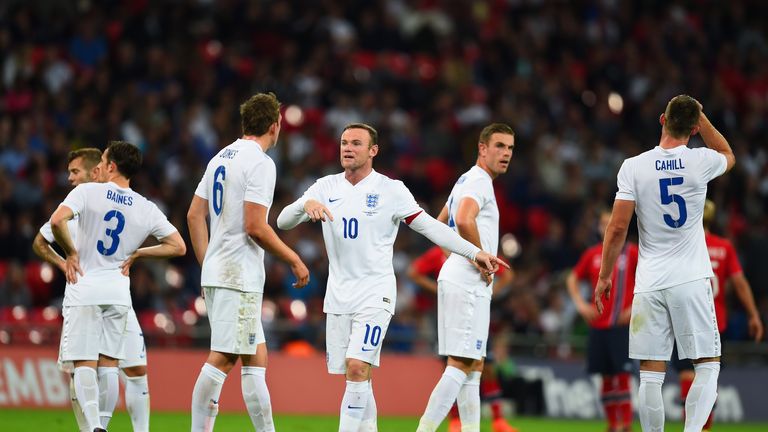 Greater attacking movement is needed for England to create more chances on goal in future international matches, according to Sky Sports football expert Tony Gale.
Gale believes that after England had just two shots on target in their 1-0 win against Norway on Wednesday night, there needs to be greater movement if they are to create more chances in open play.
Speaking to The Morning View on Sky Sports News HQ, Gale explained: ''I think what you've got to do is have a positive when you start the game, that's important. I went over to the World Cup, watched England and in two of the games, not the one against Italy in Manaus, but the other two, and we did lack movement that was our problem.
''If you've got a front three they've got to have movement. Everybody talks about where is Wayne (Rooney) going to play, where is Sturridge going to play, where is Sterling going to play.
''If we create a little bit of movement between the three of them then I think we'll be a problem for anyone but we can't really seem to get it really started from the back for me to create that movement. So you haven't got anyone at the base of that midfield now.
''You've got Henderson and Wilshere there, no Steve Gerrard to drop in there and get the ball, makes it very difficult for guys to get that movement between the front three. If there's a front three you've got to have a bit of movement between you, if you've got that movement it's difficult for defenders.''
England play their first European qualifier away to Switzerland, who exited the World Cup in the last 16, on Monday night and Gale believes that they will prove a tough test, particularly when playing in front of a hostile crowd in Basel.
''This is a key game, this is probably the most difficult game in the group," he added.
''I was there three or four years ago, and what Kevin (Davies) was saying about (there being) no atmosphere at Wembley, it'll be a terrific atmosphere over there.
''That is a great, relatively new stadium about five or six years old - it'll be a full house. It will be an English type atmosphere. The crowd are right on top of the pitch. I think it'll work well for the boys as it will create a little bit of tempo to the game and we can play in our own style. The pressure will be off. (Against) Norway, England had 60-70% possession just trying to break them down. Switzerland will have a go at us and I think that will suit us.''
Gale argued that if England are to see an improvement on the record-low Wembley attendance of 40,181 against the Norwegians, then winning matches is crucial to bringing fans back to watching games - starting in Switzerland.
He said: ''Win, and keep winning the big games, like we're going to Switzerland now.
''It's a big game and when we get to major tournaments, make a better fist of it. It's so disappointing being in Brazil. When I was with the fans it was a big up and then a big down. Roy knows that, Ray Lewington and Gary Neville know that as well.
''They've got to build it up to where it was. Get qualified for the European Championship and then we've got to keep winning and that's what it's all about in international football, a winning international side for us will be great.''