Primera Liga: Real Madrid's Javier Hernandez wants starting spot
By Francisco Acedo
Last Updated: 10/09/14 12:14pm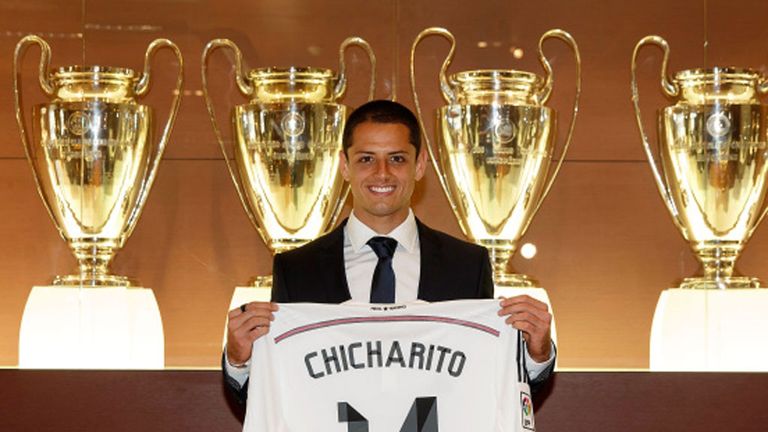 Javier Hernandez says he is not fazed by the competition for places at Real Madrid and he has not joined the club just to provide back-up.
The Mexican striker arrived at the Santiago Bernabeu last week on a season-long loan deal, having struggled to establish himself as a regular starter at Manchester United over the past four seasons.
He faces arguably an even greater challenge to break into the Real side, due to the wealth of options available to Carlo Ancelotti, and sees Karim Benzema as his most direct rival.
Hernandez has a lot of respect for Benzema but is looking to do more than play a minor role, and has vowed to work hard to try and earn a run in the team. 
He told Neox TV in Spain: "I know I will have to face Benzema, as happened to me when I arrived at Manchester. It is normal to compete for a spot.
"I am delighted to be with Karim. I've had competition at Manchester United from Berbatov, Rooney or Van Persie and learned from the best in the world." 
Hernandez had further praise for Benzema, adding: "He is a player who scores goals but also gives a lot of assists. He's a very complete player." 
Hernandez added that he always tries to 'see the glass as half full' as he prepares for a possible debut against city rivals Atletico Madrid on Saturday night.
"No one trains to be a back-up," he said. "I'm a football player and there are 11 starters, so the ones on the outside are always waiting for a chance and no player will say that they train to wait on the outside. 
"I'm not a conformist, I want to grow but it takes a lot of work and competition."