Tony Cascarino: Sky Sports pundit believes Angel di Maria can galvanise Manchester United
Last Updated: 17/09/14 4:21pm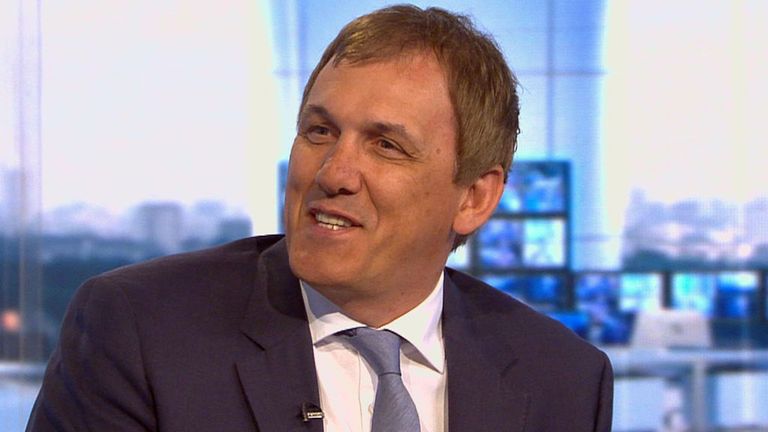 Tony Cascarino believes Manchester United have sent out a warning to the rest of the Premier League with their 4-0 win over Queens Park Rangers.
After a difficult start for new manager Louis van Gaal his team, assembled after a record-breaking spending spree, finally hit their stride in the Super Sunday clash with £59million-man Angel di Maria shining on his home debut.
And Cascarino believes it is only a matter of time before a Di Maria-inspired United will be contending at the top end of the table.
"Louis van Gaal has said what he wanted, he has got it and his first game is a 4-0 victory, in what he would consider to be close to his first starting XI," Cascarino told Sky Sports News HQ.
"There was a lot of talk before the game about the season starting here for United and Van Gaal getting what he wanted in his team which was pace, and clearly Angel di Maria has given them that.
"Also Daley Blind coming in and keeping the ball, which he did brilliantly yesterday, and in some ways QPR were the perfect opponent because they offered little resistance to United.
"I'd like to think they are going to be the main contenders to Chelsea and Manchester City; second or third is realistic for United this season.
"I feel they have now got goals in their team. Years ago Fergie had a side with Cole, Yorke and Sheringham that was full of goals, strikers that could change games and they had lots of pace in the wide areas. Yesterday Di Maria offered that and changed the game.
"His free-kick for the first was a little bit fortunate but it was the perfect delivery, lots of pace. He was sensational all afternoon. He was the difference.
"His first intention was to get on the ball and run at people, United have not had that for a long while, that sort of directness. Ander Herrera was excellent as well. They were getting bodies into the box all afternoon.
"Blind never gave away the ball. Van Gaal wanted a player who commanded the centre of the pitch and demanded the ball and that is what he did.
"United played the diamond and if you have someone who can keep the ball as well as Blind then that makes everyone else's job easier. United were comfortable with the system, something they didn't have a few weeks ago."
Unlike United, Chelsea have had no problems in finding their stride this season and recorded their fourth straight win against Swansea on Saturday.
The new darling of the Shed End, Diego Costa bagged a hat-trick and Cascarino believes the Spaniard could go on to be an even bigger hit at Stamford Bridge than Didier Drogba.
"Chelsea have scored six at Everton and Costa has been unplayable. He's on the move and running into the box all the time. I was impressed again," he said.
"I think he's better than Drogba. I know it's early, but I think there's a hunger and anger in him and in some ways he's more physical than Didier. He's got to learn to curb his physical side slightly but keep that same hunger.
"If he can do that and keep injury-free then he is going to be top scorer this season. He's had a hamstring problem before every game this season and Mourinho's probably thinking 'I hope he's got a hamstring problem this weekend before we play Manchester City'."
Watch United attempt to make it two-in-a-row against Leicester this Sunday, live on Sky Sports 1 from 12.30pm