Indian Super League: Ex-Arsenal winger Robert Pires allegedly punched at half-time
By Dev Trehan
Last Updated: 24/10/14 6:59pm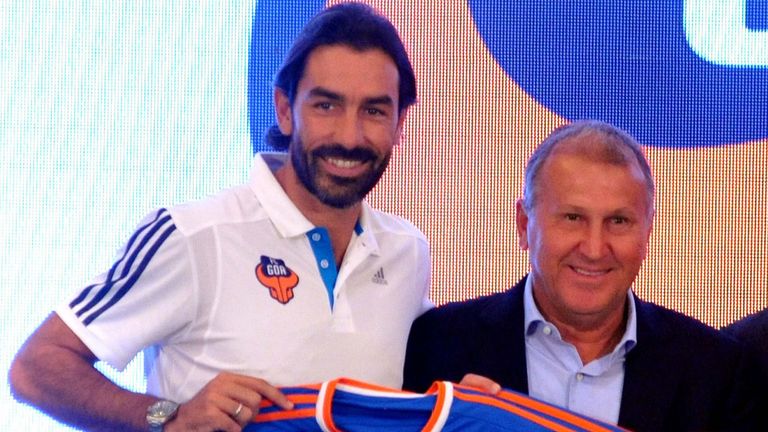 Former Arsenal midfielder Robert Pires was punched by an opposing manager while playing for FC Goa in the Indian Super League, it has been alleged.
The incident is understood to have happened during half-time of FC Goa's match against Atletico Kolkata which ended in a 2-1 defeat for Pires' side.
Former Bolivia national team manager Antonio Lopez Habas is the man accused of punching 40-year-old Pires.
Goa are coached by former Brazil midfielder Zico who made the astonishing claim after Thursday night's match.
"Pires said he was punched in the face by the Atletico coach and it is very shameful," he said. "I don't think that Pires would lie and say something that didn't happen."
ISL spokesperson Leeladhar Singh confirmed the matter is now under investigation.
"Both clubs have submitted written letters," he said. "The disciplinary committee at the AIFF (All India Football Federation) is reviewing the incident.
"They will pronounce the verdict as and when the conclusion is made from the evidence. The AIFF disciplinary committee will look at the evidence as well as the letters (submitted by both clubs).
"It would be too early to predict what the outcome will be. The AIFF will look at all the evidence. They are looking into all the aspects (of the alleged incident)."
Pires has featured in three matches in eight days for Goa, dispelling fears that his body would not to be able to cope with the demands of professional football in the searing heat in India.
Speaking exclusively to Sky Sports last week, Pires said: "It's very difficult but I think if your mind is ready, your body is ready and your legs are ready, then it is no problem.
"I had been in discussions about playing in India for the last two years so you can imagine it has been a little bit difficult to maintain my fitness levels over that time.
"I am a lucky man because I have kept a good relationship with Arsenal, especially with Arsene Wenger, so I was training with Arsenal's first-team before coming to India and that has made it easier.
"But the most important thing I think is to be passionate. I am here now and I think I am in good shape because of the fitness work I have been doing with Arsenal, so I am ready for the rest of the season here in India."