Transfer news: Arsenal complete the signing of Villarreal defender Gabriel Paulista
Last Updated: 29/01/15 10:55am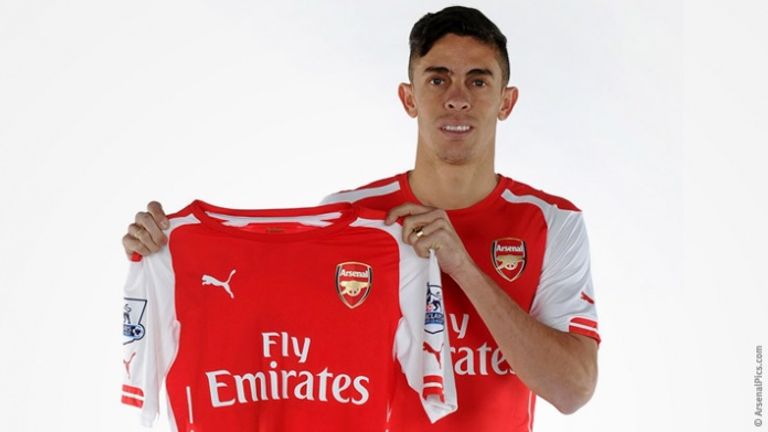 Arsenal have completed the signing of Villarreal defender Gabriel on a long-term deal with striker Joel Campbell moving the other way on loan.
Arsenal completed the deal, which is believed to be worth 18m euros to the Spanish club, after a work permit was granted for the uncapped Brazilian. 
Costa Rica striker Campbell signed a new Arsenal deal before travelling in the opposite direction on loan until the end of the season.
I am arriving at a big club and the fans can expect to find a Gabriel with a great will to help everyone.
Gabriel
Gabriel told the club's website: "I came from a club that is not that big in Brazilian football. I went to Spanish football and that was another dream come true, to play in Europe. 
"I have only just arrived but I am already feeling really good here in London. I'm at a top club so that gives me more strength to be able to work and carry on, to be able to conquer much more in my career. 
"I always watched Arsenal games and I could always see that it was a really big club with a great infrastructure. 
"It's a huge club, even more so than I expected. I am very happy with everything – with all the people I have been dealing with since I arrived.
"A while ago I had a really huge desire to be able to play in the Premier League, so since that point I put it in my head that I really wanted to do it. 
"I had a talk with my family and I told them that it was my dream to play in the Premier League. I just got this call - Arsenal came to sign me, so to me, for my work, for everything I have been doing, things are just happening for me. Getting here to such a big club is so gratifying.
"In our pre-season we played two friendly games here in England, so from then on it just started. Something came over me, I can't explain it… good things, I just wanted to play here in England. 
"Thanks to God, this wonderful club came to me, and they can count on me to be able to help everybody here.
"Arsenal is a very big team and it must always be competing for the biggest titles in the world. I have to repeat it - 
Arsenal must fight for all the most important titles around."
Campbell said on his website, sports.bycampbell.com: "I hope to work hard to do things in the best way.
"I want to spend these four months well and succeed here. I am very happy."