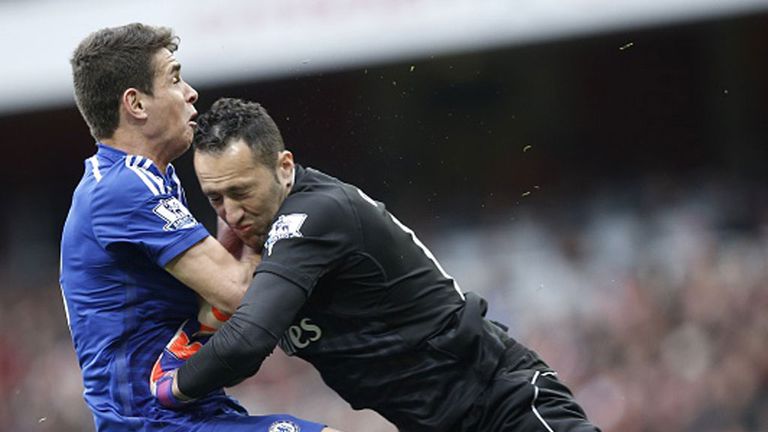 Oscar has recovered from a blow to the head and will be available for Chelsea's trip to Leicester, manager Jose Mourinho has confirmed.
The Brazilian attacker was withdrawn from Sunday's 0-0 draw at Arsenal and taken straight to hospital with possible concussion after a heavy collision with goalkeeper David Ospina.
Mourinho told Sky Sports after the game that they had been 'scared' for the 23-year-old and he would undergo a series of scans, but he was discharged from hospital and slept at home on Sunday night.
The Blues boss confirmed on Monday: "Oscar left the hospital and stayed at home last night. He should be here today. Everybody will travel to Leicester.
"I really don't know if he will definitely play. His face was swelling and we did not want to go for any risk [in the second half against Arsenal].
"I know that for me the most important thing is that last night he was not in hospital [overnight], he went to his house and slept at home."
Mourinho could not confirm whether striker Diego Costa would be fit to return at the King Power Stadium on Wednesday night however. The 26-year-old has missed the last three matches with a recurring hamstring problem.
Mourinho said: "I have to think about if it deserves a gamble or we wait a few more days to be really sure.
"If he was playing without an injury history I would play him tomorrow, but because he is a player with injury history I have to think about it."
Chelsea face a Leicester side on an upsurge in form, having lifted themselves out of the bottom-three for the first since November with a fourth straight victory on Saturday.
And Mourinho has admitted his options remain limited if Costa is not fit, insisting he will not call on the club's youth players, who contest the second leg of their FA Youth Cup final against Manchester City, which they lead 3-1, on Monday night.
"Our squad isn't big enough to make many changes. We will leave the young players here to play the Youth Cup final," he said.