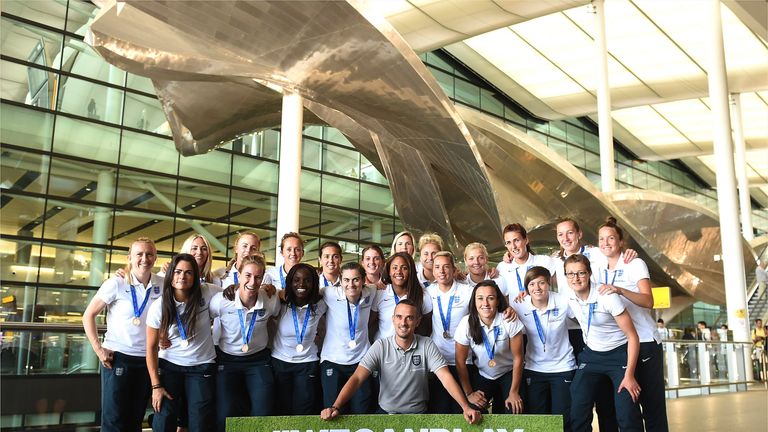 England's women footballers have returned to the UK after achieving the best-placed finish by a national team at a World Cup since the men's side won on home soil in 1966.
The Lionesses were met by fans when they landed at Heathrow after finishing third in Canada with their first-ever victory over the world's No 1 side Germany in the Bronze medal match.
"It's great, first and foremost, to see so many welcome the squad back," head coach Mark Sampson told Sky Sports News HQ.
"It just goes to show what this team has meant to the English public over the course of last month, so I'm really privileged to turn up here and see so many happy faces.
"It's a special achievement from the team; they've been incredible over the last month in this tournament. To achieve something that only one England team has previously achieved, just shows how big of an achievement that is."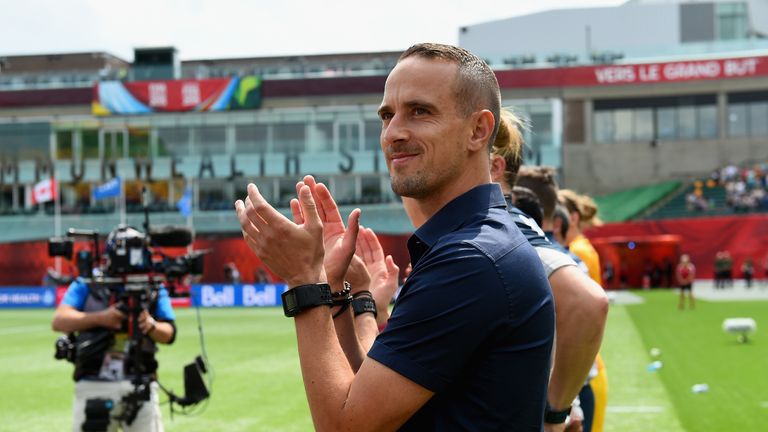 USA claimed the trophy with a stunning 5-2 demolition of Japan in Sunday's final and Sampson hopes England's own success at the tournament can help the women's game grow.
"I really hope now we will see a real surge in the women's game in terms of every area, participation, support and the players kicking on to another level as well," said Sampson.
"The players have been fantastic over the course of this tournament to really push the image of the game and I really hope the British public connected with this team and with this sport.
"This team has achieved something really special, we went into the tournament as rank outsiders; we've finished third and come very close to finishing in that final.
"The team has a lot of work to do but around the game there's a lot of work to do, so lots of people have to look at themselves and say 'come on let's step up, let's raise the bar and really take this sport to the next level."
Sampson, who just four years ago was manager of Welsh League village side Taff's Well FC, has impressed many with his tactical nous and has already been linked with a switch to the men's game.
However, the 32-year-old was coy when questioned over his plans for the future. "I'm getting that question a lot at the moment," he said.
"Look, at the moment, off the back of a long, long flight, a really long tournament, I'm looking forward to getting home and getting some sleep and spending some time with my family."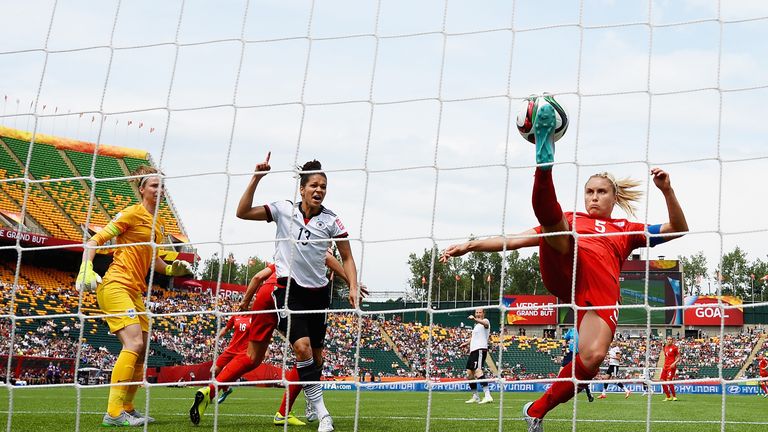 England and Manchester City captain Steph Houghton also believes the team's success can be a boost for the women's game and hopes it will also help the Women's Super League.
"The perception of women's football is changing," said Houghton. "I think first and foremost all the support that we've received this tournament needs to be transferred into our WSL fixtures for our clubs and try and encourage the crowds to go and watch all the England players who have come back today every single week.
"And once we start our Euro qualifiers towards the end of September or October, it would be great to see all them England fans come and support us then."