Salgado calls for reality check
Michel Salgado insists Blackburn must concentrate on survival rather than looking at future signings.
Last Updated: 09/04/11 11:52am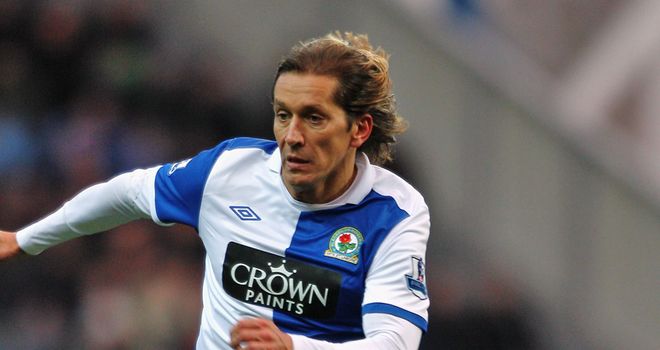 Michel Salgado insists Blackburn must concentrate on survival rather than looking towards future signings.
Rovers have signalled their interest in the Spaniard's former team-mate Ruud Van Nistelrooy in recent weeks, despite the fact the club currently sit just two points off the relegation zone.
With the club's new owners Venky's looking to splash the cash, the summer transfer window could be set to mirror its January counterpart, a month which saw Steve Kean's side linked with David Beckham and Ronaldinho.
The 34-year-old defender is adamant that instead of getting wrapped up in big-name signings, his team must ensure they remain in the top-flight next term.
Humble
"We've been talking about the brilliance of the future with the new owners and new money to splash. We have to stop doing that and realise we are in the present," said Salgado.
"The Premier League is maybe the most demanding in the world. We don't have time to relax and think of the future.
"It's a collective mistake, the club, the players, even the fans to some extent. We are all in this together - we need to be humble again and realise our position.
"We've been through a lot of changes this season with new owners, then a new manager and new players.
"We must start getting results to be safe as quickly as possible. Then we can start talking about big names."
Down to earth
Rovers have seen sweeping changes off the pitch this season, with Venky's arriving and quickly moving to sack Sam Allardyce in December.
Now that the team and the fans have had time to get used to the new regime, Salgado believes the club must salvage what is left of the season.
He added: "It's the first year for the new owners and everything takes time.
"The most important thing is to come down to earth and realise we're in a fight.
"But we don't need to panic. There's 11-12 teams in the same situation and one or two wins can change things."