Sky Sports Scout - David Hoilett
Sky Sports Scout is where we scour the globe looking for the best talent, next up is David Hoilett.
By Sky Sports Scout
Last Updated: 21/05/14 10:45am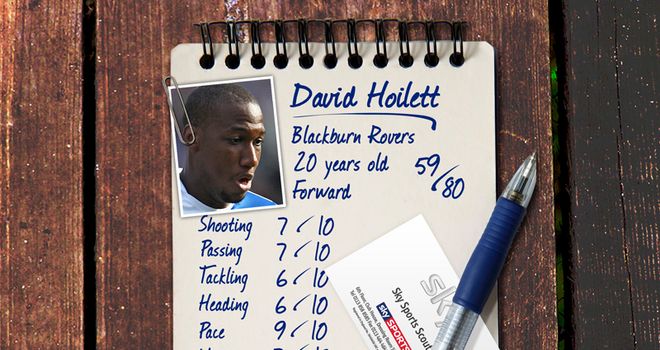 Sky Sports Scout is our exciting feature where we scour the globe looking out for the best talent and bring you a report on what we find.
Our Scout will report back and you can comment on what you think of our appraisal.
Also, in association with Football Manager, we give all readers the chance to win a copy of the latest game by nominating a player.
You can only nominate a player by emailing here, including the word 'Scout' in your subject line and please check to make sure we haven't already covered the player, you can see over 100 previous reports to the right of the page.
Should your player get reviewed by our scout, and you were first to send in his name, then you will win a copy of the all new Football Manager 2011.
You can also now interact with the scout via his all new Twitter feed! You can get in touch with him and interact here or just search for @skysportsscout!
Latest under our scout's gaze is Blackburn starlet David Hoilett - recommended by Sky Sports reader Graeme Hanson.
The scout reports...
Despite skirting with relegation last season, Blackburn were able to see one of their own products blossom in David 'Junior' Hoilett.
Hoilett excelled under Steve Kean and we check on just how good the Rovers forward is.
Hoilett is Canadian born, and although excelling at the usual North American sports, it was football he truly blossomed at as a youngster.
He was scouted at the age of just 12, was snapped up by Blackburn and he quickly made an impact in the Rovers youth system.
But issues over him being a non-EU citizen meant Blackburn could not play him in the first team and he was loaned out for two seasons to Germany.
He first joined Paderborn and then St. Pauli, where he made an excellent impression.
Rovers then appealed the decision and won the right to use him in 2009 and since then Hoillett has progressed well and in 2010 he was handed a new two-and-half year deal.
Under new boss Kean, Hoilett was given a fresh role in the side as he became a regular and he has grasped his chance with both hands.
Physically strong, Hoilett is a direct forward with an eye for goal and last season helped himself to five goals despite playing most of his games out wide.
Blackburn are already looking at handing him a fresh deal, given his progress in the last 12 months which has seen a number of rival clubs take a keen interest.
Hoilett is a match-winner and in the long term will likely become an out-and-out striker, but in the coming years will probably be used attacking from the flank.
His low centre of balance, good feet and brilliant pace means he is a huge threat and a great talent.
The scout says...
Hoilett is quickly emerging as a devastating young talent and could be a very big player for Blackburn in coming years.
Only issue could be whether Rovers will be able to fend off the interest in him.
The Scout rating...
Shooting: 7 out of 10
Passing: 7 out of 10
Tackling: 6 out of 10
Heading: 6 out of 10
Pace: 9 out of 10
Vision: 7 out of 10
Current ability: 7 out of 10
Potential ability: 10 out of 10
OVERALL SCOUT RATING: 59/80
Current value: £4million
Potential value: £20million
Your opinion...
You have read our opinion of David Hoilett - now we want your views. Have you seen Hoillet in action? Do you agree with our assessment? Do you think he will make it?
Get in touch, either using the form below, email or the scout's all new Twitter feed - @skysportsscout
And if you have spotted anyone you think we should feature then please get in touch using the same form. We will look to send out the Scout to follow up your leads.