Breathe easy, the window's open
The shadowy world of the football agent is one that is cloaked in secrecy amid accusations of greed. Thankfully, we've got one of the good guys on board to lift the lid on what life really is like at the sharp end of a notoriously cut throat business.
By The Secret Agent- @SSSecretAgent
Last Updated: 28/02/12 11:41am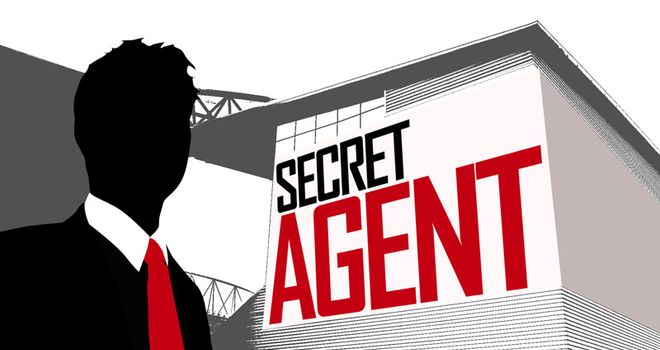 Open a red top and gossip spills out onto the pavement, rumours on Twitter are trending, Tevez is homesick, again, Barry Silkman is on Sky Sports News every other day, Cesc is on holiday with half of Barcelona's squad. It can only mean one thing.
Yup, the transfer window has burst open.
As an agent my prep work for the summer window began when January's closed. Players not moved on in the New Year will need to be re-offered and I'll be on the phone to scouts across the country making sure they'll be watching my players, whenever the opportunities arise. All the while at the same time I'll be offering a dual service as a psychiatrist/mate to those players who'll be out of contract in the summer and possibly in the dole queue.
People have a stereotyped image of agents living in a tasteless Cheshire mansion driving the obligatory Audi Q7, smoking cigars. I'm not your larger than life in your face 'busy' agent. Most of us aren't. I'm at the other end of the spectrum; picking up players disgruntled or cast off by the 'Big' agencies, while trying to keep 'Loadsamoney' chancers away from the few players with potential I've found and signed up.
I won't go on about my woes and struggles though (I'll save that for another day). The real stress is the dreaded meetings hundreds of players will be having (or had) with their manager to discover if they are wanted next season. If a manager doesn't fancy you you'll be released; effectively being made redundant. The main reason given is the financial woes that clubs are experiencing at the moment, but perhaps you just haven't had a good season. Either way, it's not nice to hear you're not wanted.
Of course some players, along with their agent, will be doing the complete opposite. Holding a gun to the head of a current employer, in all likelihood where they established their reputation, is all par for the course in football. Player and agent will be asking for better terms and conditions or he's 'offski', possibly on a free.
Nothing wrong with career progression, that's the way it should be, but far too often money is the motivation. Gordon Gekko's 'Greed is Good' mantra is a motto that has long-since transcended Wall Street and is shared by many agents. Short term that's fine but people have long memories in football and reputations are easily damaged, with players and agents in particular demonised.
The number of released players is expected to be around 600 this season, that's over 6.5 players per club in England alone. A player released in the Championship or League One has a decent chance of getting a new club, maybe lower down with a pay-cut.
But for players not wanted in League Two, it's not so simple. They are heavily reliant on their agent helping them find a new club. And this is the hardest job to do in the business. Trying to land your player a new club, in competition with hundreds of others in the same boat, can be akin to a door-to-door salesman knocking on an igloo trying to flog a bag of snow.
Now, I will never (knowingly) dump a player in his time of need, I won't pay lip-service to him or ignore his calls. It's as important to help the lad and spend as much time on the phone to find him a new club as it is to negotiate a lucrative new deal for your No.1 client, or be part of a complicated but financially rewarding international deal.
Agencies do drop players who end up without a club. It's a hard world. Let's face it, if a lad gets released by a League One or League Two club he's not going to make them much money, if any. However, knowing that the lad brought me some sort of revenue in the past, I owe it to him to try every avenue to continue his career. Hopefully in the UK, but I will also try options overseas, something which British players should seriously really start to look at if they want to continue to receive an income.
Too many players are cocooned by their reluctance to experience new leagues, different cultures, a foreign language.
Perhaps I should be a harder or tougher agent and realise that flogging a dead horse is pointless, but it's not just that. If an agent gets a reputation for helping a player and successfully finds a suitable employer, even if it's in the non-league (some pay well), then surely that will lead to additional clients on recommendation. Here's hoping.
Reputations in football count for players, managers and, in particular, agents. It's amazing who knows who in the game and word spreads very quickly. Do a good job for a player and he will tell the hot-shot striker he shares a lift to training with that you're an honest guy. On the other side of the coin, managers will work with you again if you haven't held a gun to his head over a player's wage demands or helped him find the player he wants by doing a bit of scouting on his behalf.
The point of this blog is to highlight the horrendous plight of the out of work footballer. These are normal guys. Guys who have families to support, mortgages to pay; having to try their luck in the lottery of trials. These are guys who probably don't earn any more than the majority of you reading this blog. Probably on your work's time too! Don't forget, you're not going to have to retire (not through choice I can tell you) by the time you're 32 or 33 either.
I also want to highlight that agents (some) don't just shaft football clubs or have unhealthy alliances with managers/clubs. There is an unglamorous/unrewarding (financially) side to life as an agent too.
So remember this, over the summer for every Premier League £30million transfer played out in the media, there are hundreds of good footballers looking for a new club and probably having to take around £400 or £500 a week to continue their career. Sure I'll be hoping to be involved in some 'big' deals, but I'll still be trying just as hard for these players released, who many people haven't heard of.
Good luck to all players released, I hope your agent works hard for you and you can take a holiday this summer secure in the knowledge you have a job to go to on July 1.
I'll be blogging throughout the summer for skysports.com so if you've any questions or feedback fill in the feedback form or catch me at @SSSecretAgent and I'll look to address them in my next column.