Jason Manford
Comedian Jason Manford talks Man City, Shaun Goater, and Gareth Southgate impersonations.
By Peter Fraser - Follow me on Twitter @SkySportsPeteF
Last Updated: 28/07/11 7:48am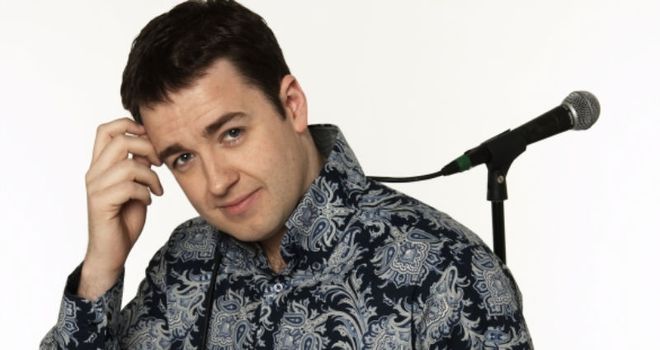 Comedy's Jason Manford jokes that his Manchester City-mad father has only recently started talking to him again after a 24-year silence for a childhood observation that it would have been easier to support a successful Manchester United.
But times are changing. Sheikh Mansour's billions have guided City out of the shadows. They will be playing in the UEFA Champions League, while the FA Cup was won at Wembley in May.
So what has it been like for a lifelong City fan who has experienced the bad times and the good? Skysports.com caught up with the in-demand Manford in the middle of a new stand-up tour to talk takeovers, Etihad Stadiums and Georgi Kinkladze.
So, Jason, how did you become a City fan?
I grew up in Whalley Range, which is just the next bit along from Moss Side and Maine Road. It is partly because of that, but also my dad supports City and all my mum's brothers support City. It would have been a travesty to support anyone else. I wouldn't have been invited to weddings and all sorts. It just made sense.
Were you ever tempted to support United?
I remember once I turned to my dad when I was about six and said, 'oh, dad, I've noticed United keep winning a lot. Why don't you just support them? It would make life a lot easier'. He has just about started talking to me again.
What do you make of the new name for City's stadium - the Etihad Stadium?
I would have liked to have called it the Etihad Arena. I think Arena sounds better. But it's not like it was Maine Road. If it had been Maine Road, I could have understood people kicking off about it. At the end of the day, it was a stadium that we didn't know the name of ourselves! Was it Eastlands? Was it the City of Manchester Stadium?
What is your opinion on the takeover since Sheikh Mansour arrived?
If you want to play at the top table, it's the only way to do it. Every single club in the world would have done the same thing, and it is now just jealousy. Clubs evolve, you still have tradition. At the end of the day, it is fans who make the club and we have not changed. Rival fans chant, 'where were you when you were s**t?'. And I think, 'well, I was sat here!'. You still do all the same things, go to the same pub before the game.
Who were your City heroes when you were growing up?
I suppose as a kid it was Shaun Goater and earlier than that it was Paul Lake. Probably the best player I have ever seen in a City shirt was Georgi Kinkladze. He was an absolute delight. In a team of donkeys, the guy was phenomenal. He made going to watch City worthwhile for about two years. He would dance through players. I remember the goal he scored against Southampton and the whole crowd went, 'wow!'. He must have beaten about seven players.
Who are your current favourites among the City players?
In a similar style to Kinkladze, I like David Silva. I was bit worried he was going to be a bit lightweight. He is only little, so I didn't know how he would survive in the Premier League. But he's great. He has got skill, can tackle, he's fantastic. Once he worked out how to play in the Premier League, he was away.
What is your take on the Carlos Tevez transfer saga?
I would like him to stay, but it looks like he's going to go. I think most reasonable thinking City fans will still say he was a legend. Every player moves on at some point. Ideally you would want to do it on your own terms. But it's about his family, so fine. It doesn't matter if you are a plumber or the Prime Minister, family is what it is all about. He can't go for the money, that's why people come to City! You don't go anywhere else for the money. At the end of the day, he got us third place and helped us win the FA Cup for the first time in my lifetime. I would have been more upset years ago if Shaun Goater had left when we had nothing! In the current climate, we're not going to be without a star striker for long.
Do you get many City players coming to your stand-up? Do you know the City stars?
You get a phone call every so often, 'ohh, Lescott wants to come to your show'. That happens every so often. I was good mates with Richard Dunne when he was captain of the club. Our wives were pals. You feel a little bit like players are gods and are untouchable. Actually they are just you, but they are better at football. A lot of them are normal blokes, even though they are on a ridiculous wage. They still play on the PlayStation, they still have a pint. Some of them have lost their way, obviously, and got diva-ish. You wouldn't be pals with El Hadji Diouf anytime soon and I can't imagine going to a pub with Mario Balotelli.
Do you play football? Are you any good?
I played Sunday League for a few years before I did my ankle in. I still play five-a-side every so often with some old mates from school. But I think I've only ever had maybe two good games in my entire life, you know, when you come off the field thinking, 'I was brilliant today'. I think there is a little wire in between your brain and your foot, and that, for me, it is a bit disconnected.
What about your Gareth Southgate impersonation when you made a mess of that penalty in a charity match at Old Trafford?
(Laughing) I didn't miss, it was saved! There is an important difference. You're doing the media a disservice if you say that I missed. I had gone off at half-time because I tore a muscle in my thigh. At half-time, I couldn't play on. When penalties came up, I said I was okay. But I couldn't kick with any power. I had no power in my leg. I really went for it, but it just dribbled to the goalkeeper.
Is there any football in your stand-up act?
I used to do a bit about deadline day, but I can't keep pulling that back, especially now Robinho has gone. I do a little bit about the songs that fans sing at matches.
Jason Manford Live is released on DVD and Blu-ray on 14th November, pre-order your copy here