Sulking and scowling
The shadowy world of the football agent is one that is cloaked in secrecy amid accusations of greed. Thankfully, we've got one of the good guys on board to lift the lid on what life really is like at the sharp end of a notoriously cut throat business.
By Secret Agent - Follow me on Twitter @SSSecretAgent
Last Updated: 02/04/12 3:27pm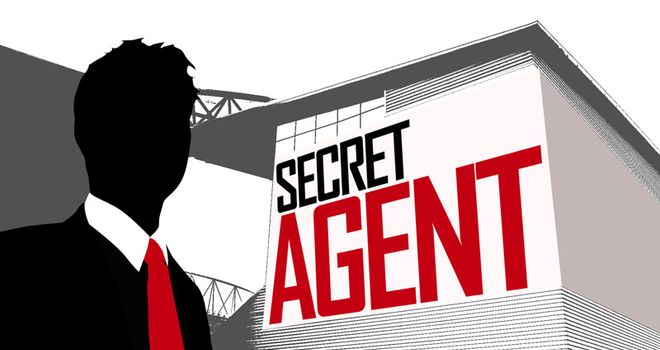 In the Premier League we constantly hear about players sulking. Rare is it a top flight game passes without incident, as just last night Fernando Torres wore an expression of utter incredulity after Roberto Di Matteo had the temerity to substitute him at the Etihad.
Players intimating, often via 'close sources', that they're not happy is nothing new but with 24-hour news coverage these days it's all played out under the full glare of the media. It's just one of a myriad of problems managers in the top leagues face on a day-to-day basis. In the Premier League, for the most part, player power wins the day.
Away from the bright lights of the Premier League the tables are turned very much in favour of the managers and clubs. It's getting worse every season and I'm not happy about it, so forgive my rant.
I've directed my scorn in the past towards Carlos Tevez and his ilk and for that I make no apology. Players that show a lack of commitment to their employers by throwing tantrums or using various other methods to force a move are abhorrent. And I'd tell my own players the very same if ever they tried to give their club the run-around.
But what we don't hear much about is those managers who will treat their own players with disdain if their face doesn't fit for or there's been a fall-out.
A recent incident from a League Two club, no names so don't ask, illuminates my point perfectly. The manager I'm referring to had regularly talked up a young player in the media. This kid was the next Bobby Moore in the making according to our man in the dugout.
To be fair the lad had done well, played a dozen or more games before he'd turned 18 and even represented his country. The signs looked good, he was keeping an experienced player out of the first team and the side was doing well.
I was pleased for the player but felt a little uneasy when I heard the manager repeatedly talking him up. Apparently, he had the makings of a player 'worth a million' and would more than likely 'be gone' in the next transfer window. The kid was probably thinking 'that's good of the gaffer to big me up. Just maybe I'll get a big move at the end of it'. It was, though, over the top and, as I suspected at the time, stank of self-interest.
However, this manager, knowing full well that he had a decent young prospect on his hands, was also aware that the player and his parents were a little naive when it came to contracts, agents and how the football world really works beneath the gloss and the glamour.
There's no crime in lower league managers bigging up their younger players but I'd warn any parent to be aware of possible ulterior motives. A manager's praise to the press is the best reference you can get as a player. On the surface for a player and his agent it's the perfect situation but be careful. Your agent can make you sound like Messi's heir apparent, but if a manager talks about you in glowing terms, then that's as close to a golden ticket you're ever likely to get.
In this case the manager involved put the PR team behind the new Harry Potter film to shame as he ramped up the praise, before kindly introducing the player to a 'very good friend' of his, who happened, quelle surprise, to be an agent. According to the grapevine, and my own sources close to the club, the pair of them had struck up a deal whereby if the club's better talent signed to said agent, a sizeable bonus would wing its way to a manager with less scruples than a banker on a bonus.
We're not talking a bouquet of flowers for the missus or box of chocolates here; we're talking hard cash. It's a shrewd, if morally dubious move on the part of the agent, as he saves himself a lot of time and effort scouting dozens of matches to select a player to represent. Why bother to do exhaustive ground work when instead you can bung a manager a few quid and then use him to talk up your new client? Plan hatched and executed, show me the money... not this time.
In the end it turned out that the parents weren't that wet behind the ears after all. They smelt a rat and refused to sign with an agent they didn't feel comfortable with. You would think that would be the end of it, all's fair in love and war and all that, but hell hath no fury like a manager scorned...
Having seen a nice little earner disappear in front of his eyes, revenge was on the agenda. The player was dropped quicker than Jim Leighton on an off-day at Wembley and never played again while the manager remained at the club. Strange that a player who was 'destined' for the big time was left to rot in the reserves but that's football.
Another topic that has got my back up in the last few months is when managers at the lower end of the spectrum love the feeling of power they hold over players and their representatives. A recent incident concerns a player I represent who wasn't getting a look in on the matchday squad. It happens all the time, but not one to rest on his laurels he wanted to go out on loan to get game time and put himself in the shop window as his contract was due to expire in the summer. I lined up a couple of clubs to take the player until the end of the season in good faith.
Not only does such a scenario give my client valuable match-time before the end of his contract, it would also give his parent club a few quid in the coffers to let them bring in a player themselves. Surely a win-win situation for both parties?
Well no, the manager wouldn't allow the player out even though it was obvious he wasn't part of his plans. He continued to be overlooked for the rest of the season. It's criminal. He is actually killing the player's career by not letting him go out. The lack of games also meant that he was not able to trigger a clause in his contract that would give him another year. It's fair to say the pair didn't always see eye-to-eye.
It's happening more and more often in the lower leagues. The clubs have got these players by the short and curlies. At this level supply outstrips demand in terms of the size of the pool of players they can choose from. Wages are falling and players are getting the 'put up or shut up' line from their managers.
Well I'm taking a stance. I'm refusing to help these managers any more. In future when I get a call from these guys, around the time of the close of transfer and loan windows when they realise they are short of a player or two, it's going to be 'sorry pal, no help from me'.
What comes around goes around. The may get all uppity and say they're going to cause me problems by telling other clubs not to use me but my stock answer will be: 'I'll be a football agent longer that you'll be a manager, I'll take the risk'. Unless it's Graham Turner at Shrewsbury or Dario Gradi at Crewe of course.