Done and dusted
Matt Done tells Chris Burton that, while there will be no letting up, Barnsley appear to be safe.
Last Updated: 11/04/12 6:14pm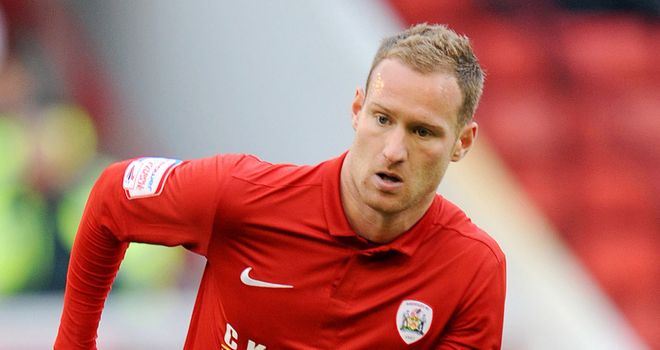 A 19th place standing suggests Barnsley have every reason to be looking over their shoulder in the Championship, but with only four games of the season remaining they would appear to be in a stronger position than you may think.
The Tykes are perched eight points clear of the drop zone with only 12 left to play for, so it would require something special from one of the basement dwellers for the Yorkshire outfit to slip through the second tier trapdoor.
While survival is all but guaranteed, those inside the Oakwell camp are reluctant to take their foot off the gas and stumble into the summer.
It is important that foundations for next season are put down, while personal pride means all of those charged with the task of generating results will be looking to secure as high a finish as possible.
Matt Done is among those hoping for a final flourish, with the 23-year-old telling Sky Sports' Chris Burton that he hopes to shake off a knock in time to return to Keith Hill's plans for Saturday's home date with high-flying Cardiff.
Asked how the injury was coming along, he said: "It's not too bad. I missed the two games over Easter but hopefully, fingers crossed, I will be back on Saturday having started training at the end of the week."
Back and hamstring complaints forced Done to sit out the Easter period and he admits to being disappointed at having to miss fixtures at an important stage of the season.
He said: "It is (frustrating). We have been struggling a bit in the last month or so but playing well. The performances have been decent so missing out, especially against the likes of West Ham, over the Easter period has been annoying."
Gap
The highly-rated winger is, however, of the opinion that Barnsley, despite picking up only one win in 11, have done enough to steer clear of trouble,
He said: "Before Monday's games we were looking over our shoulder a little bit, but the results went for us. We got a point at Blackpool and the big one was Bristol City beating Coventry, so we have sort of pulled away from them. Eight points is the gap and there are only 12 to play for, so you would think that we will be alright.
"It's been a weird season. If you look at it, we have almost had three different squads - from the start of the season up until Christmas, when we hit the play-off hunt, the time over the New Year and then from the start of the year we have had another squad. We have lost some big players. We are starting to find each other again now but we are playing with a whole new team."
Goals have been an issue for the Tykes this season, with the target found just four times during their recent wobble.
Done said: "That has been concerning, but we've been playing well. I think we will always create chances, it's just the last few months we haven't been taking those chances or creating as many as we have in the rest of the season.
"What we have been looking at and working hard at in training is trying to keep it tight. In the last few months, apart from the West Ham game, we seem to be losing one or two nil. Not scoring at the other end, that's where the difference has been."
While the 2011/12 campaign may not have gone entirely to plan for Barnsley, Done considers his debut season in the Championship to have been a success.
He said: "I have thoroughly enjoyed it. I had a hamstring injury over September/October but it's been a great experience and I just want to stay here as long as I can now."
Progress
Done has enjoyed a rapid rise into the second tier, but appeared at one stage last summer as though he would be sticking around in League One with Rochdale.
He said: "It was a weird one. The gaffer put pressure on me heading into last summer to sign a new deal at Rochdale, which I never had a doubt I was going to do because I was enjoying my football, working with the manager and I knew it was a good place to be. But then, within one or two weeks, I got a phone call to say they wanted to take me there with them. I was over the moon."
On his progression through the divisions, which has taken him from Wrexham to Barnsley in the space of six years, he added: "I started off in League Two and then had a couple of years in League One. Hopefully I'll be in the Championship now for a few years. It's been a rapid progression, but I feel I have learnt a lot after starting in the lower leagues."
Done owes much of his success to Hill, a man he worked with at Rochdale and followed to Oakwell in 2011 and a manager he considers to be among the best in the business and the right man to guide Barnsley forward.
He said: "I feel that he has gone the best out of everyone. He has lost a few players to injuries or sales - Jacob Butterfield, (Ricardo) Vaz Te went to West Ham, Danny Drinkwater went to Leicester for big money. He seems to be able to get the best out of everyone and he's definitely the right man for the job.
"He and Flits (David Flitcroft) love football and they are one of the lads. We enjoy working with them as much as they enjoy working with us."
Done, Hill and all of those at Barnsley hope they can usher in a brighter future at Oakwell, with it their intention to see the current campaign out, knuckle down over the summer and come out fighting in 2012/13.
Done said: "Hopefully, come Saturday at Cardiff, we can win and we'll be safe then for another year. That's when the hard work does start. The honeymoon will be over, I will have been in the Championship for a year and I'm looking forward to next season already."