Season review
With the dust just about settled on the most engrossing Premier League season in living memory, skysports.com's football desk look back over the past 10 months to deliver their verdicts. We celebrate the best and condemn the worst in our review of a memorable 2011/12 campaign
Last Updated: 17/05/12 11:33am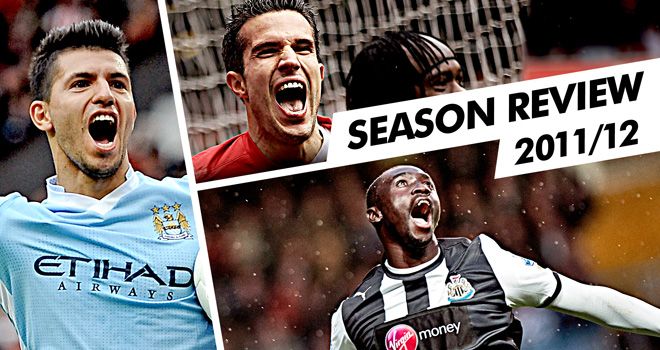 When the curtain was drawn on the most memorable Premier League season in living memory most of us retreated to a darkened room to take it all in. Sergio Ageuro's almost surreal late, late show at the Etihad seemed strangely in sync with all that had passed before it over 10 months that housed all that is good, bad and ugly but always captivating about English football. Slowly but surely, one-by-one, the football desk have shaken themselves down and edged out of said darkened room to deliver their end of season best and worst lists. Have your say on all of our selections and leave your own nominations by filling in the feedback form at the foot of each article.
Game of the season The 2011/12 campaign will almost certainly go down as one of the Premier League's most engrossing and that's in no small part due to the number of high-scoring matches involving our top clubs. It seems the days of dour stalemates when the big boys go head-to-head are out of vogue, with the tactics book thrown out of the dressing room window. Let's enjoy it while it lasts. Here are our top selections.
Goal of the season: From Papiss Cisse's wonder strike to Hatem ben Arfa's mazy dribble to that Sergio Aguero effort at the Etihad, there's been no shortage of sensational goals this season. Click here to read our top picks.
Player of the season: It's no surprise Manchester dominates when it goes to deciding the campaign's top player. Robin van Persie is the only nominee not to play his football up north but has already proven pretty adept at picking up individual honours in lesser awards dished out earlier this month. Have your say here.
Young player of the season: Kyle Walker won the PFA equivalent for this award and is again in contention here. The Tottenham full-back, currently nursing Euro 2012 injury heartache, has indeed enjoyed a fine campaign but we've picked five other rising stars that should run him close.
Manager of the season: The top boss gong divided our football desk perhaps more than any other. Several of our writers campaigned for those coaches that had overachieved, while there were those that said delivering silverware is the ultimate achievement for any manager - regardless of the resources at their disposal. Have your say on our picks here.
Unsung hero of the season: While the likes of Van Persie and Rooney are invariably the headline makers, most 'star' players would concede they would be nothing without their team-mates. Here, we celebrate those players that bleed for their clubs but don't feel the need to show off their bandages.
Emerging star of the season: From James McClean to Alex Oxlade-Chamberlain via the highly-rated Joe Allen, a number of number of previously unheralded players have made a name of themselves this season. The key now will be for these fine chaps to prove accomplished debut campaigns in the top flight are not a flash in the pan occurrence. Find out who we've given our seal of approval to here.
Villain of the season: An oft controversial category that is never difficult to fill. It's fair to say there's been a number of wrong 'uns this season, with racial rows, players spats and grumpy managers all getting a mention here.
Best buy of the season: If there was a best buyer of the season then Mr Pardew would be in a category of one, but we've decided to look beyond Newcastle's masterful market moves to offer a selection of shrewd deals that were struck across the Premier League. Here we separate the bargain buys from the absolute howlers....
Flop of the season: For every great buy there's ten duds and this season has been no different, with a number of big-money purchases having failed to live up to expectations. It's the list no player wants to find themselves on but you'd think by now a number of our picks would be used to it. Find out who's being presented with a wooden spoon here.
Controversy of the season: Has there ever been a season with more talking points? While there's been some spectacular football on the field, it's been equally eventful off it. Picking the bones out of a campaign that has so often been doused in controversy has not been easy, but we reckon we've made a decent fist of it here.
Have your say on all of our picks by filling in the feedback form at the foot of each article.