Quotes of the week
A comedian at Wigan and Hollywood actors at Old Trafford. It's the week in quotes...
Last Updated: 06/06/12 3:39pm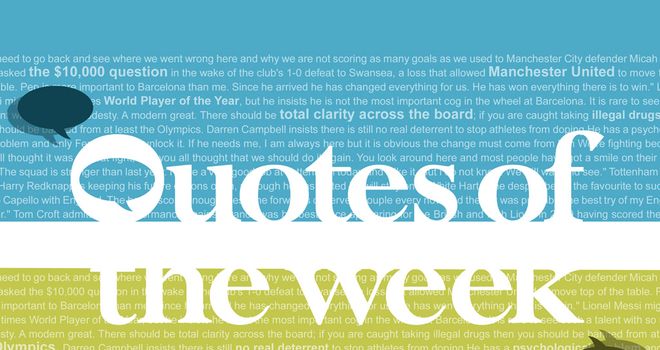 A comedian at Wigan and Hollywood actors at Old Trafford. It's the week in quotes...
"Robin is clearly focused on the Euros at the moment and we wish him well, and at the right time we will make the right announcements." Arsenal chief executive Ivan Gazidis puts fans' minds at rest. Sort of.
"You don't let players run into the last year of their contract if you think they are any good and you don't let managers run into the last year of their contract if you think they are any good." Harry Redknapp wants a new deal.
"At the end of the day, we don't deserve to be in the Champions League." Spurs midfielder Rafael van der Vaart had a more succinct take on the club's season.
"It surprised me because I think he's still one of the best defenders in England, and maybe in the world." Van der Vaart has had a lot to say this week. This was him discussing Rio Ferdinand's omission.
"I am not here to win any race or competition, this guy is a legend in the game and at Liverpool Football Club." New Reds boss Brendan Rodgers reveals his respect for predecessor Kenny Dalglish.
"I always thought John Bishop was the biggest comedian in the north west but Dave Whelan seems to have taken that mantle over the last couple of weeks." Liverpool managing director Ian Ayre is clearly impressed by the Wigan chairman.
"There's a lot of expectancy at the club and it's not something I'm going to shy away from, it's something I'm going to thrive on hopefully." New Aston Villa boss Paul Lambert is ready to embrace the pressures of life at the club.
"I think he has had to choose between the two of them and he has chosen John Terry. In an ideal world without all the controversy around them he would take both of them." Steve McClaren explains Roy Hodgson's position.
"Five clubs are interested and there's a bigger club than Newcastle. I cannot still say anything about it, but I hope soon to have my new club." Twente defender Douglas endears himself to the Geordie nation.
"After a pretty poor Test series in Abu Dhabi and Dubai, Pietersen rediscovered his Test form through the one-day game. He won't have that opportunity at home or abroad again." Mike Atherton on the perils of Kevin Pietersen's decision to quit limited-overs cricket.
"It's obviously a tough thing for any player not to play in a Test match but with the schedules as they are in international cricket, from a management point of view, you've got to manage your resources cleverly." England captain Andrew Strauss, on the other hand, was left explaining the decision to rest a cricketer, James Anderson, who had made himself available.
"It was like going into the Olympic final again. You get emotional. It was almost like I was about to fight again." Boxer Wayne McCullough takes his torch-carrying duties very seriously.
"We have 25 George Clooneys." Manchester United's commercial director Richard Arnold appears to have taken the airbrush to the team photos at Old Trafford.
"We recognise there is a history and commitment that goes with supporting Cardiff but at the same time we have to be prepared to be realistic and progressive." Cardiff chief executive explains the Bluebirds' decision to play in... red.
"Having departed the world's top 50 when at his lowest ebb, this week he is snuggled in just behind the top three and his stock is once again rising" Sky Sports' Ewen Murray on the return to form of Tiger Woods.
"If he had won, he would deserve the win, no doubt. But that's sport. The one that mentally pushes more in some moments and obviously gets also a bit lucky, gets the win." Novak Djokovic after surviving four match points against Jo-Wilfried Tsonga.
"It's the most fun I've had on the court in a while, so I wasn't shying away from the fact that the crowd wanted me to lose." Andy Murray after beating Frenchman Richard Gasquet at Roland Garros. Maybe he needs to be booed at Wimbledon?