Euro star
We take a look at Luka Modric after his starring role in Croatia's victory over Ireland at Euro 2012.
By Adam Bate - Follow me @GhostGoal
Last Updated: 10/06/12 11:45pm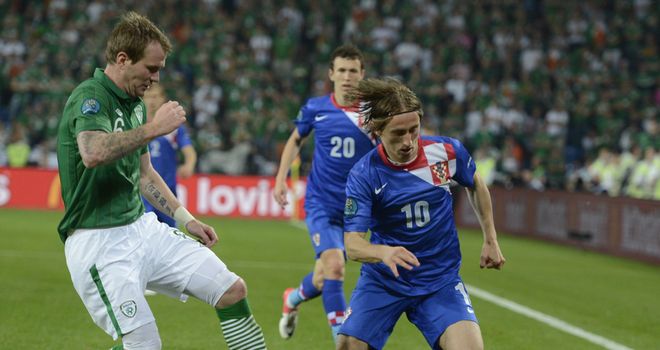 Luka Modric enjoyed the freedom of Poznan as he ran the show in Croatia's opening group game against the Republic of Ireland on Sunday. There had been speculation about the possibility that the 26-year-old could be tired after an intense season with Tottenham in which he featured in 36 of their Premier League matches. But the Croat looked in prime form as he probed the Ireland defence.
In truth, the former Dinamo Zagreb playmaker is a difficult performer to analyse statistically. His impact cannot be measured in terms of goals and assists. The joy comes from simply watching the man at work. He begins so many of the attacks for club and country and it was noticeable how often his Croatia team-mates looked for the diminutive midfielder in the transitions. They were keenly aware he was the man to unlock the opponents' defence.
His display in Poznan was helped by Ireland's tactics. Giovanni Trapattoni knows defensive stalwart Richard Dunne is at his best when clearing the ball and heading it away from a deep position. He is not so comfortable when there is space behind and he can be turned, so the fact that Glenn Whelan and Keith Andrews sit just in front of the back four helps the Irish talisman - he doesn't have to go tracking forwards dropping deep.
But the key impact of Ireland's formation preference was that it meant Whelan and Andrews had no interest in getting sucked up field. It invited Croatia onto Trapattoni's team and left Modric free to roam around and control the game for Slaven Bilic's side. That played into his hands and suited Bilic because Croatia have become increasingly reliant on their star man.
After all, make no mistake about it - this is not a vintage Croatia side. Bilic's team earned much praise in Britain after outplaying England to eliminate them in qualifying for the last European Championships. That team went on to win all three of their group games at Euro 2008 before being eliminated in the quarter finals on penalties. But that side included the Kovac brothers, Niko and Robert, as well as Ivica Olic - all of whom were good enough to play for Bayern Munich.
This Croatia outfit, robbed of Olic through injury on the eve of the tournament, is not so blessed with top-class talent and that leaves Modric burdened with significant responsibility for his team's fortunes. Of course, there are other teams at Euro 2012 that include a stand-out performer. But while Sweden's Zlatan Ibrahimovic and Poland's Robert Lewandowski can be dependent on the service they receive, Modric is the orchestrator for his country.
The role of the playmaker is beloved in much of Eastern Europe but it is one that Bilic abandoned in terms of his system when he first took the reins of the national team. As tactics guru Jonathan Wilson wrote in The Guardian: "When Slaven Bilic replaced Zlatko Kranjcar as national coach (back in 2006), he announced he was doing away with the 3-4-1-2 in favour of a Dutch-style 4-3-3. That created panic amid traditionalists, who see the playmaker as central to Croatian football, but they need not have worried."
The solution is that Modric does not need the team to be built around him tactically in order to wield influence and control a game. Having become accustomed to a deeper role at Spurs in the robust world of English football, he can contribute defensively and be a part of the midfield unit rather apart from it. It's an ability that has seen him dubbed 'the modern playmaker'.
So it is perhaps appropriate that Croatia's remaining two group games are against Italy and Spain, pitting Modric against the outstanding playmakers of their generation in the shape of Andrea Pirlo and Xavi Hernandez. How well Modric is able to stamp his own authority on those contests will go a long way to deciding just how successful his team - and it is 'his' team - can be in Poland and Ukraine. One thing is for certain, if Modric's performance in Croatia's opening match is indicative of what is to come, Bilic's boys may yet enjoy a surprisingly lengthy summer adventure.