Euro paper talk
We look around the continent for newspaper reaction to the Republic of Ireland's 4-0 defeat to Spain at Euro 2012.
Last Updated: 15/06/12 10:16am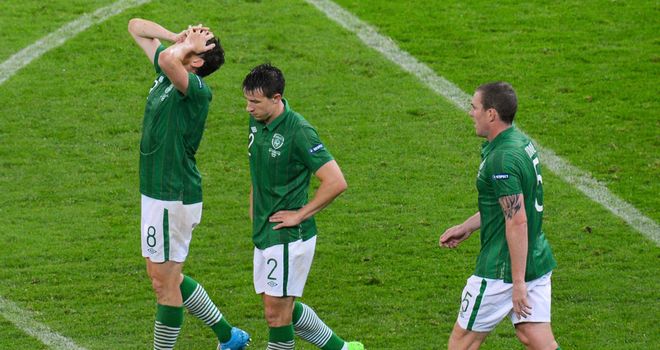 Republic of Ireland
Irish Sun: 'Torres leads the slaughter against boys in green'
In Spain, they are used to seeing hapless creatures picked off and slaughtered. It just usually happens in a bull ring rather than a football stadium. Like el toro, Ireland's football team has qualities. It is strong, honest and brave but there is only ever going to be one outcome for the bull. Likewise for Ireland.
Irish Times: 'Grit and graft no match for grace'
The 4-0 scoreline was a true reflection of what happens when a profoundly brilliant team meets a limited one. This was far from the greatest Irish team to ever play in a major championships but it should be remembered, on a chastening night, that they owe the country nothing. They earned their place in Poland on graft and courage and on a sodden night, that was nothing like enough. Never did the old schoolyard phrase seem truer: they ran rings around us. Any hope that it would be otherwise proved delusional.
Irish Independent: 'End of the dream as Ireland outclassed'
After 10 years in the international wilderness, the dream of an extended run in Poland and the Ukraine was ended during 90 painful minutes.
Spain
Marca: 'Four-star Spain secure best Euro win ever'
Spain will be brimming with confidence after a 4-0 thrashing of Ireland in an encounter that will also go down in the Spanish national team's record books. 'La Roja' had won 4-0 some 19 times before in its history, but had never triumphed by this margin in the finals of a European Championship.
AS: 'Spain call the tune'
Torres scored twice, Silva bagged a pearl and Cesc, dropped yesterday in favour of a natural No.9, closed the account with an immaculate striker's goal. Again we are champions of all, happy and lively again. The category of the rival is not a matter that deserves great analysis and we shall not dwell on the issue.
Italy
La Gazzetta dello Sport: 'Spanish rule; 4-0, Trap eliminated'
Spain play a game of dominance, militarily occupying the Irish midfield. Even when they lose the ball, at the end of an infinite series of steps or a dribble into the area, they recapture it within a few seconds. The Trap, the first eliminated, did not do us a favour, but it's not his fault.
Germany
Bild: 'Worst team, best fans'
After their team had been hopelessly overstretched and produced the worst performance of the tournament, approximately 20,000 Irish fans in the stadium provided the most spine-tingling moment of the tournament. In the 87th Minute, with their defeat sealed long ago, the Irish sang the folk song "Fields of Athenry". Ireland has the worst team - but by far the best fans! A very moving moment - and a slap in the face to those who think fans rush off if they are losing, light flares or take out their frustration on opposing fans.
France
L'Equipe: 'Spain corrects shooting'
The suspense lasted less than four minutes - the time it took for Fernando Torres to score against Ireland. Faced with an extremely slow defence, which took much too long to get going, the Chelsea striker entertained.