Disaster Awaits
Bolo Zenden told Sky Sports of the 'disaster' which awaits if Holland crash out of Euro 2012.
By Alex Dunn
Last Updated: 18/06/12 4:14pm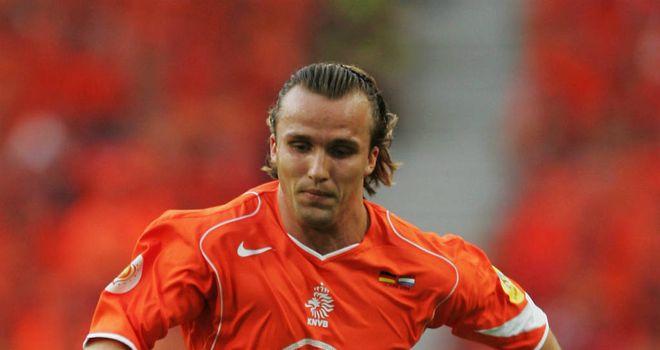 Former Holland international Boudewijn Zenden accepts the Dutch people will deem failure to qualify from the group phase of Euro 2012 a 'disaster' and that should such a scenario ensue it could have serious repercussions for coach Bert van Marwijk.
Having lost their opening two matches to Denmark and Germany respectively, Holland head into Sunday night's game with Portugal aware that only a win would give them any chance of progressing from Group B.
Van Marwijk has come in for heavy criticism for employing conservative tactics in their two games to date but such an approach will have to change against Portugal, as they have to win by two clear goals in Kharkiv and hope Germany do them a favour against the Danes.
Zenden believes Van Marwijk still has the backing of his employers having guided the Dutch to the World Cup final two years ago. However, with several high-profile members of his squad having been vocal in their disapproval of his team selections and the fans not happy either, a parting of ways could be on the cards if Holland crash out at the group stage.
Disaster
"It will be seen as a disaster if we go out but the Dutch FA has already said that even if they don't qualify from the group stage Van Marwijk will keep his job," Zenden told Sky Sports.
"That said, we also know that he has a clause in his contract that if he finds a club side that wants him he can walk out on the job. If they don't qualify, perhaps they can find a mutual solution, if you know what I mean?"
Zenden, who won 54 caps for the Dutch during his own international career, feels prior achievements in the job could keep Van Marwijk at the helm and that a calm personality will serve him well in dealing with the vociferous criticism that will invariably come him his way.
"I rate him in a sense that he has gone great with Holland. Up until the Euros they've always scored a lot of goals and got great results. 
"Van Marwijk took them to the World Cup final, which was some achievement and shouldn't be forgotten. 
"He's a very quiet character. He doesn't get involved in arguments with the press, he's a relaxed guy who can handle the pressure and everything that has been thrown at him he's dealt with. 
"That's a compliment to him but you have to wait and see if he can cope with what will come his way if Holland don't qualify."
Van Marwijk's selection of son-in-law Mark van Bommel alongside Nigel De Jong in central midfield, at the expense of the more creative Rafael van der Vaart, has been a topic of real contention, as has the omission of Klaas-Jan Huntelaar.
The prolific Schalke striker is an almost certain starter on Sunday, with Van Persie likely to be used in a more withdrawn role. Voices of dissension have been heard throughout the Dutch campaign but Zenden feels a lot of the noise can be attributed to poor results rather than genuine tension within the camp.
Upset
"I'm sure it's not a happy camp but that's normal. When things are going well everyone is happy and when it's not, that's when you start to have trouble," he explained.
"People become upset when they don't play. Two years ago I think there were 11 starters. There were another 11 just happy to be there. Now we have 11 to 14 who have cases to be starters and obviously feel they should be involved. 
"There are the major players in Van der Vaart, Kuyt and Huntelaar who haven't featured that much. That's always a problem for the manager. 
"The one or two that aren't involved can become difficult. I don't think in reality it's an issue but again, it's another thing that becomes a story when you're not winning.
"All of a sudden playing with two holding midfielders is an issue, having Van Bommel as captain is an issue, all the time when things aren't going well everything is suddenly a problem. Especially with the press."
Although the odds of Holland progressing to the quarter-finals at the expense of Portugal and Denmark are against them, Zenden believes should his compatriots rediscover wavering confidence a nightmare situation could yet be rectified.
"Obviously it's been a very disappointing tournament for the Dutch so far," he concluded.
"You have to say that when they played the Danes they had a lot of opportunities to score but the law of football determines that if you don't score the opposition will.
"What surprised me the most was that Holland couldn't react to it and were devoid of ideas how to break them down once they fell behind.
"There is no shame to lose to Germany as I feel they are one of the tournament's strongest sides and the possible eventual winners. It's rather strange that you can lose two games and yet still possibly qualify.
"What surprised me was how defensive Portugal were against Germany in that they only went for it when they fell behind. It was strange to see an attacking side like Portugal approach the game in that way so it will be interesting to see which game plan they employ against the Dutch.
"As long as there's a chance Holland need to go for it. You have to believe."
Bolo Zenden was part of the European Legends side that played the Carlsberg Pub Cup five aside winners at the Carlsberg Fancamp, Warsaw. Visit www.youtube.com/carlsberguk to see highlights from the grand final and watch the Carlsberg EURO 2012 advert.