Becks backlash
appreciates the reasoning behind Stuart Pearce's decision to leave David Beckham out of his Olympics squad, but feels Great Britain might miss the magic of his swansong.
Last Updated: 30/06/12 3:52pm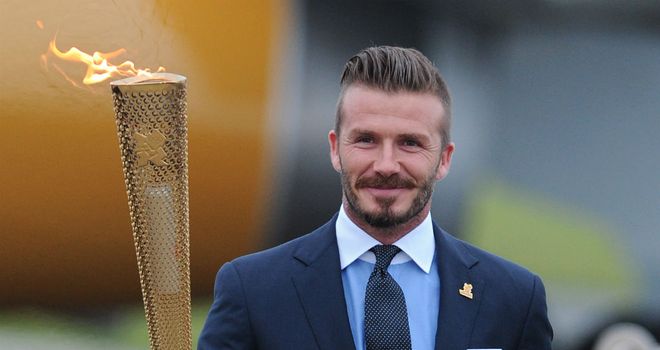 When the news broke on Thursday that David Beckham had been shunned by Stuart Pearce for Great Britain's Olympic football team the public reaction was one of sheer incredulity.
How could Mr Olympics himself, one of the country's greatest ambassadors for sport, who played a crucial role in bringing the Games to London for this summer, have found himself left by the wayside?
Shouts of 'disrespect' and 'disgrace' ran rife on Twitter, with the general consensus being Pearce had scored an own-goal by omitting England's golden boy.
But while many were left reeling from the snub, others have pointed out the logic behind Pearce's decision to forgo the peoples' choice and give Beckham the brush-off in favour Ryan Giggs, Micah Richards and Craig Bellamy. The coach has refused to let his heart rule his head.
Snub
The cold hard truth is that, on the pitch, Beckham is well past his best.
At 37 years old the former England captain is short of competitive sharpness, having traded the rigours of the Premier League and his subsequent exploits in La Liga with the comparatively less demanding Major League Soccer.
In contrast, his former Manchester United team-mate Giggs, who beat him to the final over-age spot in Pearce's midfield, is still notching up 30 plus appearances for Sir Alex Ferguson's Premier League title contenders per season.
Pearce has made it clear since his appointment as coach he would pick his squad on "form and fitness" alone and, when it came down to it, Beckham didn't make the grade.
The coach went over to the States several times to watch the veteran midfielder in action, witnessing LA Galaxy's 1-0 defeat by New York Red Bulls last month; one of five losses the club recently suffered over 11 games, winning just three in that period.
Beckham himself had said ahead of his omission: "I don't want to be picked to sell shirts or as a stadium filler. I want to be in because of what I can bring to the team." Which, going on Pearce's snub, was not enough to warrant a place.
But you have to wonder what the ex-England man would have brought, had he been included.
Irrefutably, Brand Beckham would have put bums on seats. Other than the man himself, those hit hardest by his exclusion from Pearce's squad are likely to be the marketing big-wigs who'll feel the absence of the advertising powerhouse's endorsement.
However, it is cynical and unjust to say shirt sales and revenue are all Beckham could have offered.
In terms of ability, there's no denying Beckham is in the twilight of his career. But while the defeat to New York Red Bulls caught Galaxy in the middle of a slump, Pearce also witnessed the midfielder create the winner in a 1-0 victory over Portland Timbers a couple of weeks later. His pace and movement may have faded with age, but he can still be dangerous in dead-ball situations and his passing ability remains a threat. No player has directly assisted more goals in the MLS since the start of 2011 than Beckham.
However, it is his presence and spirit in the side that would likely have proved his biggest contribution. Beckham's toiling effort to help Great Britain's bid to secure the Games and his subsequent involvement underlines his unfaltering passion to see his country do well.
It must have stung for Beckham, a player whose love for representing his country is well-known, to lose out to Manchester City's Richards - who reportedly declined to go on stand-by with Roy Hodgson's Euro 2012 squad after missing the initial cut.
Influence
Such a massively patriotic figure could have had a huge influence on the youngsters that will make up Pearce's squad. It has been suggested Beckham's inclusion would have taken the spotlight away from Great Britain's emerging stars but on the flipside the midfielder could have been a fine role model, leading by example with his dedication and loyalty. Everton youngster Jack Rodwell, who will himself miss out through injury, has admitted he wanted the former England skipper to make the cut, saying on Friday: "Everyone in the squad would learn from David Beckham. He is a legend."
And it's not only the players who Beckham's presence could have inspired. Whatever your opinion on the midfielder, there is no denying a large section of the public hold him in high esteem and his inclusion would have generated interest and support from fans who otherwise might not have given Olympic football a second glance.
Pearce is evidently assembling a Great Britain team he believes can succeed. Not including Beckham despite the inevitable public backlash has been hailed a brave decision from some quarters and even an intelligent one by those who feel the midfielder no longer has the stamina or quality required.
But Pearce will struggle to find a player who is as willing to pour everything into doing well for his country. The coach's head ruled his heart and, based on ability, it could turn out he made the right call. But, despite the reason behind Pearce's decision, being denied the chance to see Beckham granted the well-earned final bow he so craves in his home city has left many supporters bitterly disappointed. The sentimental part of me can sympathise.