Van the right man?
Ian Watson argues Robin van Persie would be an ideal signing for Manchester United, amid scepticism from some sections of the Old Trafford faithful. The Dutchman's future is set to be resolved soon, with Arsenal boss Arsene Wenger having long-since tired of the incessant speculation
Last Updated: 23/07/12 5:31pm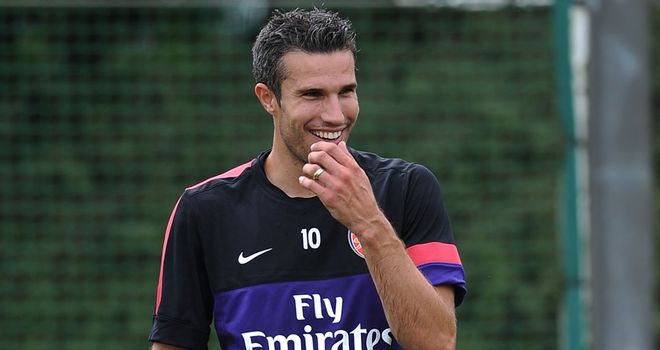 Sir Alex Ferguson raised eyebrows last Friday when he deviated from his usual protocol to confirm that Manchester United had indeed made an unsuccessful bid for Robin van Persie. Even more of a surprise, perhaps, has been the reaction from a significant section of United fans, who seemingly do not view their club's interest in the Premier League's top-scorer as a positive step.
Wary of a repeat of last season's Samir Nasri saga, when the former Arsenal star rejected United in favour of Manchester City, perhaps many are just insuring themselves against what they feel will be inevitable disappointment, if the champions once again choose to flex their financial muscle to blow their neighbours out of the water. Some insist van Persie is too old, too injury prone and not a priority given United's other more obvious failings.
Whatever his motive, though, Ferguson has been honest enough to admit that he sees value in van Persie, who has only a year left on his contract at The Emirates and is looking for a club more suited to meeting his ambition - and hefty wage demands - than Arsenal.
Van Persie would certainly improve United's squad; 30 goals in 38 league games back up that notion. But there remains a wariness among some fans about how he would fit in to a forward line which already contains Wayne Rooney - a player similar in style to the Dutchman - as well as Javier Hernandez and Danny Welbeck.
With Dimitar Berbatov no longer in Ferguson's plans, though, there is still room for another striker at Old Trafford. United have played an average of 56 matches a season over the last three campaigns, which provides plenty of games to be shared around. Ferguson rotated for much of last season, but their Champions League debacle showed he did not have the depth of quality necessary to maintain a challenge on four fronts.
Doubts
Concerns have been raised about how van Persie's presence would affect the progress of Hernandez and Welbeck. More than van Persie's arrival, however, a bigger threat to the young duo's game-time prospects is Ferguson's reported leaning towards a return to a 4-2-3-1 formation.
Neither Hernandez nor Welbeck excel when playing as the pivot of an attack and, while Hernandez's natural goal-poaching instincts should see that he sees a satisfactory amount of action, Welbeck's lack of an obvious USP may mean that his opportunities become more limited, certainly as a central striker. The Academy graduate, who is yet to agree a new contract beyond next summer, would have to raise his game if he is to make his mark, such is life at one of the world's leading clubs.
A change of system would leave Rooney and van Persie fighting for a single spot at the head of United's attack - much to Ferguson's delight. With two of Europe's most potent strikers pushing one another, Manchester City will have to work much harder to outscore their derby rivals over the course of a congested season.
Rooney could play off van Persie in a deeper role, but the England striker always appears more threatening closer to the opposition goal. The central playmaker role is also one new boy Shinji Kagawa hopes to play, while Ryan Giggs also remains at Ferguson's disposal.
Like Giggs, Welbeck and Ashley Young, Kagawa is comfortable coming inside off the left flank, with another transfer target, Lucas Moura, joining Nani and Antonio Valencia in a fight for the right-sided role. With the lack of obvious wingers in a 4-2-3-1, the Old Trafford faithful could see Valencia bombing on from right-back more often this season.
Right priority?
Another concern voiced by some United supporters is how van Persie's fee - likely to be in the region £20milion - would affect United's ability to address other priorities. A holding midfielder is at the top of many fans' wishlist but it seems Ferguson is basing his transfer policy on attack being the best form of defence. In last season's 4-4-2, too much was asked of Michael Carrick and Paul Scholes, who were tasked with pulling the strings ahead of them all the while shielding United's back four. With a change of system and a streamlining of their responsibilities, the England exiles can become more effective at the base of the midfield.
Van Persie certainly does not fit the profile of a Ferguson target, not least since financial constraints - which Ferguson refuses to admit that he is under - meant value became as crucial as quality in his pursuit of new recruits. The grey-haired Dutchman turns 29 in August, which makes a significant sell-on fee highly unlikely; and his fitness record was questionable at best, at least until last season, when the Gunners fielded their talisman in every Premier League game.
Gamble
But the threats of title holders City and European champions Chelsea means Ferguson cannot afford to gamble this summer. No-one knows for certain how quickly Kagawa and possibly Lucas Moura will adapt to the Premier League but, in van Persie, United see a sure thing. His yearly salary could cost United close to £10million, but with their rivals raising the stakes, staying in the game does not come cheap. Unless, of course, Ferguson is intent in selling as well as buying before September 1?
If City decide they do not want United to have van Persie, then the Oranje hitman could well be blue next season. But Ferguson is clearly serious about adding van Persie to his strikeforce and, despite the United fans' reservations, his capture could go a long way to lifting the dark clouds over Old Trafford this summer.