Talking points
The football season is here and each week Sky Sports will examine the statistics to help answer the questions that fans - and managers - are asking. Up first we take a look at some of the talking points from the FA Community Shield.
By Adam Bate - Follow me @GhostGoal
Last Updated: 13/08/12 12:45pm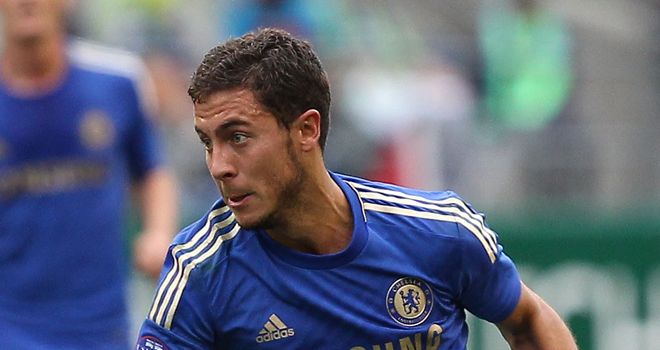 Hazardous start for Belgian
Eden Hazard had warned on the eve of the game that he will have bad games in a Chelsea shirt. It was a little late for the £32 million signing to attempt to downplay expectations, especially given that he's not a man you'd immediately associate with self-deprecation. But it proved prescient. While it would be harsh to file this display under the category of rank bad, it wasn't really the 21-year-old's day.
The Belgium international started brightly enough. The interplay with Ashley Cole on the left was encouraging and the remarkable close control was evident. But a disastrous back-heel attempt after 20 minutes left Hazard sprawling on the turf to the jeers of the Manchester City supporters and the former Lille man's problems then began in earnest when Branislav Ivanovic was sent off.
With Chelsea struggling to get hold of the ball let alone retain in, this led to an uncomfortable half an hour for the playmaker before being withdrawn after 71 minutes. The statistics show there was little wrong with Hazard's passing - his completion rate was higher than his average at Lille last season - but he just had fewer touches. The youngster is used to playing more than twice as many passes as this (52 to 25) and it could take time for him to adjust to being anything other than the focal point of the attack.
Hazard's creativity and dribbling stats were also affected, as you would expect up against top-class opposition. The two-time Ligue 1 player of the year is used to enjoying an average of more than two successful dribbles per game but at Villa Park not one of his four attempts came off. The talent is there in abundance but Hazard will know there will be easier games than this in which he can showcase his talent.
Eden Hazard
 
 
 
Player
2011/12
v Man City
 
Appearances
38
1
 
Minutes played
3,210
71
 
Goal Attempts
 
 
 
Goals/game
0.53
0
 
Total shots/game
2.11
1
 
Shooting accuracy
61%
100%
 
Goals-to-shots ratio
25%
0%
 
Blocked Shots/game
0.71
0
 
Passing
 
 
 
Goal assists/game
0.42
0
 
Chances created
2.47
1
 
Passes/game
51.92
25
 
Pass completion %
82%
84%
 
Crossing
 
 
 
Crosses/game
3.47
0
 
Cross completion %
23%
0%
 
Dribbling
 
 
 
Dribbles/game
4.95
4
 
Dribble completion %
47%
0%
 
Defending
 
 
 
Tackles/game
0.74
1
 
Tackles won %
86%
100%
 
Lescott, Agger and the hunt for progress
Roberto Mancini has been vocal about his frustrations regarding City's lack of activity in the transfer market this summer and Liverpool defender Daniel Agger is reportedly one of the club's chief targets. That would make sense given that the Premier League champions are short of numbers defensively as well as Mancini's desire for the team to become more progressive from the back. That is surely the next step for Mancini's men and perhaps the route to European dominance.
Joleon Lescott enjoyed a hugely impressive season last time out but the England international is conspicuously limited on the ball. Lescott missed out on Sunday and in his absence Mancini took the chance to continue his pre-season experiment with a 3-4-1-2 formation. But the use of understudy Stefan Savic was unconvincing. Against Chelsea, Savic could have been sent off after two clumsy challenges before being withdrawn at the interval.
City finished up with Gael Clichy and Pablo Zabaleta operating in a back three at Villa Park but if Mancini wants a more progressive approach then the long-term solution may be to bring in more progressive central defenders. Players who can bring the ball out of defence and help find the breakthrough themselves.
It doesn't require statistical analysis to reveal that Agger is easier on the eye than fellow left-footed centre-back Lescott with the ball at his feet - but the stats do bear that out. The Denmark international attempted more shots, more crosses and created more chances than his City counterpart last season.
But Mancini must be wary. Lescott, while appearing clumsy, is ahead by most traditional defensive measures - tackles, blocks, headers and clearances. City will need to balance what the change of formation gives them against the remarkable defensive strength provided by the partnership of Lescott and Vincent Kompany in recent seasons.
Player
Daniel Agger
Joleon Lescott
Appearances
27
31
Minutes On Pitch
2141
2688
Tackles and Blocks
 
 
Total Tackles Made
32
43
Last Man Saving Tackles
0
3
Tackles Won %
66%
91%
Shots Blocked
14
22
Interceptions
59
54
Clearances
 
 
Total Clearances Made
98
157
Clearances per 90 mins
4.12
5.26
Headed Clearances
49
90
Distribution
 
 
Total Passes
1049
1419
Passes per 90 mins
44.10
47.51
Pass Completion %
84%
88%
Creativity
 
 
Assists
1
1
Chances Created
7
5
Crosses Attempted
6
1
Cross Completion %
33%
0%
Discipline
 
 
Total Fouls Conceded
16
26
Yellow Cards
6
1
Red Cards
0
0
Going Forward
 
 
Goals
1
2
Shots on Target
6
2
Shots off Target
21
7
Who should partner Aguero?
Carlos Tevez's rehabilitation at Manchester City continues apace as he scored the most stunning goal of the game at the weekend. Dancing past challenges on the edge of the Chelsea box he fired the ball past a motionless Petr Cech to give City the lead. Mancini was quick to praise his former adversary and opined that the Argentine forward will be a far stronger player this season than last.
That will be a worry for Premier League opponents but perhaps even for Etihad Stadium team-mate Mario Balotelli too. While Tevez was busy improving his golf swing in late 2011 it was the so-called maverick Balotelli who was busy scoring 11 goals in 14 games to drive City towards the title. But when the Italian erred in the spring the prodigal son returned to get the league campaign back on track and forge an impressive partnership with his compatriot Sergio Aguero.
It wasn't just that Tevez found the net himself - although he did net four goals in his first two starts back in April - but he also brought the best out in Aguero, who scored back-to-back braces for the first time in his City career in those games. The understanding between the two really caught the eye and while there were moments on Sunday when they ignored each other's runs their movement provides a constant threat.
Even so, it's not a clear-cut issue. Balotelli enjoyed a successful Euro 2012 and will forever be linked to Aguero in City folklore thanks to forcing the ball into the diminutive forward's path for that goal against QPR in May.
But while City fans are destined to look back on that goal for a lifetime, Mancini will only be looking forwards. The stats show the Aguero and Tevez partnership brought an upturn in terms of goals and points. As long as that remains the case, expect Balotelli's impact in the biggest games to have to come from the bench.
 
With Agüero and Balotelli playing
Without Agüero and Balotelli playing
Games
19
19
Wins
14
14
Draws
2
3
Losses
3
2
Goals For
46
47
Average Goals For
2.42
2.47
Goals Against
16
13
Average Goals Against
0.84
0.68
Win %
74%
74%
Points per game
2.32
2.37
 
 
 
 
With Agüero and Tévez playing
Without Agüero and Tévez playing
Games
11
27
Wins
9
19
Draws
1
4
Losses
1
4
Goals For
28
65
Average Goals For
2.55
2.41
Goals Against
9
20
Average Goals Against
0.82
0.74
Win %
82%
70%
Points per game
2.55
2.26