Cause for optimism
As part of our new Premier League Snap-shots feature, Alex Dunn looks back on Liverpool's 2-2 draw with Manchester City as Brendan Rodgers' side were left to rue two defensive lapses
By Alex Dunn - @skysportsaldunn
Last Updated: 27/08/12 4:48pm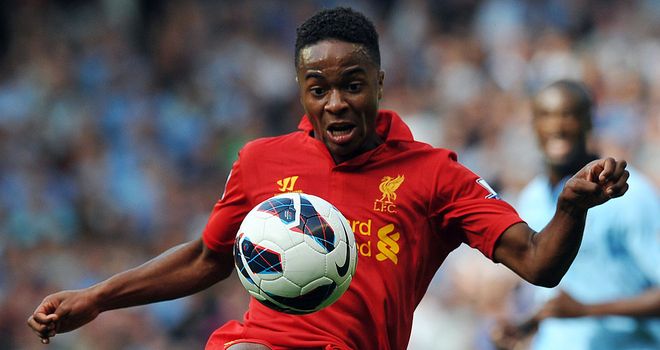 SELECTION
Along with Brendan Rodgers' 'way of playing', talk of a 'Reds Revolution' is in danger of becoming one of football's most over used clichés just two games into the new season. And yet, given Liverpool's starting XI on Sunday was their youngest in the Premier League since December 2003 against Newcastle, it's fair to say the Ulsterman is not afraid to be bold in his team selection. Daniel Agger's suspension necessitated the inclusion of Sebastian Coates. The same could not be said of 17-year-old Raheem Sterling, whose Premier League debut proved to be both fearless and productive. Stewart Downing will likely spend his Bank Holiday Monday perusing John Lewis for a nice big squishy cushion. Elsewhere it was a much changed Liverpool side to that which eked out a win at Hearts in midweek, but not dissimilar to the one that played so dismally against West Brom on the opening day. Andy Carroll remains the world's most expensive substitute. Viva la revolution!
It's probably safe to say Roberto Mancini wasn't overly impressed with Manchester City's victory over Southampton. It wasn't quite a case of throwing out the baby with the bath water but even given the porous nature of City's backline last week, perhaps only Yaya would argue brother Kolo is a better option at centre-half than Joleon Lescott. Scratch that, even brotherly love doesn't stretch that far. A change of formation (more of that later) that saw City line-up with an unfamiliar back three - albeit one they tried out in pre-season - saw recalls for Toure, James Milner, Aleksandar Kolarov (Gael Clichy was excused as his wife was due to give birth), Nigel de Jong and Mario Balotelli. Jack Rodwell dropped to the bench after a decent debut last week, other than his mistake for Southampton's second goal, and was joined by David Silva - who continues to wear the look of a man who would love nothing more than two weeks on a Greek beach. Keep dreaming Dave...
TACTICS
It's still early days but in the words of Ian Dury, there are reasons to be cheerful. At the back Liverpool continue to resemble a Benny Hill Christmas special with guest appearances from the Keystone Cops, but the manner in which Rodgers absolved Martin Skrtel for the blind backpass that gifted City a second equaliser, will serve him well as his looks to embed his vision in the minds' of his players. Joe Allen's assured performance in the middle of field demonstrated a range of passing that was as expansive as it was crab-like. A couple of lovely disguised passes to Suarez showed why he's more than just a water carrier and commanded such a lofty fee. It should come as no surprise how Liverpool are lining up these days with Sterling and Borini tucked in behind Suarez and while any partnerships are still in their infancy, there were positives to drawn on how the attacking triumvirate linked up. Getting it right at the back will be Rodgers' immediate concern though.
In the words of Harry Enfield: 'Calm down!' City were far from at their fluid best at Anfield but the given the reaction of some commentators you'd have thought Mancini started without a goalkeeper rather than simply chose to employ three centre-halves. It's a fair question to ask why the champions would feel the need to experiment in such a high profile game, but it's likely Mancini is keen to test different systems ahead of this season's UEFA Champions League campaign. Given City looked too rigid and a little square at times last term in Europe it shouldn't be a surprise Mancini is doing a little tinkering. Battering Wigan at home with three at the back doesn't tell you much about how a given formation would fare against Messi and co...
Pablo Zabaleta looked okay having switched inside to line-up alongside Vincent Kompany and Toure but in his absence on the right, James Milner - to his obvious frustration - couldn't quite work out whether his primary responsibilities were defensive or attacking. In truth, it was a thankless task entrusted to the beleaguered England man given Liverpool played with an out and out winger in Sterling. Had Liverpool - as is the norm - used a narrower formation with Downing tucked inside, Milner would have been freed from his strait-jacket. A lacklustre Balotelli was chosen to spearheaded City's attack in Sergio Aguero's absence but had none of the talismanic vigour he showed for Italy in Poland and Ukraine. Instead it was left to the superb Carlos Tevez and the less effective but growing in stature Samir Nasri to work in the pockets of space between Balotelli and the rest of City's midfield. On that score, the quietly effective De Jong had a completion rate of 93.1 per cent from 72 passes. Not bad considering Allen is being heralded as a human metronome after his 93.5 per cent completion rate from just 46 passes.
SUSTITUTIONS
An injury to Lucas in just the fourth minute could have been the stuff of nightmares for Liverpool. Credit then to the much maligned Jonjo Shelvey who looked neat and tidy alongside the more eye-catching performances of Allen and Steven Gerrard. The introduction of Carroll for Fabio Borini, who has been labelled a young Dirk Kuyt by some sceptics (I actually think he's looked quite bright for what it's worth), was well received on the Kop. He certainly made his presence felt and on another day could have netted with a late towering header.
Joe Hart insists his international team-mate is no Neanderthal and the manner in which he's dealt with effectively being sent to Coventry (literally if Rodgers has his way) is to his credit. He may yet prove to be a big player for Liverpool this season. The return of Jose Enrique was also a plus point for the home side.
It's far too early to say whether a 3-4-2-1 or 3-5-1-1 formation could serve City well in certain situations this season but what Mancini must get right is Yaya Toure's position should either be employed again. It was only with the introduction of Rodwell on the hour mark that the disciplined Ivorian was released from his shackles. Toure is too important for City to be asked to sit and it's no coincidence their performance picked up considerably when he was given licence to drive forward, in the knowledge Rodwell and De Jong would provide cover behind. Edin Dzeko's introduction gave City more of a focal point than the languid efforts of Balotelli, but the Bosnian will rue a late chance he flicked over the top when placed. As previously stated, Silva continues to work his way back to full form and fitness. Surely, it won't be long before the Spaniard is flying again.
REFEREE
Andre Marriner incurred the wrath of the City faithful for his decision to award the free-kick that Suarez so sumptuously bent home in the second half. Rodwell's initial block on the edge of his own block was excellent; whether he can be responsible for the ball ricocheting onto his hand is a more contentious issue. That he had both arms up to protect his face didn't do him any favours. Otherwise, there were few bones of contention in what was a good natured affair throughout.
MAIN MEN
Joe Allen will gain a lot of confidence from an Anfield bow in which he deservedly won the Man of the Match gong. Given the closeness of his relationship to Rodgers it was always going to be important to get his Reds career off to a good start and now he has something to build on. If Liverpool are to realise their manager's vision Allen will have to have the confidence to demand the ball from his back four and not be afraid to play in tight areas. On Sunday he was excellent in both disciplines.
It was quite the full debut for Raheem Sterling too. Rodgers set the tone with a bold selection but all the praise must go to a 17-year-old who had the home faithful off their seats whenever he received possession. On a couple of occasions he ran into blind alleys but on the whole it was a mature performance full of vim and verve. Lining up against a player in Milner who was not sure of his position worked in his favour, but he looks to have enough pace and a repertoire of tricks to keep even the most seasoned of full-backs busy. It'll certainly be fun to find out.
For City it was all about Tevez. Having spoken of now feeling settled in Manchester after last season's ill-advised histrionics, the Argentine is playing with the infectious enthusiasm of a man who knows he has a fair bit of making up to do. An assist for City's first goal and a cool finish for their second told only part of the story. All afternoon he was happy to chase down lost causes and that only Zabaleta and Kolo Toure won more challenges on either side spoke volumes.
LOOKING AHEAD
Liverpool will take more positives from the game despite conceding a lead twice but it's hardly been the 'worrying' start for City many are claiming. A point away at Liverpool is hardly cause to phone the Samaritans and for all his grumpiness of late, Mancini will be well aware that it is the mark of champions to be able to accrue points when you're not at your best. Just ask the other lot across the road.
Certainly bigger challenges lie ahead for Liverpool and Rodgers. There was much to admire about their performance on Sunday and it did a lot to exorcise the demons of the previous weekend. Certainly the promise shown by Allen and Sterling were massive fillips, as was a goal for Suarez who still needs to convince that he's as good a finisher as he is a footballer. For 90 minutes at least though, Liverpool looked to be heading in the right direction.