Deadline Day LIVE!
The transfer window is ticking down... don't miss a second online, on mobile and on Sky Sports News.
Last Updated: 31/08/12 9:40am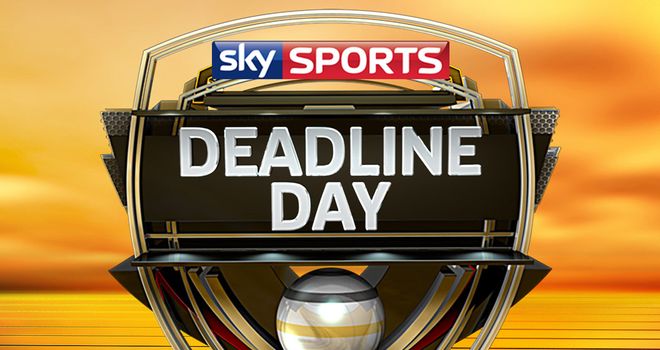 Time is ticking on this transfer window - so don't miss a second with skysports.com and Sky Sports News.
Friday is Deadline Day and as ever we'll bring you every deal done and move made, plus news of the transfers terminated by time.
Presenters Jim White and Natalie Sawyer will have news of every twist and turn on what promises to be another dramatic day right up until the 11pm cut off.
Before then you can stay bang up-to-date wherever you are - online, on mobile, on iPad, on iText and on Sky Sports News. Plus make @SkySportsNews, @SkySports and @SkySportsMobile on Twitter your first port of call for all breaking news. #skydeadlineday
Over £365m has already been spent in this window - but there's still a way to go to match last year's total of £478m. So will big money be spent and, if so, by who on whom?
You can find out as it happens on skysports.com, where we'll have a Live Clockwatch, rolling reports and regular video updates from The Transfer Centre. And it's not too late to send in your rumours of who you think will make a last-minute switch.
Sky Sports News will have reporters at grounds up and down the land bringing you news of the deals as they happen, first and fastest, plus we'll have reaction from experts in the studio.
Former managers Iain Dowie and Dave Bassett will join Jim and Natalie from 5pm to analyse each of the transfers in the offing and to assess those that do go through in time.
Once the 11th chime of 'Big Ben' has sounded, the pair will look back on the day's events right through until midnight - and you'll be able to have your say too by emailing u2us@skysports.com and via our post-Deadline Day coverage on skysports.com. Our online reporters are on standby to dissect all the deals with live chats planned to analyse who bought who.
But that's not all. Former Watford boss Sean Dyche will be in the Sky Sports News studio from 7am to give his take on the early movers and shakers before former Hull and Preston manager Phil Brown picks up the 'buying baton' for the afternoon leg in the company of presenters David Garrido and Kirsty Gallacher.
The race is on to beat Deadline Day. Be first with the news with Sky Sports.
Watch Sky Sports News live on your iPhone, iPad or Laptop with Sky Go. For more details simply click here.