Saturday summary
Charlie sees Crouch get away with it and Thommo hails Arsenal's pressing... read the panel's views.
Last Updated: 16/09/12 10:05am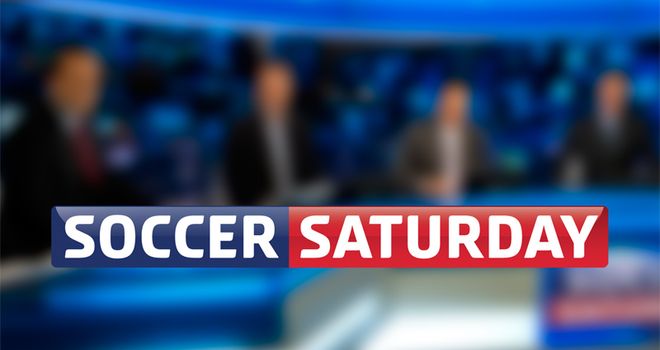 Charlie Nicholas on Man City being held by Stoke
"Peter Crouch took a gamble [handling the ball before his goal] and got away with it. You can call it cheating, you can do whatever you like but it was very tough on Man City. You English guys always mention Maradona's handball; this is a different situation but it was a clear knock-on and he took advantage of the situation like Thierry Henry against the Republic of Ireland. He got his luck.
"This was a thoroughly enjoyable match. It was end to end in the second half and, for me, Stoke had the better of the second half. Michael Owen was given two minutes and they took off Crouch, his old partner. I was thinking with five or 10 minutes to go that maybe Tony Pulis could have gone with a bit more of a gamble.
"Maicon looks as though he needs games and fitness. He got caught up in it a little bit at times. He got forward, but not with the same level of speed that he did in the past so maybe he needs games to sharpen up. Scott Sinclair was very disappointing and didn't really get involved in the game at all. Javi Garcia was big, strong, good in the air, scored the goal, got involved in the physical side of things and very nearly got the winner with a strong header. There's no doubt about it, he was the one stand-out player for Manchester City who was making their debut today."
Phil Thompson on Arsenal's comprehensive 6-1 win over Southampton
"Arsenal carried on where they left off in that second half against Liverpool. Everybody was so confident and there was great movement and passing. One of the big things it looks as though Arsene Wenger may have changed is the closing down. They never let Southampton settle, they hounded players and they made things. They stopped Southampton from playing and they couldn't get out of their own half. The likes of Podolski, Gervinho, Cazorla and Oxlade-Chamberlain kept interchanging and they couldn't grasp it. They didn't know who to pick up.
"The passing was great. They shifted the ball so quickly with little triangles anywhere near the final third. There will be more teams than Southampton who couldn't live with this Arsenal side. They've got City next so that could be a little bit different. We'll see how they go with the Champions League starting when you have to rotate your players and get the best out of them. We'll see how Arsenal will shape up, but particularly in the first 45 minutes some wonderful stuff went on - and Southampton paid the price I'm afraid.
"Southampton have played City, United and now Arsenal in the first four games, so it's been difficult. One of nice things at the end of the game was that Chamberlain and Walcott both went straight over to the Southampton fans. The two young men stood in front of them, clapping. I thought that was a lovely touch at the end, but Southampton were absolutely battered into submission."
Paul Merson on Manchester United's thrashing of Wigan
"In the second half it was comfortable. Javier Hernandez missed a penalty early in the first half and it was probably as comfortable as Wigan have ever been at Old Trafford. Ali Al-Habsi didn't have to make a save, they looked threatening on the break and Kone should have done better at the far post. They went in at half time and must have thought they had a right chance, but obviously you look at the bench and they've got Van Persie, so even if they went 1-0 up they'd be under pressure. But in the second half Al-Habsi dropped one for Paul Scholes, who has been doing it for 20-odd years. It was only a tap-in, but he was the only one there.
"The oldies all did well. Scholes is the one who opened the scoring and before that it didn't look as though Man United were going to score. Ryan Giggs isn't going to glide past people like he did 10 years ago but he's still so dangerous on the ball. They never gave the ball away. All three of them [including Rio Ferdinand] have been a different class and they've been a credit."
Matt Le Tissier on Chelsea's goalless draw at QPR
"The handshake didn't take place as expected and the game itself was played at a real local derby pace. There was not a great deal of quality on show unfortunately, but the commitment shown by all the players was outstanding. It's just a shame there weren't more players on the pitch who could have slowed the game down a little bit more and we'd have seen a little bit more quality football.
"Anton Ferdinand played very well and very rarely put a foot wrong. He did end up hobbling at the end of the game and in the last few minutes he was stood out on the right touchline making up the numbers; the injury wasn't so bad that he had to go off but he was certainly in a fair bit of pain. It was a solid display from him. A clean sheet was important to them, but one area of concern for QPR was that Andy Johnson went off with what looked like another knee injury. He's had so much trouble with injuries and he didn't look too comfortable and Fabio also went off with a muscle strain so they had to make two early changes. At the end of it I think Mark Hughes will be pleased with a point.
"Victor Moses looked lively when he came on. Chelsea didn't create too many clear-cut opportunities and there wasn't enough space for Eden Hazard to get the ball. I thought Moses did well when he came on and Daniel Sturridge did well when he came on because Torres didn't really figure much today at all."
Charlie Nicholas on the Anton Ferdinand / John Terry handshake row
"Anton Ferdinand has the right to say no. Whether people agree or disagree is entirely their opinion, just as Anton has every right to make his decision on it. I just think when it comes to this, just say to the guys: 'no handshake required today. Just get out on the pitch and get on with it'. It takes away that spotlight. We're talking about something that is nothing to do with football in general terms. We're trying to prove something to the little mascots that go round with the players and they are seeing this thing unfold. It's crazy."
Chris Kamara on Peter Odemwingie's red card against Fulham
"It was something stupid that players do from time to time. There was nothing to it really and he just decided to give John Arne Riise a big kick up the backside. It was just incredible, it really was. Why on earth did he do it? There was nothing previous and he gave him a right wallop - and then the referee gave him the red."
Phil Thompson on the goalkeeper situation at Tottenham
"This was an opportunity to get one of the best goalkeepers in Europe in Hugo Lloris. He's very sought after and the deal was done quickly with other teams not being aware. He's only 25, which is very young for a goalkeeper and he's top class, whereas Brad Friedel is 41 years of age. But it's how Andre Villas-Boas handled the situation in coming out to the press and saying 'Friedel's my number one'. What he should have said is 'everybody's up for contention for this place'. Brad Friedel is fantastic, but you're disrespecting Lloris by saying that Brad is going to be starting. He handled it wrong in my opinion."
Phil Thompson on the Hillsborough Report
"People have now realised why the families couldn't let it go. It's taken 23 years to have what the families have always suspected; they've always had ideas that there was a cover-up - and I don't think any one of the 96 families thought it could be as bad as what it was. It happened before the game, it happened during the game and afterwards, with all that went on, it was a massive, massive cock-up by people who should have a bit more respect. The people who have shown more respect have been the families in all they have done. In carrying this fight on they've shown the respect that they've not had. We've had apologies galore coming out from people. Why to God has it taken 23 years? I cannot believe it."