Calling it right
Dean Ashton praised Chris Foy for correctly turning down two Norwich penalty shouts against West Ham.
Last Updated: 15/09/12 3:32pm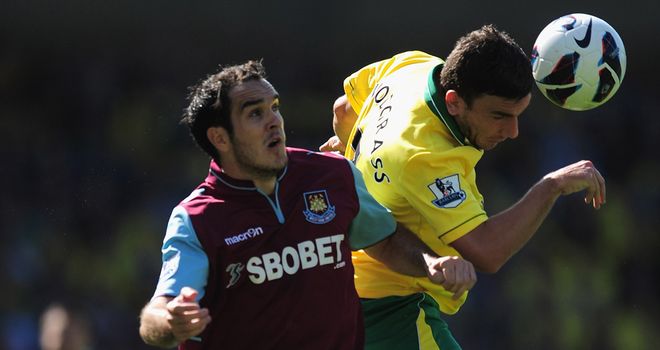 Dean Ashton paid tribute to referee Chris Foy for correctly turning down two Norwich penalty appeals against West Ham.
The home players twice called for a spot kick during the first half of Saturday's clash, which ended goalless, firstly when Robert Snodgrass went down under a challenge by Kevin Nolan and then when Andrew Surman was tripped by James Collins.
The referee waved away the first penalty claim and awarded a free-kick on the edge of the area following the second incident.
And Sky Sports expert Ashton said Foy deserves credit for getting the key calls correct.
He told Football Special: "We get the luxury of getting to see it time and time again and slowing it right down - and he doesn't - but I think he got both penalty incidents right.
"James Collins will look back and think he shouldn't challenge as he has behind Grant Holt, but when you slow it right down you can see that Surman's foot was still just outside the box as he planted it.
"The referee's got to make a split-second decision and go with what he thinks is right. I'm sure he'll want to take the plaudits.
"Fans always think they should have penalties when perhaps they shouldn't, but I think any honest fan would look at that and say it was just outside.
"It is millimetres, but you could see a little bit of grass between his foot and the white line. It's such a big call for the referee and I'm sure he'll look back and be glad he got it right.
"On first thoughts I felt the first incident was a penalty, but looking back on it you could see that Kevin Nolan just pulled out at the last minute and didn't make contact.
"Good referees get themselves in good positions and he made a great decision there as well."
Speed
Ashton, who played for both Norwich and West Ham during his career, feels it's tough for referees to keep up with the pace of the modern game.
And he says the officials should receive praise when they get the big decisions correct.
He added: "We slate referees enough and I think we should praise them when they get decisions right.
"He got two big decisions in West Ham's favour and he got them right. I think we should praise him for that because it's very difficult being a referee with the speed of the game.
"The second one was inches away from the line and he made a great call. He can feel pleased with himself that he's had a good game."