Cech mate
Peter Schmeichel says Peter Cech's "unbelievable" save was key to Chelsea's win in Copenhagen.
Last Updated: 03/10/12 12:45pm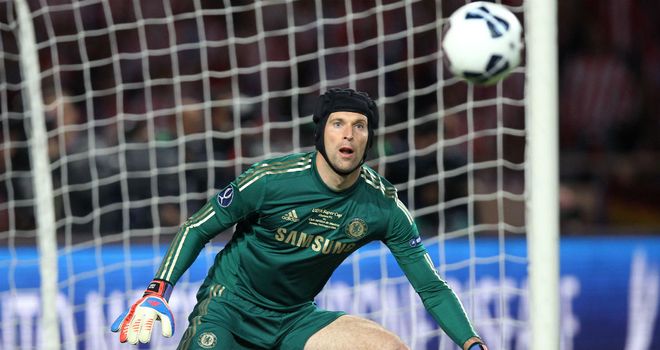 Chelsea may have scored four goals against Champions League newcomers FC Nordsjealland but the most significant moment of the match was an "unbelievable" save from Peter Cech, according to former Manchester United goalkeeper Peter Schmeichel.
The Czech international made a wonderful save from Joshua John, diving to his left and tipping the ball on to the post, just moments before David Luiz scored Chelsea's second goal of the match in the 79th minute.
Chelsea went on to score two further goals with Juan Mata grabbing his second of the match and Ramires adding a fourth in the 89th minute. But Schmeichel believes criticism of Cech in recent years has been wrong and last night's result could have been very different were it not for the keeper's great save.
"The save is unbelievable and it comes at the crucial time of the game when it looks like Nor are coming into the game again, and it is just an unbelievable save," Schmeichel told Sky Sports. "That changed the game because Chelsea went up the other end and scored the second goal. Had that gone into make it 1-1 it would have been a completely different game.
"I listen to people who say that Peter Cech is not as good as he was, but I disagree. Without Peter Cech last year, and without Didier Drogba, in the Champions League they would have been nowhere.
"I also think that his general play in the Premier League is of the highest standard. I think he is one of the best goalkeepers we have in the Premier League. I know he had a few mishaps back in the World Cup and he has been reminded about that to say that he is not as good as he was, but I totally disagree."
Outstanding
Former Chelsea boss Glenn Hoddle agreed with Schmeichel about the significance of Cech's save and the form of the Czech Republic international over the past few years, particularly in Chelsea's Champions League triumph last season.
"Peter Cech did perform in the Champions League games, in Barca he was outstanding as he was in the final," he said.
"On the big occasions, whether we think that he is as consistent as he was three or four years ago, that save was outstanding because he was not in the game that much."
FC Nordsjaelland held their own against the European champions for 80 minutes with their composure and quality of their passing and movement particularly impressing Schmeichel and Hoddle. And Schmeichel, who won 129 caps for Denmark, said his country would be proud of their representatives in the Champions League.
Pride
"I was very proud to see the way they played," he said. "I still think that at times they were a bit naïve but that comes with experience in the Champions league. It is difficult to know what to do in certain times.
"At times they should have been a bit more cynical and get the ball up the other end and chase it down. Towards the end of the game they got tired and it is very difficult to play against that quality.
"They'll learn through the games they play. It is their first time in the Champions League and overall what they did tonight will make Denmark very proud."