Mancini to blame?
Nick Miller looks at Manchester City's dismal night in Amsterdam and concludes it's the man in the dugout who has to take most responsibility for the club's faltering European campaign.
By Nick Miller
Last Updated: 25/10/12 5:16pm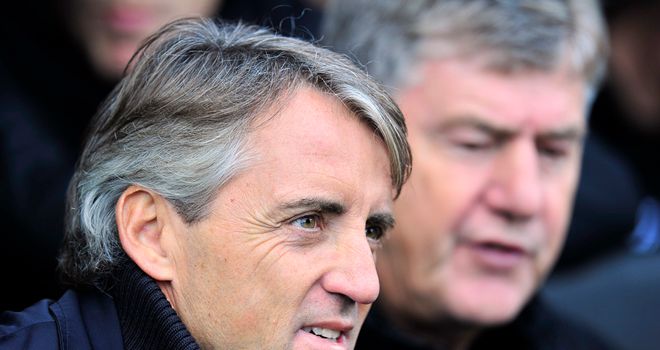 So, only something close to a footballing miracle (winning their remaining three games, even then hoping for favours elsewhere) will save Manchester City's Champions League campaign.
The excuse that they are inexperienced in Europe didn't really wash when Roberto Mancini made it after the draw with Borussia Dortmund, and it applies even less after the defeat to Ajax. Their most experienced Champions League player is Ryan Babel, and if he strikes fear into your heart then it's time to quit and learn another trade.
The players have plenty of European experience, and so does the manager. The slight difference is that the manager has generally been dreadful in the Champions League, while among the squad there are four players who have won the thing. Sometimes the easiest and most obvious place to point the finger of blame is the correct one.
The thorny issue of Mancini needlessly messing around with a three-at-the-back formation has been discussed ad nauseam, but this particular hydra reared its ugly heads once again in Amsterdam.
However, it perhaps wasn't the further experimentation that was most worrying this time (although playing three different systems in the same match is hardly conducive to coherent football), but rather the post-match comments from Micah Richards.
"It's something that we've not worked on a lot," Richards said, of the defensive trio. "The manager likes it," he continued, before mumbling like a naughty schoolboy being told to apologise for flicking ink in class, when pressed on whether the players shared their manager's enthusiasm.
To mess around with a formation for no particular reason is one thing, but to fail to ensure that your players are so well-drilled they can play it in their sleep is quite another, particularly when two of the three defenders are full-backs. In fact, it's managerial incompetence. The look on Gael Clichy's face as instructions were passed on about the switch against Ajax suggested Mancini had told his men to remove their shorts and pants and play the remaining 25 minutes tackle out, rather than just change formation.
"We changed for five minutes," protested Mancini after it was put to him by interrogator Geoff Shreeves that perhaps messing around with a back three was the cause of City's problems. Rather neatly, Alex Kolarov replaced Joleon Lescott to switch to said back three in the 63rd minute, and Christian Eriksen scored in the 68th. It might not have been for long, but it was enough time for Ajax to score. Sure, much of the damage may have been done by that point, but it's indicative of a wider problem with Mancini and City.
There have been voices suggesting that a failure in Europe will cost Mancini his job. This of course depends on Sheikh Mansour's point of view, and keenness to win the Champions League quickly. Even if he's itching to get his hands on the big one, history suggests Mancini might be safe - the City owner was perfectly happy with relatively gradual improvement in the Premier League, with similar voices suggesting Mancini was for the door after not winning that straight away.
The problem with making that comparison is the phrase 'gradual improvement'. If anything, City are getting worse in Europe - sure, they are in a tougher group this season as opposed to last, but it's the manner of the defeats this time that should be concerning. They gave up their lead far too easily in Madrid, mugged Dortmund for a point and were largely outclassed by, with all due etc and so on, a fairly ordinary Ajax side.
At home, City are third in the league, so one might think panic buttons need not be thumped just yet. However, their main challengers are either in flux (Chelsea, Arsenal) or have their own issues (Manchester United), so it could be argued that their deficiencies are being masked in the Premier League. They are being rather brutally exposed in Europe.
A squad with the assembled talent of Manchester City should be improving. At the moment they are not, and that must be Mancini's fault.
This article first appeared on F365