Mind over muscle
Sam Allardyce and his West Ham team arrived at the DW Stadium in good form. But they left Wigan pointless after being completely outplayed in a 2-1 win for the hosts. Adam Bate looks at how the contrast in styles worked in Roberto Martinez's favour on Saturday.
By Adam Bate - Follow me @GhostGoal
Last Updated: 29/10/12 3:17pm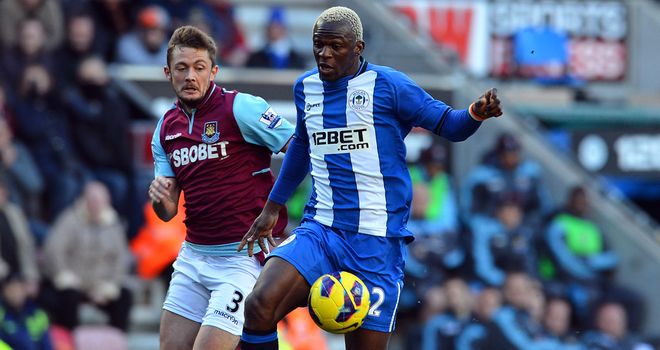 Saturday's game at the DW Stadium was supposed to be about the contrast between the passing game of Wigan and the direct football of West Ham. Roberto Martinez and Sam Allardyce - two managers with a shared goal but very different views on how best to achieve it. So it was something of a quirk that the opening goal came from a Wigan corner. A fact not lost on Martinez.
"I don't get satisfaction from scoring set-plays," he told a press conference after the game, with studied sarcasm. "We've got people on the staff who work on the set-plays - I prefer open play goals. I would give half a goal for a set-play and a full goal for open-play goals."
In truth, it was a stunning strike from Ivan Ramis just three minutes into the contest. And the story of this 2-1 win for the home side was indeed all about Wigan's crisp passing and West Ham's attempts to hit the ball up to Andy Carroll. Frankly, the visitors were comprehensively outplayed throughout the match.
That may have been something of a surprise given that this was the Latics' first home win of the season while the Hammers have been in good form in losing just one of the previous six. But while passing football without incision can be frustrating and dull, it never quite captures the desperation of an ineffective long-ball game.
And make no mistake, that's what this was on Saturday.

Pass combinations (10+) - Wigan vs West Ham
 
 
 
 
 
 
From
To
Passes
 
From
To
Passes
Shaun Maloney
James McCarthy
13
 
Jussi Jaaskelainen
Andy Carroll
13
Jean Beausejour
Shaun Maloney
12
 
Shaun Maloney
Jean Beausejour
11
 
James McCarthy
Ivan Ramis
11
 
James McArthur
Shaun Maloney
10
 
James McArthur
Jean Beausejour
10
 
James McArthur
Maynor Figueroa
10
 

Allardyce is a much maligned figure and often unfairly so. A successful career proves his methods are broadly effective and much of that success has been forged through playing the game by percentages - literally.
As Gavin Fleig, now head of performance analysis at Manchester City but one time charge of Allardyce's at Bolton, explains in Soccernomics: "We would say, 'If a defender clears a ball from a long throw, where will the ball land? Well, this is the area it most commonly lands. Right, well that's where we'll put our man'."
Time has passed but Allardyce's belief in the significance of the 'second ball' has not. It was vital in West Ham's win over Fulham earlier this season and playing from the Carroll knockdowns was also an important element in the impressive win over Southampton last week. Allardyce said of Carroll: "While he did not get a real chance today, his hold-up play allowed us to start to spring off and get into the game more."
Failed
The pass combinations from Saturday's game clearly show that the first part of the plan worked. West Ham's only major passing combination was from goalkeeper Jussi Jaaskelainen to lone frontman Carroll. It was the second and crucial part of the strategy that failed so miserably.
The Hammers have quality in midfield - most notably in the shape of on-loan Chelsea man Yossi Benayoun. But here he struggled to get on the ball whatsoever. Benayoun received the ball only nine times and completed just two passes in the attacking third before being withdrawn at the interval.
In contrast, Wigan's passing combinations revolved around their midfield trio of James McArthur, James McCarthy and Shaun Maloney - and, most significantly, wing-back Jean Beausejour. The 28-year-old arrived last season from Birmingham and settled in remarkably quickly as part of Wigan's 3-4-3 system. "He's a specialist in the position that he plays and he's been a real boost to the squad," said Martinez shortly after the move.
Against West Ham he was in his element - up against a right-winger in Benayoun who was keen to drift inside and a nominal full-back in James Tomkins who is more comfortable in the centre of defence. The visitors effectively ceded the entire flank to the Chilean and he didn't spurn the opportunity as he was heavily involved in both Wigan goals.
The first of those was that set-piece number from Ramis that apparently left Martinez cold. But whatever his claims to the assembled journalists after the game, the Spaniard could be forgiven for feeling particularly pleased with himself in the aftermath of this performance.
After all, this was a clash between two men with a clear vision of how they want to play the game - and this round of the battle undoubtedly went to Martinez.