Up for the cup
Former Man United striker Dion Dublin previews the Capital One Cup showdown with Chelsea.
Last Updated: 31/10/12 12:12am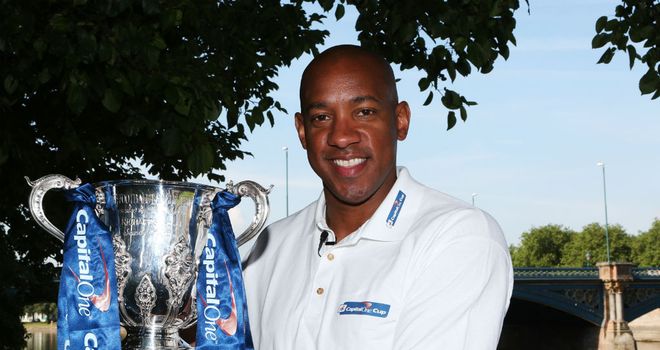 Just three days after meeting in the Premier League, Chelsea and Manchester United on Wednesday renew their rivalry in the Capital One Cup, which can be seen live on Sky Sports 2HD and 3D. Sir Alex Ferguson's visitors took the points at the weekend in a controversial and engrossing 3-2 encounter and it promises to be another unmissable game at Stamford Bridge. Here, former United striker Dion Dublin casts his eye over the fixture and gives his opinion on the attacking options on offer.
Where will the game be won and lost? Can United pick up another win in London?
I am leaning towards United again, because the pressure is off them away from home in this particular tie. But then, on the other side, I look at the Chelsea squad and I think, 'wow'. They have got so many good players. Both teams could put out two sides and do very well in the Premier League. It is evenly-matched on paper. I am hoping my old club can nick it by a goal or two. But going to Stamford Bridge is always a tall order.
Where do you stand on the argument of rotation or playing the star names to maintain momentum?
I agree with rotation but if it keeps you consistent with your results. That is what it is all about, having a winning team on the pitch. You do not know that until the final whistle and it is really difficult to rotate or not rotate. I do believe the bigger clubs have an easier option to rotate, because they have got more top-class players. Chelsea can leave out Juan Mata and put in Eden Hazard. That is not a hard decision, because they are both world-class players. But if you go to a smaller club, they might not have the quality where they can rotate so they have to play the strongest squad, because it is going to get them closer to silverware.
As a former striker, what do you think about the emerging partnership between Wayne Rooney and Robin van Persie at United? Are they proving they can play together?
They are two great players. They will be fine. I cannot see how Rooney and Van Persie cannot play together. They will find a way. It is possibly the best strikeforce in the world. Maybe not as good as me and Darren Huckerby (laughing)!
There have been suggestions Rooney has not fulfilled his potential from his teenage years? What is your assessment of the England international's progress?
I do not agree that he has not fulfilled his potential. I think Wayne Rooney is world class and will continue to perform to that level, because he is playing with another world-class player in Van Persie, who will bring the best out of him. The pressure is now on Rooney and Van Persie to produce the goods. But all the best players in the world play better under pressure. I have no fear they will keep on banging in goals.
Fernando Torres is suspended after being sent off against United at the weekend but he has been struggling for form. Where has it gone wrong for the Chelsea striker?
I still think he is world class. It is just not happening for him at the moment and it is difficult to know why. I do not see him training, do not see how he is getting on with the other players and do not see what he is like off the field. Are they factors in why he is not playing well? I do not know.
Did you ever have to overcome a goal drought during your playing days?
Do not start talking rubbish. Did you just say I went on a goal drought? What are you talking about (laughing)? It did happen to me when I was at Aston Villa. I went 12 games without a goal. I was stuck on 99 Premier League goals at the time. I think it was John Gregory who was the manager and he just kept playing me. That is the kind of confidence you need from a manager.
Did a lack of goals damage your self-belief? How would it be having an impact on Torres?
My confidence did start to drop after about six or seven games, because you start to do things as a striker which are unnatural. You think you are never going to score again. But then you find a little bit of confidence and you put yourself back in the positions to score. It is a confidence thing. Judging by Fernando Torres' persona, he is the kind of player you need to put an arm around and say, 'everything is okay'.
Dion Dublin was speaking to Sky Sports on behalf of Capital One, the credit card company and new sponsors of the League Cup