Time up for Torres?
Fernando Torres may have been the victim on Sunday. But with Radamel Falcao a likely target for Chelsea in January, Adam Bate asks whether the £50million Spaniard is in terminal decline.
By Adam Bate - Follow me @GhostGoal
Last Updated: 30/10/12 12:42pm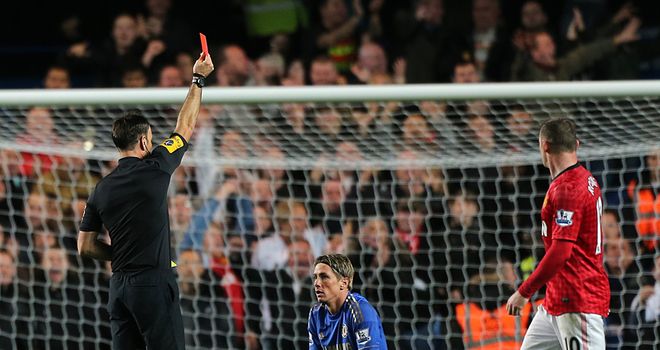 It may seem like kicking a man when he's quite literally down on his knees but Sunday's red card is likely to distract from an uncomfortable truth facing Chelsea and their supporters. Fernando Torres is still struggling. The Spain international was sent off for tumbling after being caught by Jonny Evans when advancing on goal. But even that decision to fall, Manchester United manager Sir Alex Ferguson mischievously suggested, was the act of a man whose powers may be failing him.
"Jonny Evans may have caught him a little bit but you can carry on running, which he could've done," said Ferguson. "But he chose to go down. He could've carried on and scored. That's what I can't understand. I would've never missed that chance. I would've taken it in my time. I would've never gone down. But he did go down - that's the issue - and he's already been booked. So it's his own fault."
This was supposed to be a new Torres following the exit of Didier Drogba. Contrary to the idea that the public and press are anxious to write off the striker, many are itching for evidence that he is back to his best. Last season's problems were explained away in various ways. It was tough in the shadow of Drogba; he was bringing lots to the team other than goals; just look at the trophy cabinet at the end of the season.
But Torres himself undermined the notion that there was no issue. "It was a mental block, I felt really bad," admitted the Spaniard on his own website. "I felt very well on the field this season because I have become a more complete player but the ball did not fall for me and I felt I was never in the correct position. I watched many videos to study the movements of other strikers, including mine from my spells at Atletico and Liverpool. It helped me a lot because I lost the fear of being in the area. There were times where I lost hope and that has never happened to me before."
Torres was talking like a man who had turned the corner. And he had every reason to be optimistic. With Drogba gone and Roberto Di Matteo unconvinced by Daniel Sturridge, minutes in the starting line-up have been forthcoming - and what a line-up it is. With Eden Hazard, Juan Mata and Oscar all in-form and ready to provide the service, this was an attacking midfield that any forward would relish playing in front of. Certainly the Fernando Torres of 2008. The Fernando Torres of 2012? Not so much.
Season
Player
Games Played
Minutes Played
Goals
Mins per Goal
Total Shots
Mins per Shot
Shot Conversion Rate %
2012-13
Fernando Torres
9
779
4
194.8
14
55.6
28.6%
2011-12
Fernando Torres
32
1904
6
317.3
48
39.7
12.5%
2010-11
Fernando Torres
37
2658
10
265.8
75
35.4
13.3%
2009-10
Fernando Torres
22
1715
18
95.3
63
27.2
28.6%
2008-09
Fernando Torres
24
1733
14
123.8
72
24.1
19.4%
2007-08
Fernando Torres
33
2542
24
105.9
96
26.5
25.0%

And that cuts to the heart of this matter. This isn't a blip. In fact, in Liverpool's great transfer swizzle of 2011, perhaps the only true Moneyball move the club pulled off was the sale of the fading Torres. As Simon Kuper and Stefan Szymanski highlighted in their book Soccernomics: "With older players - and at 26 a nippy striker is getting old - the key question is, 'How fast is he fading?' You can measure that by comparing the player's key outputs from year to year. If, for instance, his top sprinting pace, number of shots on goal and number of completed passes in the final third are gradually declining, you can probably see his future."
It's the shots on goal statistic (mins per shot, above) that is perhaps the most telling for Torres. Has he become, in his own words, 'a more complete player' because of a heightened awareness of the game? Or is this selflessness a necessity due to the fact that he lacks that sharpness to find space to get a shot away? Either way, five seasons of gradual decrease in the regularity of his shots would indicate that the decline in this regard is terminal.
Of course, Falcao is no youngster. Alarmingly for Chelsea, even if the Colombian joins the club on New Year's Day 2013 he will already be older than Torres was when he first pulled on the shirt. But every player is different and while there were already signs at that point that Torres was in decline, Falcao is evidently a man in the form of his life - and getting better.
"As a centre-forward, without a doubt he is the best in the world," said Diego Simeone, the Atletico Madrid boss. "He is a clinical finisher, who executes moves at the highest possible level. Day-by-day he keeps growing and improving his virtues as a player, and that makes him even stronger."
The statistics show that since the summer of 2011 Torres is requiring 96 minutes to deliver a shot on target. Falcao is managing that feat once every 46 minutes. With a €60million buy-out clause Chelsea will be anxious to avoid another repeat of their last dip into the transfer market for a 26-year-old Atletico icon. But owner Roman Abramovich is a man unlikely to be wondering whether he can afford to make the signing. Perhaps he will instead be questioning whether he can afford not to.
League Aug 2011-present
Fernando Torres
Falcao
Team
Chelsea
Atletico de Madrid
Appearances
41
42
Minutes on Pitch
2683
3569
Goal Attempts
 
 
Goals
10
34
Shots on Target
28
78
Shots off Target
34
56
Shooting Accuracy
45.16%
58.21%
Chance Conversion %
16.13%
25.37%
Passing
 
 
Goal Assists
4
4
Chances Created
47
42
Total Passes
763
869
Pass Completion %
73.26%
76.06%
Pass % Opp. Half
70.77%
73.11%
Crossing
 
 
Total Crosses
50
6
Cross Completion %
28.00%
16.67%
Dribbling
 
 
Dribbles & Runs
122
93
Dribble Completion %
38.52%
23.66%
Duels
 
 
Duels
471
556
Duels Won %
39.92%
36.69%
Discipline
 
 
Fouls
46
74
Offside
20
45
Yellow Cards
5
9
2nd Yellows
1
0
Red Cards
1
0
Results
 
 
Won
21
21
Drawn
10
10
Lost
10
11