Oscar and Lee Mason impressed Jamie Redknapp during Chelsea's Capital One Cup win over Man United
Jamie Redknapp told Sky Sports that Chelsea's rising star Oscar reminds him of Real Madrid man Kaka.
Last Updated: 01/11/12 1:26pm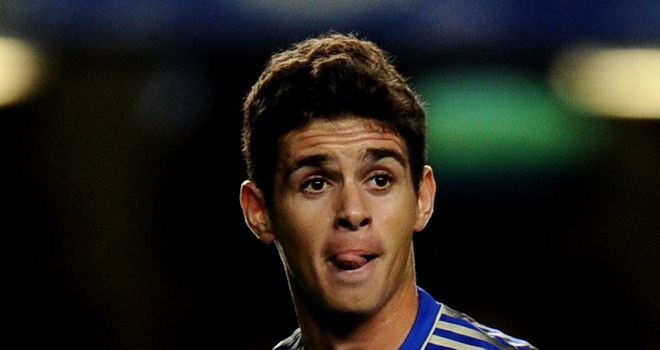 The 21-year-old Brazilian, who the Londoners plucked from Internacional for a reported £25million fee this summer, entered the fray as a second-half substitute and helped his side book a quarter-final clash with Championship outfit Leeds.
Redknapp told Sky Sports: "I can't tell you how much I enjoyed watching Oscar. When he first joined I hoped he was going to be a good player as there is nothing of him.
"He looks seven stone wet through, but he makes things happen - and the game look easy. It's effortless the way he glides around the pitch, he's like a young Kaka.
"It was a great football match but Chelsea brought on quality in Ramires, Oscar and Eden Hazard and that gave them another dimension, while rash decisions cost United."
Nightmare
On Blues attacker Victor Moses, who won a penalty for his team in the first period after being fouled by United full-back Alexander Buttner, Redknapp added: "He is a defender's nightmare as the first thing he does is get at you and when he goes at speed he is very difficult to stop.
"I remember seeing him at Crystal Palace and he was very raw but he had potential. He then went to Wigan and improved no end, and I'm sure that training at Chelsea every day and watching how other players look after themselves can only improve his game."
Sunday's Premier League contest between the two sides, which United edged 3-2, was marred by contentious decisions and the post-match allegations that referee Mark Clattenburg had used 'inappropriate' language towards Chelsea players Juan Mata and Jon-Obi Mikel.
But Redknapp was impressed by the way Wednesday's official Lee Mason, who had to step in when Oscar and Red Devils' winger Nani clashed, kept both his cool - and all 22 players on the pitch.
"What happened on Sunday put a lot of pressure on him (Mason); he was under scrutiny," said the former Liverpool and Tottenham midfielder. "He applied the letter of the law but he also showed a lot of common sense, which you prefer as a player.
"There were a couple of times when he might have sent someone off but he didn't. The problem referees have is that there is an assessor in the stands and they have to produce performances they like, not necessarily what ex-players like - but he did a really good job."