Brits abroad - Scott Minto
Continuing our Brits abroad series in which we speak to players and coaches to get the lowdown on their time overseas, Adam Bate talks to former Chelsea man Scott Minto about his spell at Benfica.
By Adam Bate - Follow me @GhostGoal
Last Updated: 19/11/12 2:53pm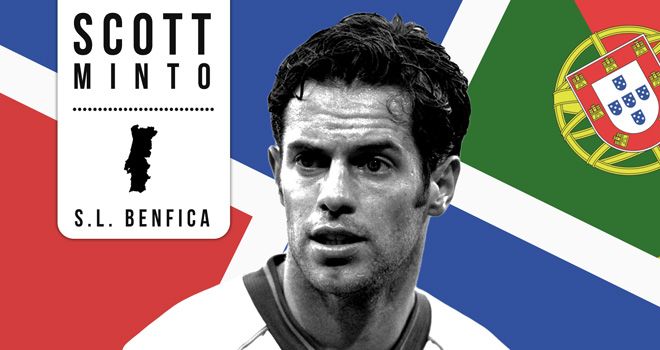 In 1997 Scott Minto became one of the first high-profile British players to take advantage of the Bosman ruling when he left Chelsea to join Benfica. The English left-back spent 18 months in Lisbon before returning to play for West Ham and Rotherham and eventually becoming the presenter of Sky Sports' Revista de La Liga show. Here he talks to Adam Bate about his time in Iberia as a player.
How did your move to Benfica come about?
Basically I was in the last year of my contract at Chelsea. It was going really well but I wasn't happy with what they had offered me so I decided not to sign and just wait until the end of the season and see what happened.
My last game for Chelsea was the FA Cup final in 1997 - that was the Robbie Di Matteo 45-second goal. And the very next day we went to Hong Kong, Brunei and Singapore. It was while I was out there that my agent called me and said Benfica had been watching me and been at the cup final as well.
There weren't that many English people out there abroad at the time. But I've always liked things foreign. Funnily enough my wife is Colombian. I've always liked the nice weather and the nice food and Portugal certainly had that.
When a club the size of Benfica want you I just thought this was too good an opportunity to turn down and you may never get an opportunity like this to play abroad. Go for it and see what happens. So I did and it went exceptionally well.
It was an unusual switch at the time for a 25-year-old Englishman. Do you think you need to be a certain type of person to fancy a move abroad?
Yeah I think you do actually. I think a lot of British players have had the chance to move abroad but just prefer to be around their home comforts and have their family around them. And sometimes it's just a question of the fear of the unknown. But I just thought this is a wonderful opportunity that could help me as a player and also as a person. I must admit, I do look back on it now as the best time of my career.
What was it like walking into that dressing room - a different type of nervous to when you joined Chelsea?
Walking into a dressing room full of Portuguese players, may have been intimidating to a lot of players. But I just had that mentality that I like things that are foreign and I'd come off the back of a really good season at Chelsea. So I just went there and tried to make friends. There were a lot of people who spoke English but I did learn the language and I got a lot of respect for that. Even though I was never fluent I could get by.
Having settled in, was it strange when Graeme Souness was appointed as manager?
It was strange but it was also nice. We'd started the season really well and won games. And then I was out for some time, the team didn't do very well and the coach got the sack. The presidential elections were due and there were three candidates, each with their own prospective coach. The one who ended up winning had Graeme Souness and I remember thinking - because I was a Liverpool fan as a kid, born on the Wirral - that it was great.
So I just thought it would be great to have Graeme Souness as a manager because I was a big fan of him as a player and obviously being British. He brought in Brian Deane and at the start of the second season some more Brits (Michael Thomas and Mark Pembridge).
In a way it was nice but in another way it did cause a sort of division in the camp because a lot of the Portuguese people were thinking there were too many British players. But I really enjoyed playing under Graeme.
And there were some good Portuguese players there - Nuno Gomes and Joao Pinto. What were your memories of them?
Nuno joined at the same time as me. He was 21 then and he was a really nice kid. Only young but he could speak very good English so I actually got on really well with him. He was one of the people I got close to. He's developed into being a good all-round player now but back then he was an out-and-out goalscorer and a great finisher.
There was also a guy called Jose Calado who I used to room with. He had the best season out of everyone in my first year there. He was a centre-midfielder and he was just excellent on the ball - left-foot, right-foot, passing and tackling.
But the person I probably admired most was Joao Pinto because he was the Eric Cantona of Portuguese football. Whenever things weren't going well he was expected to get us out of it and he never shirked his responsibility. He always wanted the ball even when the pressure was on in the stadium and the fans weren't happy. He'd get on the ball and try to find something extra.
How did the style of play differ on the field and did you find it easy to adapt?
Portugal is very similar to the Spanish way of playing. It's a lot more technical and at a club like Benfica you have so much of the ball. So especially at home you'd have teams just coming for the draw. That meant lots of possession but you'd have to try to break them down.
I really enjoyed that to be honest. I always thought that I was more of a technical player than one suited to the bustle of England. In English football you have to be physically at it and I sometimes felt that with my injuries I wasn't quite ready for it if was not 100 per cent fit.
Any particular games that stand out?
The two games that stand out were both the Sporting Lisbon away games across the two seasons. We won them both and I set up the crucial goals and played really well. I also remember my very first game that we won 4-0. We kicked off at 9pm in August and I was absolutely roasting. I loved the heat but it got to October time and I was thinking, 'When is this going to cool down?!'
How about the fans in the Stadium of Light - Did you feel that huge pressure to basically win every single game?
Yeah there was huge pressure but I think first impressions count for a lot with football fans and I just started the season really well. I found the fans fantastic, I really did. The first day's training session of pre-season there were 5,000 people watching the session.
We had one presentation game at the Stadium of Light and it was almost like the red carpet was out - they were introducing each player individually. The lights would go down and then the lights would come up - Joao Pinto... Karel Poborsky... Scott Minto. There were 80,000 people there for that pre-season game against Lazio. It was just amazing. I absolutely loved every single minute of it.
What about the Lisbon lifestyle?
I lived in a place called Cascais which was just a 20 minute drive up the Atlantic coast by Estoril. I used to laugh at my dad because I'd give him a ring in the middle of January and ask him what the weather was like. He'd say it was absolutely freezing and I'd tell him it was bright sunshine and I was on the way to the fish restaurant, sitting outside by the sea. It was almost impossible not to enjoy it.
So how come you returned to England?
I'd gone out there with the mentality of just going for it and hopefully there'd be a good move back to England for me if I ever did want to come back. I was told while I was out there that Valencia were interested in me - and the very next game I got injured for four months. I didn't really want to go anywhere else so I wouldn't really say I was unhappy that it fell through.
In fact, even when I did go back to England it was a just a case of going back to London. It was more of a personal decision than a professional one. I knew that Harry Redknapp was interested in me almost as soon as I went to Benfica but he didn't think he'd be able to get me.
During the first year at Benfica I was living with my ex-girlfriend but we split up at the start of the next season so I had probably six to eight months on my own. Even though it's a wonderful lifestyle, if you've nobody to share it with it's not the same.
You'd finish training at about 1pm, go to a restaurant on your own then head home about 3pm and that's kind of it. I wasn't a great cook so it was microwave lasagne every night. I realised that if I was going to leave this beautiful place it had to be for London.
If it had been in the north of England I'd have thought, 'Well, I'm away from my family anyway and this lifestyle is better'. But West Ham came in for me, offered me a very good contract and it was a way of getting back to London.
To be honest, if I'd been with my wife now then I'd have stayed out there, there's no doubt about it and I'd have signed a new contract - It was that good.
So no regrets about the move?
None whatsoever. For me, the lifestyle is better, the food is better and the football is great. I played Champions League football in my second year and would have reached the round of 16 if there had been one in those days after finishing second in our group.
I feel sorry for Portuguese football actually because Benfica really are one of the greats. Porto also did great things under Jose Mourinho. But in terms of the league, it's just not a rich league. But if you're talking about developing your football and playing regularly in the Champions League it's a fantastic place to play football.
I would recommend it 100 per cent to anybody. To be quite honest with you, I'd be quite happy to end up living out there. So no regrets at all and I look back on it as the best time of my career.
This article first appeared in the Sky Sportzine. Sign up here.