Opportunity knocks
Goalkeeper Richard O'Donnell discusses his start to life at Chesterfield with Rachel Griffiths.
Last Updated: 27/05/13 11:48am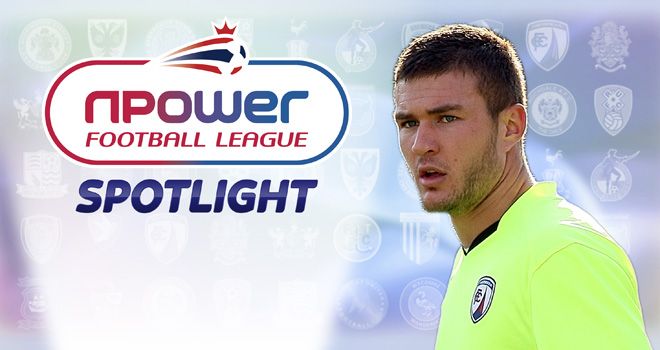 The 2012/13 campaign is now well under way, with divisions beginning to take shape.
Here at Sky Sports we will look to take you to the very heart of the Football League over the coming months, with our Spotlight features intended to give you a greater insight into the clubs and players that keep us on the edge of our seats.
We hope to bring you the views and thoughts of a representative from each of the 72 teams over the course of the season, with those involved asked to give their take on the division they compete in, the club that pays their wages and those we should all be keeping an eye on.
Chesterfield's Richard O'Donnell is next in the hot-seat, with the Spireites goalkeeper taking time out to discuss making the most of his chances and the club's hopes for the season with Rachel Griffiths.
You joined Chesterfield in the summer after being released by Sheffield Wednesday. How are you settling in?
I've done it quite a few times, settling into new changing rooms. The lads have been spot-on from the beginning so it's not really been a problem. Now obviously I know the team, so that helps as well. It's been good.
You've been thrown straight into the first-team due to No.1 Tommy Lee's shoulder injury. Have you been enjoying the chance to show what you can do?
Obviously I wouldn't wish injury upon anyone to get in the team, I would have liked to have got in there on hard work, but unfortunately for Tommy he's had a spell on the sidelines. But I think I've put in some good performances, especially recently, and now I'm just looking to keep my place when he does come back. But everyone knows how well-thought of he is at Chesterfield so it's going to be tough but I'm up for the challenge.
Do you think you and Tommy will be fighting for the gloves when he returns?
I think that was the plan when I signed, to be fair. I think that's why they signed me in the first place, so I'd put a good fight up for the position. It's up to me now to keep the shirt when he does come back. He's on the mend, on the way anyway.
How did you feel leaving your boyhood club Wednesday after a six-year stint on their books?
It was tough, I'm not going to lie to you. But I knew I wasn't going to be there for my entire career, so I knew it was coming at some point. It was a bit of a surprise, to be fair, but that's football. The new manager (Dave Jones) came in halfway through the season, and I went out on loan under the new manager, so it was pretty clear that I wasn't really in his plans. From there I've had to look elsewhere and luckily I knew (Chesterfield goalkeeping coach) Mark Crossley and then gaffer John Sheridan from my time at Oldham on loan. So it was quite an easy move.
As a Wednesday fan, do you still keep your eye on the Owls?
I do keep my eye on them because all my family are Wednesday fans and so am I. They've been struggling a bit recently. I did expect them to be doing a little bit better with the start they had when they won their first few games. I still think they'll be alright. They've got a good squad together. They just need to stop conceding sloppy goals and put a few more away.
What was your main motivation for joining Chesterfield?
A big part of it was that I knew Crossley and John Sheridan and Tommy Wright from my spell at Oldham. Obviously that was a few years ago but from then I knew how good of a coach Crossley was so that made my decision pretty easy. It was local as well, which helped.
Was the challenge of going straight back up after relegation last season another incentive?
That was a big part of it as well. I'd tasted promotion with Wednesday last season, I was a part of that, and there's no better feeling. I just thought with Chesterfield they had a good chance of getting straight back up there and I still think that we have. We've got the squad to do it. We're not a League Two team, especially with the squad that we've got. We're capable of being right up there and hopefully that will be the case at the end of the season.
Does the expectation on Chesterfield to bounce back from last term add extra pressure to succeed?
There is a lot of expectation on us because we've got a decent budget and a nice stadium, and for the squad we've got we should be up there. The expectation is there and it's something we should be fulfilling. Like I say, I'm hopeful that come the end of the season we'll be up there. That's why the gaffer has taken the job, because that's where he expects us to be.
What's the mood been like in the dressing room since Paul Cook succeeded Sheridan as manager in October?
It's very positive. He's trying to drill into us about how to play his way and I think the lads are starting to adapt to that. It's only a matter of time before results start changing for us. Training is different; it's a lot more intense and we're in for longer hours. To be honest, I think it's what we need. The lads are just trying to respond to it and we just need to get ourselves winning games now, especially at home because that's where we've struggled most. We are creating chances and we have got one of the best defences in the league, so if we carry on as we are doing I think we'll be alright.
Were the players sad to see Sheridan leave?
It's never nice for a manager to lose their job and the players feel a bit of the responsibility. At the end of the day the manager can prepare a team all they want but it's the players who go out and do what we do. So the lads felt a bit responsible. Sheridan was a good manager and I'm sure he'll get another job soon.
You penned a one-year deal with the Spireites when you joined - are you hoping to stay on beyond that contract?
I've got an option on my deal but it's Chesterfield's option, so really it's just a case of waiting to see if they want to exercise that in the summer. There's no rush with that because there's an option there if we're both happy with it. I want to be playing games and at the minute I am playing games so I'm happy with the way things are going apart from recent results, and I think we can turn that around.
Oldham was one of a number of clubs where you spent time on loan while you were at Wednesday. Are you looking to settle and establish yourself at Chesterfield rather than go out on loan again?
Of course. If you look at Tommy Lee he's been there now for four or five years and he's been a regular that whole time. That's something I want to get to now. I've been out on loan a lot in my career at Wednesday and don't get me wrong, those loan spells helped me out massively and it's something that has to be done. But I want to be settled, I'm happy where I am and I want to be playing and gain as much experience as I can, playing as many games as I can.
Who do you think is going to be your main competition in the league this term?
Everyone is beating everyone, which has gone in our favour so far because we've not been as consistent as we'd like. Rotherham were early favourites but they've not gotten off to the best of starts either. The people like Southend and Port Vale will be up there. Gillingham have gone on a good run as well but I thought we were the better team when we went there, so it just shows how strange the league is.
You helped Chesterfield thump Hartlepool 6-1 in the FA Cup first round. Is that a competition you think the club can do well in?
We're awaiting to find out our opponents in the next round but we're capable of beating anyone on our day because of the team we've got. We've got such an attacking presence as well as a tight defence. Whether it's Tranmere or Braintree Town we're looking to go there and win and hopefully get a good cup draw again. I don't think a cup run is really a distraction from the league because the lads are fit enough to be playing games Tuesday and Saturday. It's money for the club and an experience for the players that play. We just want to win every game that we compete in.
Oxford United are your next opponents this weekend. How crucial is it to get a home win under your belts?
That's what we're lacking at the minute. Our home performances haven't really been good enough. You can argue that we've been unlucky in a few games but at the end of the day, we've not won our games and we need to be winning them. I'm confident wins will come, we've just got to keep going and working hard in training every week. We're going to go out there and try and get three points.