Cup Dreams
Graeme Bailey catches up with Altrincham goal-scoring sensation Damian Reeves.
By Graeme Bailey - Tweet me: @graemebailey
Last Updated: 15/11/12 1:25pm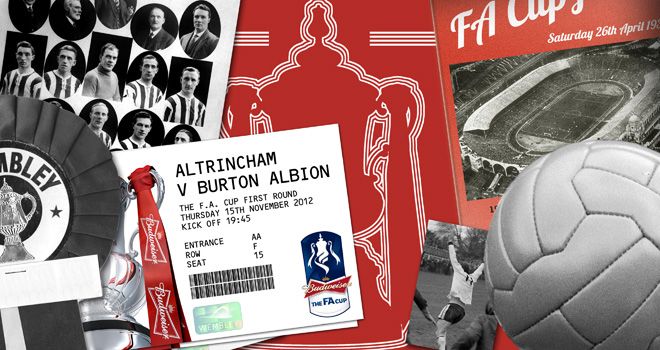 As part of our new FA Cup Dreams feature we chat with Altrincham goal-scoring sensation Damian Reeves.
Reeves hit the headlines last year when he finished as the top-scorer in British football with a remarkable 44 goals.
He has started this season in fine form to prove last year was no fluke and already has 20 to his name from 18 starts.
But amazingly, and as is the beauty of the FA Cup, Reeves is not a full-time footballer. He is still working doing plastering jobs whilst also being one of the top scorers anywhere in English football.
"I am still working as well as the football, but the main focus is the football because I have been doing well and I want to play higher up in the league - that is the main priority but I am still working too," Reeves explained to Sky Sports - admitting that the lure of the professional game was very strong.
"Personally I still want to play in the league and at the highest level possible, people sometimes just play and pick the money up but if it came to that for me I would stop playing - hopefully with the game on TV that could help raise the profile."
Reeves admits that he did not think he would be on course to beat his tally last season.
"I sat down with the manager at the start of the year and we discussed what the targets are for this season, the manager said 20 and we laughed, I said 30 for me and then it is a decent season.
"You look at it - 44 was a ridiculous amount and to try and beat that would be silly - but then again I have started the season well and if you look at on a game- by-game basis I have actually started this season better, so although tongue-in-cheek I would like to beat the total - whether I do or not only time will tell."
Reeves has previously tasted the professional game when a youth player coming through the ranks at Leeds United.
"I was pro at Leeds for a couple of years and then I did a bit with Barnsley, so I have a little bit of experience of the professional game but in terms of playing the best I have got to is Conference level really," he said.
Confident
Reeves remains confident he can make it to the football league.
"A lot of people tend to say that someone has found their level, but I am hopeful that I do have that ability and no matter what level I will score goals - there is something with strikers and their ability to score goals, you either have it or you don't," he said.
And he takes hope from seeing Jamie Vardy making the step up to the Championship last season.
"It is never too late really, you see other players who have made the jump into the league and done well, you only have to look at Jamie Vardy he was playing in the Conference North at one point, which is the level I am at and now he is in the Championship and starting for Leicester," he said.
Reeves's focus, though, is helping Altrincham progress as they take on Burton Albion, live on television on Thursday in a first-round replay after the first match ended 3-3.
"It is a good tie, and a winnable tie and with the replay on the TV there is that extra publicity," he said.
"We were fairly unlucky first time around, they scored in the 94th minute I think so it is a little unfortunate, and we missed a penalty early doors - so it could quite easily have been five or six-all.
"I think both teams will be going for it second time around, both teams played football and played the strongest teams they could - so both are going for it and will go for the win.
"If you go out and play football and attempt to sit back and soak up pressure it generally does not end well."
Reeves admits everyone at the club is feeling the magic of the cup.
"There is always a buzz, especially when you're in the first round proper and now the replay is on TV and that is a bit of extra buzz, the manager has asked us to get here earlier and things like that have rubbed off on everyone from fans to players and vice-versa."