Henley on a high
Blackburn starlet Adam Henley talks life under Henning Berg and his international future.
Last Updated: 27/05/13 11:02am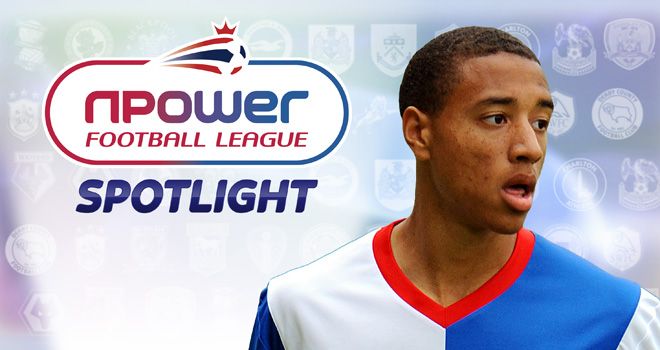 The 2012/13 campaign is now well under way, with divisions beginning to take shape.
Here at Sky Sports we will look to take you to the very heart of the Football League over the coming months, with our Spotlight features intended to give you a greater insight into the clubs and players that keep us on the edge of our seats.
We hope to bring you the views and thoughts of a representative from each of the 72 teams over the course of the season, with those involved asked to give their take on the division they compete in, the club that pays their wages and those we should all be keeping an eye on.
Blackburn Rovers' Adam Henley is next in the hot-seat, and he talks life under Henning Berg and his international future with Graeme Bailey.
American born, explain that for us Adam? Not many Football League players are born in Knoxville.
"My mum moved to America and she married my dad and I was born there along with my older brother, we lived there for two years but then they got divorced and moved back over, and I was only two when I came back so I don't remember much but I speak to my family over there and go when I can.
You started playing very young, but you were first connected with Manchester United - what happened there?
"When I was about eight, I started up at a pre-Academy training group at Manchester United, only one session a week and I did that for a year, before I had a trial to go into the Academy. I ended up not getting through, and I went straight to Blackburn and signed, and I have been there ever since.
Blackburn have a history of producing and a lot of youth colleagues made the breakthrough, did that whet the appetite?
"Obviously there are plenty of examples that have gone before, like Phil Jones and even if you go further back like David Dunn and Damien Duff, the evidence is there to show that good players come through the academy and will get their chance so you always know as a scholar at Blackburn, if you do well you will get your chance."
Your debut was at Anfield, and you got a draw that must have been very special?
"It definitely was, even as a kid I was a Liverpool fan so to make my debut at Anfield was quite special, and it was a memorable game."
You followed that up not long after with another big result by winning at Manchester United?
"Old Trafford was unbelievable really and something that doesn't happen a lot, an away team winning there and we had such a young team out - it was a real team performance to get the win and to be a part of it was great."
The new gaffer in Henning Berg has come in and seemingly likes you, that must be pleasing?
"He has come in and he said he had seen the games I was involved in last year and he was really impressed with my performances in the Premier League and he felt I could more than hold my own in this league and I have to give credit to him for letting me have that chance as after the end of last season I was not involved as much as to finally get a run out was something that I have been looking forward to all season, but it is about taking the chance and showing that I can play regular there."
Him being a former defender, full-back must give him the chance to pass on some advice?
"He is really good, keeps talking to me and he gives me a lot of advice and help and so do the other players."
You were relegated last season, but dropping down to the Championship has also opened up the chance for you to play more regularly, do you see it like that?
"Well yeah definitely, it is getting much harder in the Premier League for young players to break through because of the quality of players coming in, and the Championship offers a real good opportunity for youngsters to get used to playing mens football and really become a good player, and then you can step up from there."
You made the breakthrough under Steve Kean, who has now left, was that hard?
"I don't really have a bad word to say about him really, he gave me the opportunity to play in the first team and I will always be grateful for that."
It has been an indifferent start to the season, but there is still a long way to go and you have a squad capable of challenging?
"Yeah definitely, the squad is second to none really, we have the talent to jump straight back, obviously there is plenty of work still do to but I am sure if we come together and put our minds to it, then it won't be a problem."
Looking at your international career, you have already played for Wales at youth level and you obviously qualify for America, is that it?
"I qualify for England as well, I have been here for many years so because I have been schooled here I could qualify - but there has been no contact. We just have to see what happens, I have already said I am not sure what I want to do yet, I will let it run its course."
Obviously the American angle with the World Cup only two years away - that could give you the chance to play on the biggest stage?
"America have been stepping up their game, and over the next 10 or 15 years they could become a power in international football, so yeah it would give me something to think about but at the moment I am happy playing for Wales as I have done for a number of years now. I am only 18 so it might be something for the future and we will just have to see what happens when the time comes."