Midfield headache?
Ageing veterans and youngsters with plenty to prove. Adam Bate wonders whether Sir Alex Ferguson has made a mistake by not investing in the Manchester United midfield.
By Adam Bate - Follow me @GhostGoal
Last Updated: 19/11/12 11:31pm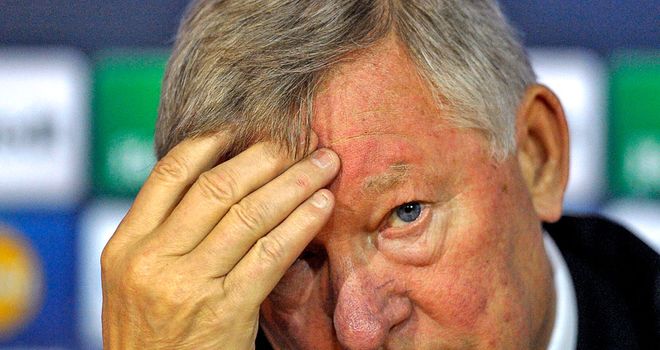 Manchester United dominated Norwich in many of the key statistics at the weekend. And yet, while they may have dominated possession of the ball, you only had to watch the game to appreciate they didn't dominate the Canaries. For many, the sight of a near 39-year-old Ryan Giggs traipsing around the midfield is just the latest in a series of example of why Sir Alex Ferguson erred in eschewing the opportunity to sign a central midfielder in the summer.
It's a recurring complaint from United fans. Often murmured; sometimes bellowed. At a club that became divided upon the issue of what colour strip supporters should wear, it takes quite something to unite the fans - but unite them it has. There is, of course, a danger in bringing everything back to the thorny midfield issue. After all, United have won 14 of 18 games this season. It's anything but a crisis. But it's tempting to suggest that falling behind 11 times already this season and keeping just three clean sheets indicates that more steel is needed. The defence is being left exposed.
Ferguson remains reluctant to admit this is a personnel issue and it's little wonder given that, despite the restrictions of the Glazer regime, the manager has spent big on other areas of the field. The semantics have occasionally veered into the bizarre. "I don't think we've had a holding player since I've been here," he told the club's official website at the start of the season. "We've never had a holding player. We tried to get Roy Keane to do that but he just couldn't do it. He had to play a way that was his own way of playing, so I've not had it for 25 years. Why should I think about it now?"
Perhaps he sees Michael Carrick fulfilling this role. "I think Michael Carrick has had his best season at the club," he added. "I'm very hopeful now he will have an authority that will stand us in good stead for the next two or three years. That will be an important role for Michael, to replace Paul Scholes in that department."
The notion of the elegant Carrick as midfield enforcer is not so strange despite the fact he does not fit the snarling image of a Keane or a Paul Ince. Not only is the game changing, as Ferguson is keen to stress, but the England international was actually among the top tacklers in the Premier League last season. The expected names are all there - Lee Cattermole, Joey Barton, Scott Parker, Youssouf Mulumbu and Cheick Tiote. And there is the name of the more languid Carrick right alongside them.
Michael Carrick
 
 
Category
2011/12
2012/13
Tackles per game
3.00
1.58
Interceptions per game
2.37
1.67

But far from growing into the role, Carrick's statistics indicate that he is a player going in the wrong direction. The number of tackles and interceptions put in by the 31-year-old this season are both significantly down on the previous campaign. That's an unfortunate situation for Ferguson when the powers of so many of his other midfield options also appear to be fading.
The manager may have been effusive in his praise of Ryan Giggs last month as United were beaten 5-4 after extra time in the Capital One Cup against Chelsea, but these are surely the death throes of a great career. "I think in Ryan Giggs we saw a player of absolutely unbelievable proportions in terms of playing the 120 minutes at 39 years of age next month," enthused Ferguson. "It's a credit to himself but it's also an example to every player on that pitch including the Chelsea players." Giggs had played reasonably well in defeat. But United could do with a midfield match-winner not a middle-aged man performing admirable feats of endurance.
Giggs undoubtedly remains an intermittent threat. He is as likely as anyone to unlock the opposition defence - as shown by the statistics for through-balls and assists from last season. But the veteran is a decorator of games, more suited to adorning them with occasional moments of magic rather than dictating the tempo from the outset. Indeed, his own style is analogous to United's eight comeback wins this campaign - bypassed in the early stages but perfectly capable of exploiting the gaps once the game has opened up.
PL stats - 2011/12
 
Player (City & United only)
Successful through-balls
David Silva
18
Samir Nasri
14
Yaya Toure
11
Ryan Giggs
7
Wayne Rooney
7
Player (all Prem)
Mins per assist (3+)
Antonio Valencia
163.1
Ryan Giggs
183.3
David Silva
187.8
Juan Mata
194.7
Steven Pienaar
208.8

Ditto Scholes. A revelation on his return last season, but he cannot be expected to dominate as he once did in his prime. The presence of these United legends should be the great squad advantage the club enjoys over its rivals. Instead they are being relied upon so often that their presence is in danger of becoming a weakness. The manager who has prided himself on seeing players' legs go at their next club now regularly appears to have a midfield more formidable on paper than on the pitch.
Darren Fletcher's unfortunate bowel condition is something, by his own admission, that he can only hope to manage rather than recover from. It seems wishful thinking in the extreme to believe he can ever recapture the energetic form of old. The more cynical among you may conclude that Anderson's chances of making good on his potential are - to pardon the pun - rather slimmer. That's a lot of responsibility on the shoulders of Tom Cleverley.
And yet, still Ferguson remains adamant. Youngster Nick Powell is the latest player being talked up as an explanation for the miserly approach to midfield acquisitions. "Powell is going to be a really good player who, we hope, will fill Paul Scholes's boots in terms of he's got terrific vision, good temperament, two great feet, is quick and is a great striker of the ball," the Scot told MUTV. Stars of the future. Icons of the past. And points and prizes being unnecessarily tossed away in the here and now.